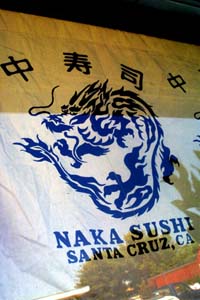 Wassup With the Wasabi? Camera-shy Naka Sushi keeps photographers at bay with images of mythical animals outside.

Photograph by George Sakkestad





Totally Sushi

Very tiny Naka Sushi earns its cult following

By Christina Waters

IT'S A SEMI-WELL-KEPT neighborhood secret, this modest sushi bar wedged into the last strip of 41st Avenue before it heads for the beach. Naka Sushi is partly about Naka the sushi chef, the compact culinary artist behind the bar, who creates inviting edible sculptures from sticky rice, fiery wasabi and unbelievably fresh seafood.

Naka--the sushi bar--is anything but designer. Very Pleasure Point actually, with intimations of surfboard wax and sunscreen. We immediately got the impression last week that the laid-back, artfully offbeat look of the place is part of its popularity.

Two rooms, one sushi bar, eight tables. That's it. But tons of eye-candy, from myriad "Hello Kitty" statues all saluting you as you walk by to plastic statues of samurai warriors placed here and there.

Naka--the sushi chef--wields his precision knives backed by a wall of traditional paraphernalia, highlighted by Naka Sushi T-shirts so good-looking we had to buy a couple. A black-and-white photo of Clint Eastwood in full spaghetti Western drag watched over us as we sipped sake and gossiped, and on a high shelf a TV displayed the fabulously over-the-top Iron Chef cooking marathon.

Naka's house sunomono is seafood-enhanced ($6.95), filled with rosy octopus slices, a fat prawn or two and those transparent, crisp slices of cucumber drenched in vinegar we love so much. Two guys sat down at the sushi bar. They both wore black Naka Sushi T-shirts, and they both greeted Naka, loudly and warmly. Everybody who came in last week chatted with Naka, who clearly rules this slice of heaven in the Pleasure Point neighborhood.

The sushi told us why. Now the Ebi Gyoza ($5.50) were right on, don't get me wrong. Crisp, hot and filled with a soft, succulent blend of veggies and shrimp, these little stuffed wontons were a great appetizer. Even the truly unusual Age-dashi dofu ($4.95)--fat cubes of soft, quivering tofu draped in a sticky glutinous bonita-flake coating--were wonderfully interactive. This is real conceptual dining, in which tofu impersonates itself.

But the whole point of Naka Sushi is sushi, and we were soon presented with two wooden planks covered with an imperial array of specialties. Corinne's held a lineup of gorgeous rounds of tobiko-studded rice filled with maguro, tobiko, avocado and salmon--the house specialty, Naka Roll ($7.95).

Clearly we were looking at a major amount of health-giving omega-3 oils in a voluptuous delivery system. Spiraling upward vertically were the two enormous edible sculptures called the Ebi-Ten Roll ($7.50), monuments to the chef's artistry. From each bed of cucumber-laced rice and nori rose an enormous tempura prawn. Edible bonsai, and delicious.

On my side of the table, slabs of maguro draped over their rice cushions next to a bouquet of fragrant shiso leaves. I alternated bites of perfect tekka-maki with pungent fermented ginger. Everything was wonderful. And of truly heroic proportion.

Corinne was hypnotized by the sight of Naka creating a huge tray of tobiko with quail egg sushi. Two dozen nori wrappers were first piled high with electric-orange flying-fish roe. And then two dozen tiny quail egg yolks delicately laid on top. Beautiful food. Naka Sushi does its thing brilliantly.

The rolls created by Naka--the sushi chef--are fashioned into nonstandard slices. Some of them are flat, showing off the mosaic of the colorful ingredients. In other "slices," long julienned slices of crab, avocado, cucumber and maguro would soar upward like a miniature forest. No wonder my goddaughter, Molly, told me this family-run establishment is her favorite sushi bar. Naka Sushi is more than just a sushi bar, it's a cult destination.
---
Naka Sushi
Address: 851 41st Ave., Santa Cruz
Phone: 479.9620
Hours: Sun 5-8pm; Tue-Thu 5-9pm; Fri-Sat 5-9:30pm.
Ambiance: *** Only-in-Santa-Cruz freestyle sushi parlor with plenty of paraphernalia and laid-back vibes
Service: *** Impeccable, swift and happy to help accommodate any special requests
Cuisine: *** Top-notch sushi made with bohemian attitude by a master. Superior ingredients, generous portions.
Overall: Naka Sushi is a treasure, preserving a bit of old-fashioned seaside vibes wrapped around a full-service sushi bar
---
[ Santa Cruz | MetroActive Central | Archives ]