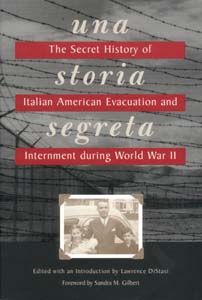 Secret History

'Enemy Alien' symposium and booksigning at MAH





ON SATURDAY (June 23), from 11am to 1pm, the Museum of Art and History will host a symposium focusing on the early days of World War II and the varied ways in which "enemy alien" designations impacted Japanese-, Italian- and German-American communities in the United States, particularly on the West Coast and in the Monterey Bay region. The event is being funded as part of a grant received by author Lawrence DiStasi from the California Civil Liberties Public Education Program. DiStasi is the editor of the new book, Una Storia Segreta: The Secret History of the Italian American Evacuation and Internment During World War II (Heyday Books), which will be available for sale, and signing, at the event.

Joining DiStasi on the symposium's panel will be Jeanne Wakatsuki Houston, author of the legendary Farewell to Manzanar, whose father was arrested as an "enemy alien" during the early days of the war; former Watsonville High School teacher Mas Hashimoto, a longtime activist with the Watsonville Japanese American Citizens League; and local author Geoffrey Dunn, a fourth-generation member of the Santa Cruz-Italian fishing community whose family members were relocated during the early days of the war. Dunn's chapter, "Mala Notte," is included in Una Storia Segreta.

The California Civil Liberties grant is funding a series of panels throughout California that is intended to open the field of comparative studies of those affected during the wartime, with particular emphasis on the plight of those branded "enemy aliens" in the three communities. According to DiStasi, who is also project director of the exhibit, also entitled Una Storia Segreta, and current president of the American Italian Historical Association, Western Chapter, he hopes that the symposia "will shed new light on the perils to which a variety of immigrant populations are exposed in times of national emergency and hysteria. They will attempt to broaden the analysis of the motives and rationalizations behind government actions, and bring new perspective to the history of wartime violations of civilian populations."
---
The Museum of Art and History is located at 705 Front St. in downtown Santa Cruz. Admission to the symposium is free. Refreshments will be served.
---
[ Santa Cruz | MetroActive Central | Archives ]