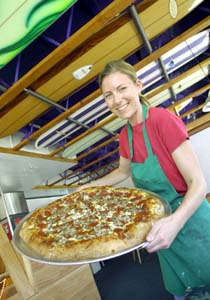 Wedging Out: Carmen Irving shows off one of the prime pizzas at Pleasure Pizza.

Photograph by George Sakkestad





Double Your Pleasure

Pleasure Pizza opens a second restaurant to satisfy the needs of West Siders

By Christina Waters

IT WAS A WARM EVENING. Talking heads on Spin Room were arguing about W's IQ. We were sitting on the floor in front of the TV drinking champagne and eating pizza. What?! Champagne and pizza? Yes. But this wasn't just any old champagne and pizza. It was Veuve Clicquot--our house bubbly--and big ole slabs of killer pizza crust covered with pesto and spicy chicken and mushrooms and olives and pepperoni, from ... the brand-new Pleasure Pizza.

Let me explain. Fans of the hugely popular Pleasure Pizza on 41st Avenue near Pleasure Point will be able to surf easier these days knowing there are two Pleasure Pizzas. Now, en route to surfing the North Coast waves, one can stop by the new Mission Street headquarters for tasty and meal-sized slices of Pleasure Pizza. The space formerly known as Togo's has, literally, been divided into two food shops. Togo's is still there, sports fans, so don't panic. Only now, the front of the space is devoted to the care and feeding of pizzaphiliacs. A nifty crazy-quilt brick and volcanic rock wall contains a patio dining arena. Indoors are a few beautiful booths, with frosted glass dividers and tablecloths of Hawaiian print fabric. The ceiling is lined with surfboards so that pizza-lovers from the Midwest will know they're not in Kansas anymore.

We thought the best way to check out the PP stylings was to travel the by-the-slice path. A glass counter shows off the freshly made creations, each encased in a monster crust with a two-inch-high roll. Priced in the $2.32-$5.50 ballpark, these slices are large enough to feed three Ally McBeals, or the average 15-year-old male. We chose four different types and hurried home to that chilled bottle of champagne. Pleasure Pizza founder/owner Steve Irving told me that he wanted this second installment to be a "neighborhood hangout where you can get great pizza made with love and all-natural ingredients." And it seems he's on the right track.

The zesty dryness of the bubbly went perfectly with my favorite, the thick luscious pesto slice distinguished by a finely balanced tomato sauce base and top note of melted cheese. We both liked the veggie Supreme ($4.27), packed with artichokes, mushrooms, zucchini and black olives--but not as much. Even more "authentically pizza" tasting was a beauty topped with the merest hint of sauce, paper-thin pepperoni and black olives. A classic. Jack flipped over the fiery Spicy Plum Chicken ($5), loaded with very spicy chunks of chicken breast, peanuts and even mung bean sprouts. It was great--sort of Toscana Szechuan in the mold of Wolfgang Puck's world-fusion pizza flavors. The dough itself is so good that even when you've scarfed down every bit of topping, you can't stop eating the remaining thick crust. Pleasure Pizza is at 1917 Mission St., Santa Cruz. It's open 10:30am-10pm daily. Call 475.4999 for info.

Flower Power

I got a call from the UCSC Farm & Garden folks this week. Turns out they gave me the old price for those gorgeous bouquets sold Tuesdays and Fridays at the produce cart at the foot of the campus. But for such beauty, even $6 is a bargain. Also, don't miss the chance for early fresh basil and tender heirloom lettuces. And beets. Perfect with our local fresh salmon, which you are eating lots of while it's still in season. Aren't you?
---
Email me your hot food tips, new favorite restaurants, discoveries, gripes and sudden culinary insights. You tell me--I'll tell everybody: [email protected]
---
[ Santa Cruz | MetroActive Central | Archives ]