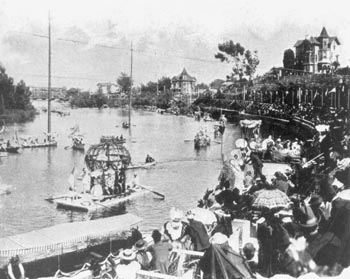 Covello & Covello Historical Photo Collection

The Venetian Water Carnival: This spectacular event was held a few years around 1895­96. They dammed the San Lorenzo River, built bleachers and strung the latest in technology: electric lights. Margaret Koch's book says the carnivals would last five days! Here you can see the Sunshine Villa on Beach Hill and the old Riverside Avenue Bridge in the background. Some of us tried to recreate the Water Carnival in the late '70s, but we had failed to take into consideration all the environmental problems with damming the river and gave up the idea.




Bruce Bratton

CITY DISTRICT ELECTIONS. No one I knew could figure out why Vic Marani was hanging out with Norm Lezin, Rod Quartararo and other supporters of district elections. I called Rod, who told me that the District Election Campaign Committee is paying Vic to be their campaign coordinator and that they are also paying folks for doing data input in this campaign attempt. Marani is now the leading Republican in the county, being the chair of the Republican Central Committee. In past years, he has only been active in south county politics; he lives in Aptos. His father was the developer of Deer Park, and in the last few years Vic has been marketing absentee-ballot campaigns to political candidates. So the big question is why is he involved in Santa Cruz city elections? His past political agenda has been to get Republicans elected to as many "nonpolitical" offices as possible. Is that his ticket here? To change the subject, the few times I've heard Lezin talk about district elections--live or on TV--he's forgotten to mention that he owns Salz Tannery and is (as is Quartararo) an official of Coast Commercial Bank. It does make you wonder who's supposed to be representing what in this campaign.

BORDERS BOYCOTT. Sorry, but I goofed on that website for you to sign up and join the Boycott Borders list. The correct address is www.roguecom.com/no2borders.html#pledge--that should do it. Sorry, too, about saying Watsonville had no bookstore; it does, and I've heard about it--whew! have I heard about it. Jan and Paula Van Waardenberg have owned and operated Crossroads Books at 1935 Main St. in Watsonville since 1994. They specialize in children's books. They are right around the corner from Orchard Supply and across from Nob Hill, and the store also carries a big selection of Spanish-language books. Jan and Paula used to own the Toy Chest stores in Scotts Valley and Watsonville until Toys R Us closed them up.

HERNANDEZ AND THE RACE ISSUE. City Councilman Michael Hernandez has resorted to the race issue each time he needs publicity and especially now that he's apparently running for re-election. That race stuff has both Residentes Unidos and Robert Norse's HUFF coming out against Hernandez and his racial accusations in attacking Mayor Keith Sugar. Maybe that will cause Hernandez to rely on ethics and principles instead. Let's hope rumors of the old Hernandez/Scott Kennedy duo running for City Council in November can't possibly be true. I'll be more than happy to print their denials here (watch this space but don't hold your breath).

SUMMER MOVIES. I saw the new Fantasia in the IMAX dome in San Jose about a month ago. It was almost as impressive as Tiger Woods at Pebble Beach, but Disney's original, back in 1940, was much better. Take the kids to see Fantastia 2000; it could turn them on to classical music for life (that happened to me once). Speaking of fine, really fine films, go see Croupier, a British film opening at the Nick this week. Exciting, well acted, great plot--what more do we need? Kikujiro is an Asian version of the Portuguese film Central Station, i.e., old nasty person takes trip with cute kid. Don't go. Nicolas Cage's Gone In 60 Seconds falls very flat, is actually boring in spots and lacks the original 1974 film's 45-minute car chase. Shaft, with Samuel L. Jackson, like M:I-2 and Gone in 60 Seconds, suffers from too much plot. Not good plot, just too much plot. Who cares about a plot with these summer popcorn movies; it's like complaining that you can't enjoy the scenery on a roller-coaster ride. Up at the Villa has Sean Penn playing Cary Grant (or at least he tries to play him). Anne Bancroft, Derek Jacobi, James Fox and Kristin Scott Thomas are great to watch act, so it must be the Somerset Maugham story that just doesn't work.

SCAN'S GOOD GOVERNMENT FORUM. Folks who are considering running for elected office, particularly for the Santa Cruz City Council, should attend the SCAN forum on July 8 at 10am. Bert Muhly, Christopher Krohn, Mike Rotkin and other veterans will be there and so will Sandy Silver and Bob Fitch from the Resource Center for Non Violence. For some reason, Mike Schmidt is taking part too. It's a roundtable discussion, with environmentalists, labor reps and political activists of all kinds. No endorsements will be made, and no candidates will be discussed. Considering the political temperatures that will reach some new peaks in November, this forum should be incendiary and informational. The public is invited, and qualified candidates are extra-invited. Call SCAN at 458.9425.

SHAKEDOWN IN QUAKETOWN. Boxing matchmaker and promoter Jerry Hoffman, who brought new WBC World Welterweight Champion Sugar Shane Mosley to Santa Cruz for two fights a few years back, has put together another Shakedown card at the Hyatt Regency in Monterey for July 3. Jose Celaya of Salinas is a real contender, sez Hoffman. Jose, who just graduated from Alisal High in Salinas, will be fighting Antonio Marquez. Local favorite Gina Guidi has a rematch with Marsha Valley, and fighters Greg Kirkpatrick, Fronzo Eckford, Beto Cisneros, Jesus Rodriguez and Alfredo Aceves will all be duking it out that night. Tickets are available only by calling 831.688.1604.

COMMUNITY TELEVISION. You've probably noticed that our local channels are now 25, 26 and 27 (formerly 71, 72 and 73). KUSP noticed an increase in the response to their last auction due largely to the live broadcast on Community TV. I got a rare advance word on a future program--a celebration of Doug Rand's life will be shown Saturday night (June 24) at 8pm on Channel 27. Mathilde Rand tells me it's a well-done program, and Doug's friends should really enjoy it. Mathilde still meets with friends and supporters every first Sunday of the month at the Collateral Damage statue at 10:30am.

MOHLER & SONS VACUUM. As previously mentioned, this ceiling fan and vacuum store at 41st and Soquel isn't closing no matter what happens with the proposed Home Depot. Kent Mohler, the owner, told me something curious. He said that every time someplace like Circuit City or Costco starts selling vacuum cleaners, Mohler's business actually improves! The reason is that the vacuums those places sell are so cheap and poorly made that folks soon think they need repairing. But not only do those mega-chainstores not do repairs, most of the vacuums are so poorly made they can't be repaired! So folks either come to Mohler for repairs or to buy new and better machines. Must be part of our new-age economy.

CABLE TELEVISION CHANGES. Andrew Johnson, director of communications for AT&T Cable, tells me that those changes in the cable lineup and the additions and subtractions to the cable offerings are in line with how we voted in that last survey. Andrew sez that Santa Cruz is specifically governed by a federal consent decree stating that AT&T must consult with the city and county of Santa Cruz before making any cable-service changes, and I guess AT&T did that.

BUMPER STICKERS AND PALINDROMES. Barbara Graves saw "Well-behaved women rarely make history" as a fine sticker. Eric Mendelson sent in a palindrome worthy of deep thought (especially in November): "Rise to vote sir." Dan Lawson contributes another of those reversible backward wonders: "O see? Signing is signing. I see. So?" Maybe you have to be there.
---
Bruce critiques films every other Thursday on KUSP (88.9FM) at 12:50pm. Reach Bruce at [email protected] or at 457-5814, ext. 400.
---
[ Santa Cruz | MetroActive Central | Archives ]