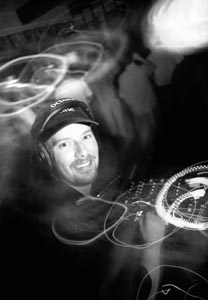 I See You Baby
---
Name: Taylor Wolfsen
Handle: DJ Taylor
Main Gigs: Wednesdays at the Aptos Club and every other Friday at Rosie McCann's
Latest Big Idea: Buy McGarrett's in Monterey, redo the interior and open a disco palace of his own called Club Octane (grand opening in July)
Dirty Little Secret: "I've got a storage space that I use for all the stuff that I collected from high school, and then I was into progressive and alternative music. So I've got all these Depeche Mode bootlegs and a shitload of collectable heavy metal records. Never throw anything away--that's my motto."
Crucial Links: www.octane.ws and www.cluboctane.com
---
Taylor Wolfsen thinks big. First, as manager of a Musicland in Monterey shortly after graduating from high school, he figured on getting out of his day job by playing records at the officers club at the Naval Postgraduate School. Soon he parlayed that gig into a thriving DJ business, Taylor Made Music, that kept him busy with weddings and corporate gigs.
But after spinning for a few underground raves, where crowds expect DJs to craft an abstract musical journey instead of merely playing the hits, he wanted more. Enter Octane, a crew of four DJs--including DJ Tripp, featured below--creating club sensations with little more than good beats and good vibes. His second big idea paid off handsomely: Crowds line up to get into Rosie McCann's and the Aptos Club when the Octane crew sets up for the night--crowds that no doubt voted Wolfsen as top jock in the DJ category of this year's Goldies.
"I've kind of specialized in doing club nights at places that aren't really set up for it," Wolfsen says. "Most of the places that I play, other than the Blue Lagoon and the Dakota, don't have turntables and lights, so I bring all that in."
But it just isn't feasible to truck around all the gear necessary for the dance-all-night extravaganzas of the Octane crew's imaginings--light gear, elaborate decor, stacks and stacks of speakers to make the party really go boom. So when the owner of Monterey's McGarrett's nightclub mentioned that he wanted to retire, Wolfsen came up with another big idea.
"I want it to be kind of like what's happening in Ibiza," Wolfsen says of Club Octane, which the Octane crew expects to open for business in July where McGarrett's is now. (British Commonwealth island Ibiza, near Gibraltar, is a clubbing haven populated by young Brits on holiday.) "Huge light shows, lots of props--kind of that feel. Bring a lot of what's going on with clubbing overseas over here."
[ Santa Cruz | MetroActive Central | Archives ]