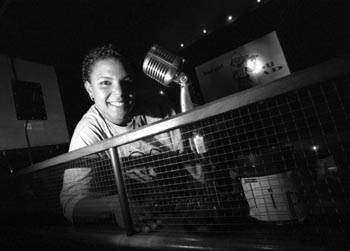 A to the D
---
Name: A.D.
Main Gig: Wednesdays at Club Dakota ("Women's Night")
Alter Ego: Meat department clerk at Ralph's in Capitola.
Request That Makes Her Cringe: "Do You Believe" by Cher
Favorite DJs: Invisibl Skratch Piklz, Grandmaster Flash
Last Napster Download: "I don't even own a computer."
What's on the CD Player at Home: "Cypress Hill's new one. I like the way they have two CDs--one hip-hop and one hip-hop rock--the old sound with kind of a new sound."
---
Two years ago, A.D. never figured on making a career as a DJ. Now, as resident at one of Santa Cruz's top club nights and with calls to play casual affairs--not to mention a second-place finish in this year's Goldies--she is thinking of leaving her day job.
"I just started out DJing in my room just, like, to do it, and I never thought it would turn into anything," she says. "But one night I went out to party at the Dakota ... and I told the DJ, 'Hey, if you ever need someone to fill in.'"
An Oakland native who has lived in Santa Cruz for 10 years, A.D. speaks evenly, conveying her thoughts directly and with measured remarks. Even after a brief conversation, it's obvious that her personal style is a big part of the way she spins records. Behind the decks she builds a laid-back, cool vibe instead of delivering an excited exhortation to get down on the dance floor.
"I try to use a little bit of everything," she says. Her club sets swing from hip-hop to diva-centric, groovy R&B to funk, all equally workable as a backdrop for a social scene or as fodder for a bumping dance floor. "People really like to hear happy hip-hop, but they also turn me on to other things. Right now I have everything from hip-hop to 'The Beer Barrel Polka.' "
[ Santa Cruz | MetroActive Central | Archives ]