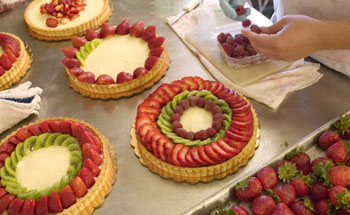 Photograph by Stephen Laufer

Give These Desserts a Hand: Justin Acevedo prepares the Buttery's coveted cakes.

A Butter Tomorrow

The Buttery has gone from insider favorite to Santa Cruz institution, one wedding cake at a time

By Jessica Neuman Beck

The Buttery is Santa Cruz's worst-kept secret. Its popularity has spread almost exclusively through word of mouth, but judging from the throngs of people crowding inside on any given day, it's been working out fine.

Owner Janet Platin began buttering up this town 20 years ago.

"I've always been interested in food and I've always loved cooking," she says, "and 20 years ago there was a lot of opportunity in the bakery business."

Artisan breads had just hit the Santa Cruz market, and Platin believed breads and pastries were her calling. After about a year, though, she began to feel the space constraints of her little store.

"Bread really takes a lot of space, and here I am on Soquel Avenue with not a lot of space," she remembers. Happily, fate intervened. "The guy who's now my husband was making my bread, and it seemed like a good idea to let him do the bread elsewhere," Platin says with a laugh. "It's really been a great relationship--we're married now, so it's great in that way too!"

Taking the Cake

The Buttery is no stranger to weddings. An informal poll (mostly conducted by asking my friends) shows that the vast majority of wedding cakes in Santa Cruz county come from the Buttery, including the three-layer, triangle-shaped cake from my own wedding that was so good people are still talking about it. One of the most requested styles of wedding cake is the sea-themed cake--not surprisingly, given the proximity of the beach. For a company that eschews advertising, information about the Buttery has been popping up all over the place on weddingchannel.com and theknot.com. Platin admits to dabbling in the media pool to get more attention on their wedding cakes, but maintains that word of mouth is still the No. 1 way people find their way to the store on Soquel Avenue.

"We started checking with couples as they come in for wedding cakes appointments, asking how they found out about us," she says, "and it's so overwhelmingly word of mouth that we stopped asking the question."

What's Not for Dessert

Besides pastries, the Buttery also does a brisk lunch business. "We have a lot of variety in sandwiches, and I do think the variety is part of the thing that sets us apart.," says Platin. "We have fresh bread everyday, and great bread for our sandwiches." The lunch menu features both hot and cold sandwiches, and includes such gourmet favorites as baked chicken breast and hummus and veggie.

Twenty years into the business, Platin still enjoys coming up with new recipes. "A lot of them have just been home recipes that have been reworked," she explains. "We also have had people, certainly, over the years who have contributed to the recipes." One of those contributions has led to what Platin considers to be one of the Buttery's more unusual desserts--the guava cheesecake.

"It's really wonderful--it has passion fruit and guava and a macadamia nut crust. It's really good," she says. "We had a baker who's from Hawaii and she brought us that recipe. I don't think anybody else is making that in town."

Business is booming at the Buttery, but Platin has no plans to open any additional stores. "I wish I had more space for the bakery, where it is right now, but I'm not interested in expanding to another location," she tells us. "I think that would take the fun out of the business and take the heart out of it. I think that when you have the energy all in one place, it makes for a better business."
---
The Buttery is located at 702 Soquel Ave. in Santa Cruz. They're open daily from 7am to 6pm. Contact them at 831.458.3020 or visit their website at www.butterybakery.com.
---
[ Santa Cruz | Metroactive Central | Archives ]