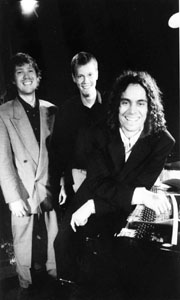 By the Way, Which One's Fred?: The members of the Jacob Fred Jazz Odyssey don't follow band leaders. They play Kuumbwa Friday.

The Jazz Man Who Wasn't There

Bucking a trend of jazz ego and solos, the Jacob Fred Jazz Odyssey is fronted by a literal nobody

By Peter Koht

Jazz, as a genre, has a bit of an ego problem. Ever since the earliest wax cylinder recordings, jazz groups have always revolved around the idea that one particular musician in a group, called the session leader, gets to call the shots for the rest of the band. Whether Duke Ellington or Kenny G, the session leader gets a bigger cut of the paycheck and the longest solos and his name gets top billing.

You might think the Jacob Fred Jazz Odyssey has the same problem. Except that no one in the band is named Jacob Fred. In fact, this intrepid band of Oklahomans (and one Ohioan) don't have a single Jacob or Fred between them.

"The reason why we called it Jacob Fred, despite the fact that those aren't our names, was that we don't have a leader, and we don't need a leader," says JFJO pianist Brian Haas. "All the people in the band have a chance to step up and take the lead in the conversation."

Rather than acting as a springboard for individual displays of virtuosity, the JFJO tries to create improvised music as a group, focusing its energy on creating new forms, melodies and textures as a group rather than as collection of constantly soloing individuals.

The band came together over 10 years ago in Tulsa, Okla., as an eight-piece, but over the years the lineup has been pared down into a trio. Anchored by the drumming of Jason Smart and propelled along by the interplay between Haas and Reed Mathis on the bass, the JFJO is an incredibly tight unit, neither afraid of exploring distant musical territories nor ashamed about playing the occasional standard or rock tune.

Haas describes the band's newest work as free jazz, but is aware of the associations that that term calls to mind. "A lot of people don't understand the term free jazz and they think free jazz is typified by late Coltrane records or Albert Ayler," he says. "They think free jazz sounds like squawking and screaming. The way that Jacob Fred thinks about free jazz is to make something beautiful, something with a form and a melody and an ending, but make it all up on the spot."

While most jazz players are comfortable improvising solos over set harmonies and familiar forms, the JFJO improvises almost their entire set, every show. The band even takes suggestions for compositions directly from the audience.

"Some kid will yell out 'prehistoric birds' and that's the theme we try to play around," says Haas. "We'll try to tell the story of prehistoric birds in whatever we play."

Space Is Gonna Do Me Good

While their earlier work is sometimes more chaotic and intricate, the JFJO's latest work shows a new appreciation for space and form. By forsaking the acrobatics endemic to much of the jazz scene, Jacob Fred is creating a body of work that shows real musical maturity and an attention to form and structure that belies the members' youth.

"What we are trying to hear in our music these days is beauty and simplicity," says Haas. "Thank God that our audience is so patient--it took us a while to figure out how important that is. Sometimes when I go back and listen to some of the things that we were doing five years ago, I think to myself that even though I made this and can remember playing it, I wouldn't want to listen to it."

Citing acts as diverse as Aphex Twin, Radiohead and Mozart as influences, Haas says that his latest obsession is construction through theme and variation. "While it was always in the back of our approach, in our earlier materiel we were getting too far away from the theme. But now we focus on playing as a unit for the beauty of the piece. We want to create an improvised structure that sounds like we have been playing it for days or weeks, but is really just the band creating a conversation onstage."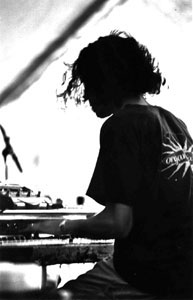 Haas Music: Pianist Brian Haas says the JFJO likes to make up songs on the spot, based on title sugestions from the audience.
Better Than Sax
The JFJO's special saxophonist guest for their show at the Kuumbwa, Skerik, has the same commitment to musical dialogue and improvisation.
"He doesn't ever have an approach where he is going to hit the stage and just blow a solo. He doesn't do that," says Haas. "When he is playing the horn he is interacting with every other person on that stage and having a conversation. He is always conversational, which is the exact same approach that we have with Jacob Fred."
Jacob Fred met Skerik four years ago while sharing a bill with Mike Clark's Prescription Renewal. While most of the headliners hung out in the tour bus while Jacob Fred took the stage in front of a less-than-enthused crowd, Skerik was front row center for the young band's show.
"I noticed that during the set that there was somebody standing really close to me and making a whole lot of noise during the set," says Kaas. "I thought that it was just some noisy Indiana kid, but when we finished the set and I looked up I noticed that it was Skerik. I think that at that show he was probably the only one who was paying attention."
This initial encounter has led to a long association between the band and the saxophonist.
"We're all on the same page musically," says Haas. "I don't know what that page looks like exactly, but it's a page with lots of colorful photos and crazy drawings and probably lots of really good dialogue."
---
The Jacob Fred Jazz Odyssey, with special guest Skerik, performs Friday, June 25, at 9pm at the Kuumbwa. Tickets are $10 advance, $12 at the door; 831.427.2227.
---
[ Santa Cruz | Metroactive Central | Archives ]