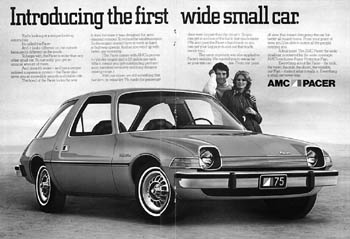 Rev

Quirky Car Ads

Customers are more likely to pay attention if you get permission to interact with them: a free sample, a contest, a survey or, yes, a milk carton to assemble

By Novella Carpenter

I was in bed reading the fat fiction issue of The New Yorker; Billy was massaging his sore back with the Relaxor, a vibrating contraption that he acquired at a garage sale. I insisted it was a real vibrator, but he didn't listen to me, and bought it. It still has a piece of tape with $2 written across it. In the middle of the Alice Munro story I came across a bright-red, thick cardboard bind-in ad that reads, "Oxford Road Farms Milk." Now I hate bind-in cards, or those stinky perfume samples, but this one was unusual.

First of all, it is cut so that you can fold it out and form it into a milk carton. On the side are instructions: "1.) Assemble prop carton. 2.) Rotate and shake convincingly. 3.) Motor." Then, if you didn't get that, it says, "Let's run out of milk. Let's run out of bread. Let's run out of t.p. Let's run out of anything so we can run out to the corner and back. Let's just never run out of gas. Let's Motor (TM)." I'm still not quite sure how to assemble the damn thing (do I need glue?), but the idea is quite clever.

Mini Cooper USA is leading the pack in terms of new marketing, with an emphasis on fun. In a 2002 marketing scheme, Minis were placed around Canadian cities in cages with signs that warned, "Not to tease, feed or annoy the Mini." Mini Cooper's current ad agency, Miami-based Crispin, Porter and Bogusky (CP+B), embodies the pinnacle of hip advertising. It has done cagey ads for Molson (customized beer stickers), Burger King (a gonzo makeover of the 1974 "Have It Your Way" campaign) and Giro (turtle humping a bike helmet).

But back to the milk carton. Why would a car company spend so much money on a bind-in bauble? It's part of a new kind of marketing, called permission marketing. The term was coined by Seth Godin, vice president of Yahoo! and author of Permission Marketing: Turning Strangers Into Friends and Friends Into Customers. In the past, according to Godin, most marketing has been interruption marketing--blaring radio and TV ads, glamorous photos in magazines. But savvy customers are more likely to pay attention if you get permission to interact with them: a free sample, a contest, a survey or yes, a milk carton to assemble.

Another company has taken to permission, or interactive, marketing: Mitsubishi. In order to promote its Galant GTS, it has staged a series of over-the-top TV commercials. In one, in order to highlight the Galant's maneuverability, the GTS races a Toyota Camry dodging bowling balls and other obstacles tossed from a truck ahead of the two. The frame freezes, and the ad tells us to find out who won by going to seewhathappens.com. Another ad features the Galant racing a Honda Accord EX V6. Both cars seem poised to jump off a pier. Again, seewhathappens.com flashes before we see any crashes. If you decide to go to the website, you've succumbed to permission marketing. (Did I mention that Devo's "Uncontrollable Urge" plays during the race? Don't even get me started about corporations' co-opting abilities.)

Meanwhile, traditional car companies are running boring ad campaigns with environmental messages. A recent G.M. ad focuses on its new line of hybrid buses, to be used in a pilot program in Seattle. This comes off as rather disingenuous when one considers all the years G.M. has been putting off making hybrids and churning out gas-guzzling monoliths like the Yukon. Ford recently ran an ad talking up its new Dearborn truck plant at the Rogue Center, which it crowned as "America's Greenest Automotive Factory." It does sound interesting with its "World's Largest Living Roof" but don't believe everything you read, especially when Ford's paying for it. As early as 2000, Ford admitted that its SUVs contributed to global warming and emitted more polluting exhaust than standard cars, but because of profits it continued to churn them out. Of course, Ford was just satisfying customer demand; or perhaps the people were caught up in the wondrous fiction, the fever dream of advertising.
---
Deconstructing ads is an easy summer pastime, like swatting flies and grousing about the heat. Send Novella an email to [email protected]
---
[ Santa Cruz | Metroactive Central | Archives ]