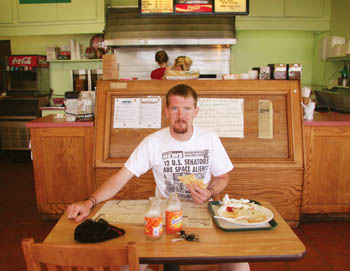 Photograph by Stephen Laufer

What, Only 12?: He may be behind on the news, but Kevin Neher--known to many as a longtime chef at Mobo Sushi--knows a good falafel.

The Falafel Monty

Santa Cruz ethno-gastronomists are willing to drop everything for those crunchy spheres of spiced garbanzo paste

By Christina Waters

Falafel of Santa Cruz. Not to be confused with Frederick's of Hollywood--the little hole-in-the-wall falafel hut across from McDonald's is light-years away from the world of sequined bustiers and peekaboo panties. Falafel of Santa Cruz is, indeed, an only-in-Santa Cruz outpost of earthy Middle Eastern cookery served without one smidgen of designer attitude in an ambience-free setting facing the Goodwill drop box on Mission Street.

And it's not only those crusty hummus balls that feed the faithful. While the falafel--that miracle of crisp chickpea, garlic and parsley shaped into an orb the size of a baby's fist--surely occupies the jewel-in-the-crown spot, the gyro and the kebab also share the no-frills stage.

Terra cotta tiles on the floor and the bright, very bright, yellow and green wall treatment make this place a palace of visual Zoloft. Nice paintings, again lots of upbeat colors, by UC alum Katarina Lanfranco add zip to the interior. You can gaze at original artwork and thumb through Metro Santa Cruz while waiting for your order to arrive.

Noah, a serious falafel-head, knows the drill here. He even brings his own metal knife, since he has long ago discovered that the house plastic utensils just don't cut it, so to speak. Plastic paraphernalia are all fine and good if you've scarfing up a plate of falafelesque finger food on a bed of lettuce, tomatoes and cucumbers--the red and green food groups of the Middle East. But if you really want to consume your lamb kebab without making an uncool spectacle of yourself, an actual metal knife would be the implement of choice. Just stash one in your purse or pocket--no Al Qaeda jokes!--and you're stylin'.

The real heart of the Falafel of Santa Cruz experience for many veterans is the condiment connection. In fact many patrons, mostly male, feel that the soft pita bread, the chicken kebab, even the falafel itself are all only delivery systems for copious quantities of electrifying chile hot sauce and a few shakes of tahini (tahini is a very Santa Cruz type of substance, made of ground sesame seeds and lots of garlic). Clearly, this is a subjective judgment. But I can tell you from personal experience that even in Egypt, where the falafel is Pharoah, chickpeas aren't exactly loaded with flavor. They need support. They need condiments. They need spicy sauce. Falafel of Santa Cruz knows this and provides a fleet of bottles, squeeze jars and shakers of hot stuff to add to your relatively bland falafel.

Lunchtime offers heroic specials to the budget gourmet. A juicy gyro of sliced lamb, with small fries and small soda, will run you a mere $6.75. On warm days, we like to take our shish kebab sandwich ($5.50) and hummus with pita ($3.40) outside to one of the inviting picnic tables and see who can count the most SUVs with surfboards on top. A few weeks ago, we tore into some lunch plates loaded with lamb shish kebab--tasty and riding a Gibraltar of lettuce, tomatoes, cucumbers and garlicky yogurt sauce--plus the fabled falafel plate featuring a quartet of ultracrisp falafels on a bed of the above-mentioned salad. Flavor isn't the point of a falafel--it's a texture trip, and these were perfect, especially when moistened by that garlicky yogurt topping and a healthy splash of tahini.

Using his contraband knife, Noah made quick work of a delicious lamb kebab, as well as half of my diet Coke. It has to be said: while Falafel of SC offers your choice of soft drink sizes--small, medium and large--the management is generous. All the soft drinks are large. Even if you order small, you get large. Go with it.

The falafel may never replace grilled local salmon with red bell pepper purée. But it takes a back seat to no taco in terms of filling you up for not much money. Add lots of chile and tahini sauce and give thanks for culinary diversity.
---
Falafel of Santa Cruz
Address: 1501 Mission St., Santa Cruz
Phone: 831.459.0486
Hours: Open 11am-9:30pm daily
---
[ Santa Cruz | Metroactive Central | Archives ]