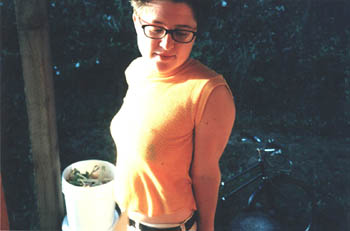 Mirah, Mirah, Off the Wall: You think Mirah is like this, but she's really like this.

Magic Mirah

The cutest voice in indie rock speaks out

By Mike Connor

At last, the K Records indie-rock goddess speaks! Well, sort of--Mirah Yom Tov Zeitlyn can't rightly "speak" in print, which is such a freaking shame because she has the cutest voice ever--I bet even her sneezes are cute. Dubbed the "sexiest voice in rock," most of the production on her debut album (and indie-pop masterpiece) You Think It's Like This But It's Really Like This is whisper-in-your-ear intimate. Mirah's songs are often sexy as hell, with earnest, witty and deeply personal lyrics sung with an impossibly childlike, bubblegum sweetness that I just can't get over. Apparently, I'm not the only one.

"When I was touring in Japan last April," says Mirah, "one of the first things our host in Toyama said to me was, 'Oh, it really is you--you sound just like your CD when you talk.' I'd never really thought much before then about how physically formless I must be to people who don't know me, but listen to my music. However personally you relate to music, unless it's made by a friend of yours, it's bound to have a sort of disembodied character. All it is is sound plus the pictures in your head. I think that's a reason why people get so attached to certain music, because of how it just floats around and into their lives."

Her newest full-length album, Advisory Committee, is as intimate as her first, but also succeeds with a generous helping of New Wave and cinematic influences, giving songs like "Cold Cold Water" and "the sun" an epic, riding-into-the-sunset quality, a sound she created with the help of producer and longtime collaborator Phil Elvrum, a.k.a. the Microphones.

"In a way I did strive for that bigger sound," Mirah says, "but I also think it was a natural result of having a more cohesive roster of songs to work with, and also having had the experience of making that first album under my belt. Phil and I had more experience working together, I was more comfortable working alone in the studio and I had a more definite goal for the temperament of the album."

Often compared to Liz Phair for her candid treatment of sexuality on songs like "Murphy Bed" and "Make It Hot," Mirah distinguishes herself by mixing it up with some of the cutest lyrics in indie rock. Take this snippet of "Sweepstakes Prize," for example: "You know all of my secret ideas / The ones I'm giving up on and the ones I'll keep and/ Everybody sees the funny look in our eyes/ 'Cause we know that we already won the sweepstakes prize."

"I think my ideas come from the rare times when I slow down for a second, when I stop thinking from the top and when I space out and relax. It's a sort of meditation. I've caught myself drooling while working on a new song before," she says.

Her song "Recommendation" is peculiarly danceable, which made me wonder if Mirah is the dancing type of indie-rocker.

"I love to dance," she says, "but always wish I knew more fancy fun moves. I have a hard time being the only one dancing, so in a roomful of crossed-armed cool kids, I might look as rigid as the next, but maybe everybody else is dancing inside, too."

Mirah's live shows are friendly and intimate, often turning into sing-alongs. Possibly it's the formless sweetness and intimate production of her numerous love songs that reel her fans into such a personal connection with her.

"Oh, I guess that explains it!" she says (perhaps a bit cheekily), and then continues, "I always thought it had more to do with how I presented myself at the shows: pretty friendly, pretty accessible. I do experience a great deal of affection from people and in a way I like being able to be so person-y, but sometimes it's very exhausting. Sometimes I wish I was offered a little more space but then sometimes I feel lonely."

Aww, see? She's so sweet I don't know what to do with myself, nor how I'll resist devouring her when she comes to town ... although I might be wise to keep my distance. Responding to a question about how she avoids the traps and pitfalls that lead other singer/songwriters to their doom, Mirah says, "I have excellent knife skills."
---
Mirah performs Thursday, June 26, at 9:30pm at the 418 Project, 418 Front St., Santa Cruz. Tickets are $5 at the door; 831.466.9770.
---
[ Santa Cruz | Metroactive Central | Archives ]