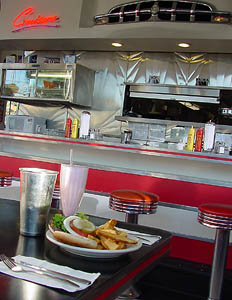 I'll Have the Ram-A-Lam-A-Ding-Dong On the Side Please: Cruisers puts the bomp in retro dining.

Photograph by Mathew McCabe





Cruise Control

Aimed at the retro diner appetite, the new Cruisers keeps it on four delicious wheels in downtown Santa Cruz

By Christina Waters

NOAH HAD JUST rolled into town from New York along with a sizeable appetite for classic Santa Cruz cuisine. No problem whatsoever. Jack and I simply drove him over to the new, improved downtown diner known as Cruisers (formerly Pontiac Grill) and stuffed him into one of those cinematic red-and-white corner booths. The ambience feels cozy and familiar. Jukeboxes wait in every booth. Waitresses flit around in those American Bandstand circle skirts and ponytails like extras in an Annette Funicello movie. Neon signs add truck stop atmosphere to the L-shaped soda fountain and the menu is lovingly devoted to streamlined American lunch-counter cuisine. Barbecued tri-tip sandwiches, burgers done a dozen ways, grilled chops and fish, shakes, fries and Gizdich Ranch pies.

Essentially, Cruisers is the motherlode for those weary of designer consciousness, of bistros and of fussy plates decorated with flecks of green and swirls of red bell pepper purée. Noah was up to the challenge and then some. After all, he had surfing plans and needed serious fuel--and he needed it quick. "It looks like Hollywood," he observed glancing through the wall of plate glass that hugs this '50s environment. Sure enough. The tall palm trees and view of the Palomar Hotel beyond made me think of Sunset Boulevard.

Buddy Holly's falsetto morphed into some vintage "Chantilly Lace" as one of those perky gals in saddle shoes took our order. That was going to be a grilled chicken sandwich for Noah--teriyaki-style, since this is California after all--with fries, naturally ($6.95). Jack went for a salmon burger with coleslaw ($6.95), plus St. Pauli Girl N.A. brew ($2.50), while I decided to live a little and order one of the daily specials, a BBQ tri-tip sandwich with potato salad ($7.95).

Cruisers serves up real food real fast. And that was fine with Noah, who had already taken a bite out of his napkin in a food fit of headbanging proportion. Before you could say "Route 66" our orders arrived, along with all the required condiments and no unnecessary plate decoration. Noah's grilled chicken creation came on a hefty bun along with a generous portion of French fries that filled every detectable portion of plate. A thick slab of ripe pineapple had been grilled and placed in middle of the glazed chicken fillet.

"Go ahead," Noah grinned. "Try it." One bite and I immediately grinned back at him. A totally excellent sandwich, the grilled chicken number hit all the major food spots. Large enough for your average surfer, filled with lean protein and oozing teriyaki and pineapple flavor. Not bad, even though the fries could have been crisper. Jack's salmon burger was also delish, as was the distinctive, tangy coleslaw that came with it. Served on a circular bun, as opposed to the long, oval bun of the grilled chicken, the salmon patty tasted exactly like a crab cake made of salmon. Tomatoes, lettuce, pickles and onions topped this tasty burger which disappeared within minutes.

My BBQ tri-tip also came on strong. Slathered but not overwhelmed by a spicy sauce, the lean slices of tri-tip were deliciously beefy. The generous creation--generous enough to make a big lunch the second day as well--arrived with a side of potato salad sprinkled with paprika. My resident potato connoisseur, Jack, agreed that the salad was well-made, though a bit mild in flavor, and appeared to have used lots of mashed potatoes. Interesting, we thought, and rather appealing.

Since you can't really leave a diner without something chocolate, we all split a large, designer chocolate espresso milk shake ($3.50) that arrived at the table in its frosty mixer container and three tall glasses. Rich, thick with just a hint of espresso finish, this milkshake was king of the road.
---
Cruisers
Address: 429 Front St., Santa Cruz
Phone: 831.423.3722
Hours: Sun-Thu 11am-10pm; Fri-Sat 11am-midnight
Ambience: ** Classic retro diner with '50s vibes
Service: ** 1/2 Friendly and swift
Cuisine: ** Freshly made burgers and diner classics
Overall: It's hard not to like a slice of the past with red booths and good old-fashioned rock & roll.
---
[ Santa Cruz | Metroactive Central | Archives ]