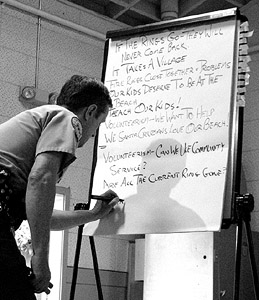 Write It 100 Times: I will not take away the fire rings, I will not take away the fire rings ...





Nüz

Up the KAZU

The abrupt change of Pacific Grove-based KAZU-FM (90.3) from local community-based programming to just another outlet for NPR talk shows left listeners shocked and in mourning. But what will KAZU's about-face mean for KUSP?

KUSP station manager Peter Troxell says he's disappointed by this massive shake-up of the local public-radio landscape, which has KAZU now going head to head with KUSP. "But we're not having a knee-jerk reaction. Some of our listeners want all talk and no music, so we may see them going to KAZU, but we're confident in our programming and the fact that we have a larger broadcasting reach."

Though Troxell claims he had no warning of the KAZU meltdown, he says it didn't surprise him.

"A few years ago when KAZU was in financial trouble, KUSP wanted to acquire KAZU's license, which would have given KUSP two frequencies for broadcasting music or talk," he said. "At the last minute, CSUMB President Peter Smith promised to take over KAZU untouched. I didn't believe that promise then. Today we see it wasn't true."

Ex-KAZU board member and KUSP programmer Mike Eckstorm says the move jeopardizes KAZU's integrity and will come back to kick it in the pocketbook when pledge-drive time comes around.

"KAZU has turned its back on the community. The trust has been breached," said Eckstorm. "KAZU's board bought CSUMB's line, and now the station's getting burned."

Eckstorm says the move also leaves KUSP in a dilemma, since suddenly it's the station with the music. "NPR's formula is damn good. The trade-off is that local community gets put under the mat, because NPR's focus is national issues."

At present, KAZU is broadcasting an interim schedule, and though the station's popular Roadside Cafe with J.T. Mason and Robin Roberts is still in place, so far the show has not been on the air.

Asked why, Roberts told Nüz that KAZU's general manager John McNally wanted to cut the three-hour "Roadside Cafe " to a two-hour show.

"We've been told KAZU wants to keep four hours of interactive radio, that they want to replace our third hour with the first part of "Talk of the Nation." JT and I are very committed to our community of listeners, who have been dealt a huge blow, and we feel committed to continue to be the best we can be, and we've proven ourselves in a three-hour spot. We don't know we can do that in two hours."

But after much agonizing, the eclectic duo has decided to try the two-hour format, starting July 1.

As Mason told Nüz, "We've been told that if we can prove ourselves in six months, they'll reconsider the cut. And we've been promised full artistic control. The community has told us they want us back, that two hours is better than nothing. One concern was that losing that third hour would mean eliminating the potential for live music on the show, but the musicians say they'll work with us."

Mason says she hopes people can get over the frustration of losing everything else and continue to support the show.

"It's been heartbreaking," she said.
---
The public is invited to a wake for the things they enjoyed, but which are now dead at KAZU. Monday, June 30, 10am-1pm, Laguna Grande Park, Seaside.
---
Burning Issues
No fireworks at the beach on July 4? Forget it. Never mind that roman candles and their sky-bound brethren are illegal in Santa Cruz County--we all know the beaches will be smoke-filled wastelands on Independence Day, war zones replete with piccolo petes, spinners, snakes and cones.
With all this illicit activity guaranteed, it seems almost irrelevant to note that at least the beach fires will be legal--provided they happen in a fire pit. That was the conclusion State Parks reached after a meeting about the future of the age-old beach fire tradition.
"The general consensus was that people want their fires, so we're going in the direction of keeping them, if we can make other options such as fire flags and self-contained fires work," said State Parks Supe Dave Vincent, who has directed park rangers to return the 38 remaining fire rings from whence they came.
Faced with numerous offers of volunteerism to clean up the beaches in the interest of keeping the fires burning, Vincent said, "We welcome volunteerism, but we're a little nervous about people having to deal with hot coals, glass and nails."
Comments noted at the meeting included, and we quote:
"If the rings go, they will never come back."
"You're taking away our freedom. This is the last straw."
"Jeeps running up and down the beach ruin our beach experience. Sell the jeeps and buy fire rings. "
"Fire rings encourage tourism. Adopt a fire ring."
"Concern should be alcohol, not fires!"
"I am a beach criminal. I was arrested for a dog-off-leash violation."
"I was trapped watching Little Mermaid in a Junior Lifeguard program!"

Now, what was that about how park rangers have it easy?

Lone Lee

Few outside the 9th Congressional District knew who Barbara Lee was before Sept. 11. But today, her name is internationally known as the one and only congressmember to vote against President Bush's Sept. 15 resolution for a permanent war--a vote that led to threats on her life, a 24-hour security guard and her current role as global leader.

All of which explains the buzz around Lee's upcoming talk at the Del Mar Theatre, on Saturday, June 29. Though Lee hasn't hinted what she'll be talking about, Nüz suspects she'll revisit her 1998 vote against bombing Iraq, as well as her more famous Sept. 14, 2001, vote, in which she advised the House to "be careful not to embark on an open-ended war with neither exit strategy nor a focused target."

"There must be some of us who say, let's step back for a moment and think through the implications of our actions today, let's more fully understand the consequences," said this daughter of a retired Army colonel.

Referencing Senator Wayne Morse (D-Oregon), one of two lonely votes against President Johnson's Tonkin Gulf Resolution, Lee said, "Senator Morse was correct, and I fear we make the same mistake today."
---
Barbara Lee will speak at the Del Mar Theatre at 1pm this Saturday, June 29, at a benefit for the Resource Center for Nonviolence. Tickets $8-15 sliding scale; call 423.1626.
---
---
Nüz just loves juicy tips: Drop a line to 115 Cooper St, Santa Cruz, 95060, email us at , or call our hotline at 457.9000, ext 214.
---
[ Santa Cruz | Metroactive Central | Archives ]