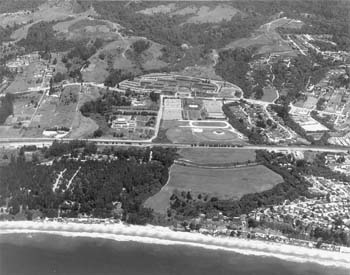 Covello & Covello Historical Photo Collection.

Cabrilho College, 1974: The college was named after Portuguese explorer/navigator Joao Rodrigues Cabrilho. There is no proof Cabrilho ever came near this area, and they insist on Spanishizing his name, but nobody's perfect. The large open field ringed by trees in the foreground was the proposed site for the Wingspread Conference Center. It was a developer's dream and an environmentalist's nightmare--and another Santa Cruz County land-use battle that environmentalists won.

Bruce Bratton

HOME DEPOT!! Doesn't it strike you as odd that mega-box-stores like Home Depot, when they give up a project, will never admit they were influenced by the negative community reaction? Can we then expect them to ever be responsive to, or care about, their customers? I don't think so. That documentary about a community fighting Wal-Mart, called Store Wars, that KQED showed last week, detailed how these box chain stores open many of their stores very close to each other (as close as 10 miles). This drives all small competition out of business in rapid time. The chains then close one out of three of their own stores and start increasing prices. That's probably what Home Depot is planning with their plan to have five stores in the Monterey Bay area.

RIO THEATRE UPDATE. The Rio Theatre has had more than an astonishing 30 public events this year already--from Tandy Beal and Company to standing-room-only for poet Lawrence Ferlinghetti, from Maverick surf films to Cuban dance companies. This great 1940s icon has become a new institution. UCSC's Arts & Lectures will be bringing some attractions here, and with the new lighting, lobby overhaul and genuine community involvement, the owner, Laurence Bedford, has made it work. Small schools use it, business groups use it and the rental fees have been carefully readjusted to fit anyone who needs a 700-seat space. Call 689.0923 for info.

DARK PLEASURES. The Fast and the Furious has probably the best car chases since Bullitt; unfortunately it has nothing else, such as a plot or acting. Evolution has the same problem, and it isn't as funny as The Fast and the Furious. Disney's Atlantis is the worst Disney animated film I've seen in decades. Dr. Doolittle 2 is equally bad, and this must be the summer film season, since Eddie Murphy needs either serious help or more money. Ben Kingsley is the Sexy Beast in this dark clever bank robbery thriller. Go see it: it has style, excellent acting and an intelligent script! If you have HBO, don't miss the new dramatic comedy series Six Feet Under. It's on Sunday nights with Sex and the City, and both are right up there with the quality of The Sopranos. Arliss, the sports-agent comedy, is a bit too silly but still better than any network attempts at laughs.

LOUIE'S LOT. I've always been surprised that Louie Rittenhouse would be so public about wanting to keep the Pacific Avenue and Church Street lot to honor his grandfather Emmet Cloyd Rittenhouse. Santa Cruz County historians have known about Emmet's Keep California White campaign, but just for the record, here's some colorful downtown Santa Cruz history. Emmet was an attorney who was murdered on the site by "the six shooter of Charles Edward Wildey" back in 1948. (All quotes and reports are from the Santa Cruz Surf, the Santa Cruz Evening News and the Santa Cruz Sentinel-News.) Wildey, who died in the Mendocino state hospital, never would reveal why he shot Rittenhouse. He would only say, "I have no feeling of guilt," "It was necessary to be done," "He had it coming to him" and "Rittenhouse turned and made an accusation I would not want to repeat here. I lost my head and shot him." What we know about Emmet Rittenhouse is that he ran for congress as a Republican in the Eighth Congressional District (which included San Jose) on a pure-race ticket with the slogan "Keep California White." Emmet believed that foreign labor proves detrimental to good morals. He stated that "we cannot dump great hordes of other races into our melting pot and expect to pour out a pure product." He talked repeatedly about the Mexican peons and their threat to our social structure. In a radio address, he also talked about amending the immigration laws so the influx of Mexican and Filipino labor into this country would be practically controlled. Emmet did actually beat his opponent, Arthur Free, in Santa Cruz County by 1,389 votes, but he was trounced in the rest of the district by 316,885 votes. I assume Louis will create a fine commemorative plaque on the building detailing Emmet's accomplishments so none of us, and especially the City Council, will ever forget just why this building is here.

UNITARIANS AND GOD. The Sentinel carried an article on June 16 about how the Unitarians in Virginia and elsewhere are debating how much God should be in their religion. In case you wondered, the Santa Cruz County Unitarians (who meet out in Aptos) lost a similar battle a few years ago to the religious faction who believe in God.

OTHER PUBLICATIONS. If you like cinema, read the spring issue of Eyecandy, especially the piece on Hong Kong film by Robert Easley; it's excellent. Real Santa Cruzans will love "How to Celebrate Rory Calhoun Day" by B.J. Winslow in the May 31 issue of Fish Rap Live! That entire issue was fine reading, and even though it's hard to find it's worth the trouble. The June issue of The Cement Boat--"Shouldn't float, but does"--may be the last of its six issues. The mag (the creation of Metro Santa Cruz's Hiya Swanhuyser) talks about B. Traven, the Wobblies and in-your-face items like that. No, I don't know where you can find any of above, just keep looking.

CELEBRATE JULY 5. Triangle Speakers are presenting Margaret Cho's filmed stand-up comedy performance I'm the One That I Want July 5 at 7pm at the Nickelodeon; call 457.2934 or get tix at the Nick. The Green Party is showing the video This Is What Democracy Looks Like at 7pm on July 5 at the Live Oak Grange, 1900 Seventh Ave., Santa Cruz It's about the Seattle WTO protests; call 462.4525. The Santa Cruz Writers Workshop is doing a workshop on self-publishing at 6pm on July 5 in the Main Library upstairs meeting room. They're bringing in three authors who have self-published. Call 724.2059. Something must be happening July 6, but it can't be very important.

FABULOUS FOOD FINDS. I plugged the Mae Ploy brand of Sweet Chili Sauce before, and the Mission Street Safeway has had trouble keeping it in stock. But it's back, with a new label. It still has "Padung Porn Coconut Co. Product of Thailand" on it, and it's still about $3.15 a quart. Now they tell you it's great on veggies, fish, meat and chicken, but most of us knew that. If you've never tried La Michoacana brand of ice cream bars, you're missing something. Sure, the regular fruit flavors are very good, and the label says, "quiescently frozen ice cream bar," but there are two flavors that will stop you cold. Try the Pepino con chile--it's sweet and has cucumber seeds and chile powder! It's unbelievable and good and spicy. Then try Arroz con leche. That's like frozen sweet rice pudding with raisins on a stick.. The only place I know that usually has them is the Village Market out on East Cliff near Polivio's.

UCSC FILM SERIES. Earl Jackson Jr. has created many film series shown in Room 75 at Social Sciences II up at UCSC. UCSC and the related departments are doing a fine thing for the Santa Cruz community in sponsoring these free films Wednesday (June 27) is Wong Kar-Wei's Chunking Express, his breakthrough film and, as Jackson says, an excellent love story. Go to www.anotherscene.com to find out what the other films in this Summer Love Crimes Series are.
---
Bruce critiques films every other Thursday on KUSP-FM (88.9) at 12:50pm. Reach Bruce at [email protected] or 457-5814, ext 400.
---
[ Santa Cruz | MetroActive Central | Archives ]