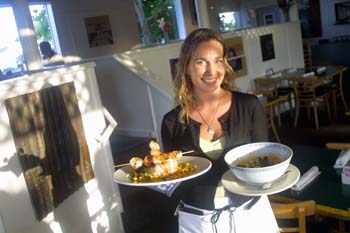 Photograph by George Sakkestad

Culinary Details: Dara Ross serves some perfectly crafted main dishes at Blacks Beach Cafe.

Life's a Beach

Seasonal produce continues to headline at Blacks Beach, with a sophisticated new spin

By Christina Waters

IT'S BEEN EXCITING to watch the evolution of Robert Morris' Blacks Beach Cafe over the years. The talented chef/entrepreneur's latest menu adds miles of flavor sophistication to his cozy beach neighborhood bistro.

In addition to a list of appealing wines--including fine continental offerings--Blacks Beach has a good-looking new menu showcasing Morris' attention to culinary detail and seasonal changes.

Woven through last week's dinner was special attention to fresh corn, mint, red bell pepper and locally grown berries. Deciding on a split of Vosne-Romanée from the wittily named Gros Frère et Soeur 1998 ($25), Kelly and I examined the menu over warm francese and unsalted butter.

The menu cleverly allows for maximum exploration by dividing the menu into grill items--you choose from seafood, chicken, even New York Steak--and what are called "entrees." These may be ordered a la carte or added to your chosen grill item.

Kelly chose grilled polenta cakes to match with her grill selection of Black Tiger prawns ($19). I paired my special-of-the-day boat scallops with an orzo dinner salad so refreshing and delicious that it qualifies for cult status ($20).

An attractive appetizer salad of crinkly purilla romaine dressed with creamy gorgonzola and lots of toasted fresh corn ($5.50) started me off. Kelly's baked portobello mushroom ($8) arrived in a spectacular presentation. A whole portobello, succulent and delicious, rose like an atoll from a rosy sea of tomato coulis. A topping with Sea Star goat cheese and pine nuts had been roasted onto the funghi-sphere--this is a recipe worth begging for and then giving as a Christmas gift.

The tender salad was fine, but I loved even more my entree of fat sautéed scallops atop a mound of orzo. The oval-shaped pasta had been laced with lots of roasted corn, crisp pea pods, tender carrots, shredded arugula and mint. The mint was a stroke of genius.

Kelly, meanwhile, made such a fuss over her polenta that I liberated a forkful from under two skewers loaded with large prawns. This wasn't gratuitous polenta. It was, in her words, "the best polenta I've ever tasted," and I had to admit it was stupendous. Moist, yet firm, it was topped with roasted red pepper sauce and Gorgonzola, studded with Kalamata olives and diced veggies and joined by a field of tender Swiss chard.

Vegetables are treated like seasonal royalty at Blacks Beach, and yet they didn't dominate the dishes. The scallops held their own beautifully, fresh with tender essence of the ocean. We were impressed, so much so that we hoped Black Beach Cafe's delicious evolution will include some fine-tuning of décor. With such a sensitive menu, the green and black Formica-topped tables seem anachronistic. Perhaps an update? Or maybe simply some table linens.

The desserts last week were especially appealing, and for once we bypassed the famed hot pepper pineapple. An exquisitely flaky pastry filled with warm apples proved dazzling ($5). Joined with caramel sauce, sliced strawberries and a scoop of vanilla bean ice cream --and impeccable espresso ($1.25)--it made a wonderful way to complete a fine meal. And while Kelly agreed--at least her fork certainly did--she was hooked on a sinfully satisfying slice of dense chocolate mousse cake ($6) surrounded prettily by a colony of blueberries and raspberries, ringed in a tart-sweet mixed berry sauce.

Blacks Beach Cafe has become impressively less rustic than I'd remembered, and with its expanded range of stylish possibilities it appeals to an even broader dining population. Go see what I mean. Absolutely perfect food for summer.
---
Blacks Beach Cafe
Address: 2-1490 East Cliff Dr., Santa Cruz
Phone: 475.2233
Hours: Dinner Tue-Sun 5-9pm; breakfast/lunch Sat-Sun 10am-2pm
Ambience: ** Laid-back beach atmosphere encourages a nonpretentious approach to dining
Service: ** 1/2 Well-trained and helpful, the servers know and appreciate the house menu and philosophy
Cuisine: *** Consistently fine dishes show attention to visual appeal, the freshest ingredients and a chef devoted to clarity of flavor
Overall: Blacks Beach Cafe has gotten better and better with each passing year--a remarkable achievement in a complex field. The popularity of this beach mecca is justly deserved.
---
[ Santa Cruz | MetroActive Central | Archives ]