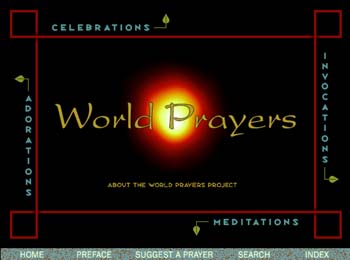 Faith Base
Say a little prayer for me, you, us, them and everyone else
By Sarah Phelan
EVER SINCE Dubya's coup d'état, more than half the country has been praying for a miracle. And suddenly there was Jeffords. Want to check out the power of prayer further? Visit www.worldprayers.org, an archive of historic and contemporary prayers. Created by local resident Jody Baxter, the site has been nominated for a 2001 Webby Award in the Spirituality category.
Says Baxter of his website content, "Though these sacred verses arise from divergent paths, voices, languages, cultures and heritages, they all carry within them the same burning flame--the same impassioned love for life and the divine mysteries." Amen.
You can enjoy the prayers randomly, in one of four broad categories--Meditations, Invocations, Adorations and Celebrations--or search the database for specific prayers by religion, author, keyword or phrase.
And in the spirit of doing what you love and doing it well, we leave you with this invocation, found at worldprayers.org: "Dance as though no one is watching you/ love as though you've never been hurt before/ sing as though no one can hear you/ live as though this is heaven on earth."
[ Santa Cruz | MetroActive Central | Archives ]