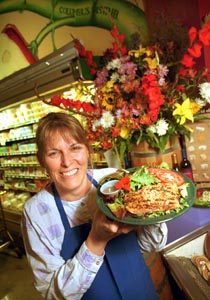 It's Easy Being Green: Catering director Val Vanderlaan displays New Leaf Market's grilled salmon salad Green Plate Special.

Photograph by George Sakkestad





Plate Sated

The Green Plate Specials at New Leaf are whole meals ready to go

By Janet Blaser

DINNER, ALREADY PREPARED, that I don't have to cook? Made with mostly organic, fresh-as-can-be ingredients? And under $10? Point me in that direction, I'm there. Now, some of you may already know about New Leaf Market's Green Plate Specials, a daily menu of house-made dinners packaged and ready to heat and eat. And it seems that the Capitola and West Side locations have a little more traffic in this department than the downtown store where I shop, so what's news to me may be old hat to you.

The menus change seasonally and include a fairly extensive variety of entrees. The new summer menu features vegetable lasagna, black bean enchiladas, eggplant strata (umm) and samosa with curried vegetables--and grilled chicken with garlic salsa, grilled salmon salad and BBQ chicken. All dinners include a salad, vegetable side or some sort of starch, and they are reasonably priced between $3.49 and $5.99. Nancy Weimer, the mastermind behind the delis at all the New Leaf markets, said they wanted to fill the niche for that grab-and-go thing. "So far," she said, "the dinners have been immensely popular with a cross-section of the community: construction workers, surfers, families, students and singles." Stoked that there's been such a positive response, Nancy admits to having a love affair with food (although it was love of a different kind that brought her to Santa Cruz from the East Coast). "I've lived in some really beautiful places for food lovers," she said. "But there's nothing like Santa Cruz."

In her position as food services director, Nancy gets to sample and order the best of the best: certified organic chicken, pork and, soon, B3R beef from Bradley Ranch; cheeses flown in directly from France, as well as other more local cheeses; pastas, fruits, veggies, herbs, beans, coffee, juices, grains, oils--all organic, as much as possible. New Leaf also does catering, with a menu of 17 different Ready to Party platters that include everything from a Mediterranean meze (hummus, olives, dolmas, marinated feta, baba ganoush, tapenade and toasted pita triangles) to a sandwich platter to a dessert platter. All come in two sizes: with 8­10 servings ($20­$50) or 15­20 servings ($40­$85), and each can also be upgraded to be entirely organic. Delivery is available, and come the holidays there are always a few specials, too. Platters require 48 hours advance notice. Green Plate Specials are available after 3pm daily in the three New Leaf seaside locations: Capitola at 1210 41st Ave. (479.7987), the West Side, 2351 Mission St., Santa Cruz (426.1306), and downtown at 1134 Pacific Ave., Santa Cruz (425.1793). No need to call ahead for these, though--you'll find them ready-made in the deli section.

Super Changes

Well, Super Snac's, on the corner of Brommer and 17th in Live Oak, has changed owners. Long the home of the best real roast turkey sandwiches for miles around, Super Snac's created a wake of fans who have grown to depend on the consistency of the flavor, quality and substance of the menu. Turkey noodle soup like your Jewish grandmother would have made; overstuffed sandwiches, always with an inordinate amount of shredded carrots spilling out because of some personal health reason of the owners; and--sigh--a Thanksgiving dinner any day of the year, complete with real mashed potatoes, gravy and cranberry sauce. The new owners have gotten rid of the Day-Glo exclamations on the windows, and we can only hope that apostrophe is next on the list. Other changes are in the works--stay tuned for more info.
---
Got a food tip? Email Janet at [email protected].
---
[ Santa Cruz | MetroActive Central | Archives ]