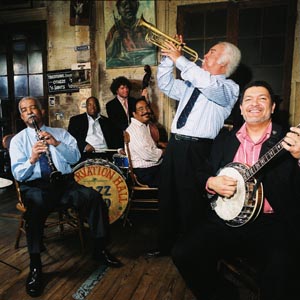 How to Make Preservation Jam: Take a clarinet, a drum, a bass guitarist, a piano, a trumpet, a banjo. Stir well in a hall in the French Quarter. Add Sugar. Serve.

All Natural, No Preservatives

The Preservation Hall Jazz Band brings in a bumper crop of New Orleans Jazz as it rolls into the Rio Theatre

By Peter Koht

'It's not really a concert hall," says Preservation Hall Jazz Band bassist Ben Jaffe, thereby dispelling one major misconception that most people have about the home base of his band.

"When people hear Preservation Hall they think it's like Carnegie Hall. It's really not like that. It's a completely different experience. It's this tiny little room that barely holds a hundred people."

Housed in a building that dates back to the 1700s, Preservation Hall is nestled in the French Quarter, just a few hundred yards from the Mississippi River. Initially a private residence, it has also served as an inn, a photo studio and an art gallery. In the early 1960s, two transplants from Pennsylvania, Allan and Sandra Jaffe (Ben's parents), took over the lease from the art gallery and opened up Preservation Hall as a music venue.

"They had no experience running a nightclub. Well, I shouldn't call it a nightclub, because it really isn't, but, you know, they were young." Ben Jaffe says with a laugh, "It's still run with a basket at the door for donations. The price has gone up a little. It's eight dollars now."

More importantly, the humble but historic Preservation Hall became the home base for an all-star band that took to the road to spread the love of the beguine to those unfortunate enough to be born outside of the Crescent City.

Playing around 150 dates a year, the Preservation Hall Jazz Band has been New Orleans' principal musical ambassador to the rest of the world--at least since Louis Armstrong moved to New York. For Jaffe, it's a gig he was born to play. After all, his father held down the tuba chair in the group for most of its history.

"I've know everybody in the band, or they've known me since I was a baby. It's kind of like performing with your uncles or your grandparents. These are the guys that I learned how to play from."

While other styles come and go, the band has stuck to its stylistic roots. The drumkit is primitive at best, the solos don't get all that chromatic and most of the tunes were written during the era of Huey Long. Though Jaffe was born long after the Kingfish was gunned down outside the capitol in Baton Rouge, he's a believer in the viability of New Orleans Jazz in today's musical landscape.

"It's like red beans and rice, which is probably the most popular dish that we have in New Orleans." he says, "The recipe hasn't changed in 300 years. That doesn't make it good or bad, it's a great dish. Just like the music, why would you want to change it?"

The band is not immune to the vagaries of the musical universe. Within our interview Jaffe mentioned Parliament, Rufus Wainwright and the Meters as major influences on his playing style. After all, he says, "we don't always eat red beans and rice, but we do always come back to what we know."
---
The Preservation Hall Jazz Band. Rio Theatre, Sunday, July 3, 7pm. Tickets: $15, available at Streetlight Records (831.421.9200) and the Pearl Alley Box Office (831.457.7551).
---
[ Santa Cruz | Metroactive Central | Archives ]