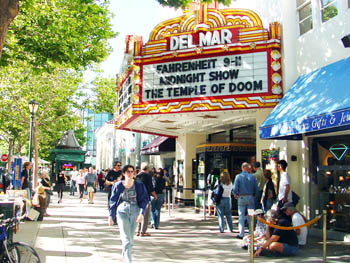 Doom For Whom?: Lines stretched down Pacific Avenue this weekend for sold-out showings of 'Fahrenheit 9/11' at the Del Mar.

Nüz

Cruz on Fire

As in a surprising number of towns in America, Michael Moore's Fahrenheit 9/11 sold out opening night in Santa Cruz--including the 11:15pm showing. Nüz knows this latter detail because that was the earliest we could get a ticket--and we work downtown, so ticket buying isn't usually a problem. As we waited in the long snaking line outside the Del Mar to get in Friday night, political tablers registered scores of disaffected American voters, while one exiting viewer yelled to the waiting crowd, "It's totally worth it!"

Seems millions agreed, given that Fahrenheit 9/11 grossed $21.8 million in its first three days, making it the first documentary ever to debut as Hollywood's top weekend film.

One of Nüz's favorite scenes in 9/11 was hitherto unseen footage of the egg-pelting riot that occurred during Bush's inauguration and of congressmembers unable to find a single senator to contest the results of the 2000 presidential election. And then there was that magical moment when Moore hired an ice cream truck and used its loudspeaker to drive past the Capitol, reading the Patriot Act aloud, after representatives admitted they hadn't read all of its laws, with one congressmember revealing that most representatives don't read most of the bills they pass.

This latter scene should give us all pause, now that twin bills to reinstate the draft are reportedly in the works; if passed, they would make national service mandatory for all U.S. male and female residents between the ages of 18 and 26, whether they be citizens or not, with no college exemptions, beginning June 15, 2005.

Meanwhile, faced with mostly Republican charges that the movie is a pack of selective arguments, bent truths and glaring omissions, Moore has set up a webpage to detail his sources. Check it out at www.michaelmoore.com/words/.

Distribute Globally, Act Locally

Meanwhile, communities across America, including of course the Cruz, are riding the Fahrenheit 9/11 euphoria by organizing afterparties where participants strategize how not to get Bush-ed again.

One such participant told Nüz that her group was planning to talk about how to respond to the rumored release of a movie this October titled FlipFlop, which far from documenting the rise of the flip-flop from beach bum gear to must-have high fashion accessory seeks to crucify Democratic presidential nomineeJohn Kerry for his much reported changes of opinion.

Don't know about you, but going from gung-ho war volunteer to antiwar veteran in the space of a few years seems like a sign of strength not weakness, to us, but we're glad people are trying to anticipate and pre-empt White House spin, rather than merely reacting to it. One of the best strategies we've heard of so far is laid out at www.drivingvotes.org, which is organizing people to go to swing states and register voters. Ride boards are offered and stories are posted of people traveling halfway across the country to influence the vote. It's a truly unique site--and it could be the coolest way to spend your 2004 vacation.

Beyond 'Fahrenheit'

Even before Fahrenheit 9/11 hit America like a meteorite, the public was saying it prefers Kerry over Bush on the question of who would do a better job handling the U.S. campaign against terrorism, according to a June 17-20 ABC News/Washington Post poll. Kerry is also ahead of Bush on handling health care (+21), taxes (+13), prescription drug benefits for the elderly (+12), education (+10), international affairs (+8), the economy (+5) and the federal budget deficit (+4). The only area where the public says it prefers Bush is on "handling the situation in Iraq," where Bush leads Kerry by 5 points (50-45), although his approval rating on Iraq is solidly negative at 44 percent approval/55 percent disapproval, with 52 percent saying that "the war with Iraq was not worth fighting for, and 71 percent now saying that there has been an "unacceptable number of U.S. military casualties in Iraq."

Seems the one person the public does approve of right now is Bill Clinton, whose approval rating is up to a healthy 62 percent. Yup, compared to Abu Ghraib, you bet Monica's dress is looking good right about now.

Source's Mouth

Faced with disbelief that Secretary of Defense Donald Rumsfeld really is impeachable, Councilmember Emily Reilly went to the source to check it out. Here's what she found in the U.S. Constitution, Article 2, Section 4:

"The President, Vice President and all civil officers of the United States, shall be removed from office on impeachment for, and conviction of, treason, bribery, or other high crimes and misdemeanors." These "civil officers" include federal judges and cabinet members, but do not include Senators and Representatives."

Out of the Box

With Home Depot eyeing 41st Avenue as well as the West Side, local resident Aldo Giacchino says the traffic analysis report that was done as part of Home Depot's West Side application underestimates UCSC's projected role and ignores the impact on existing traffic bottlenecks. Other bones of contention are plans to cut down trees, install a roundabout at Swift/Delaware, restripe the southbound approach to Mission and add a right-turn lane in front of Cafe Lola. Read the report and Giacchino's analysis at the city's Planning Department at City Hall, 809 Center St., Santa Cruz.

River Dance

With most people focusing on what they're gonna barbecue this weekend, First Night Santa Cruz planners are asking visual and performing artists to think six months ahead and submit applications by July 16 and July 30, respectively, for First Night 2005, whose theme is "Rivers for Life." The rivers theme is meant to kick off the United Nations' 2005-2015 International Decade of Action, says First Night executive director Blake Smith, noting that the procession will go up Pacific Avenue and over toward the San Lorenzo River, "where some spectacular and ecologically safe event is being cooked up. We're back and we're better than ever." Visit www.firstnightsc.com or call 831.425.7277.
---
Nüz just loves juicy tips: Drop a line to 115 Cooper St, Santa Cruz, 95060, email us at , or call our hotline at 457.9000, ext 214.
---
[ Santa Cruz | Metroactive Central | Archives ]