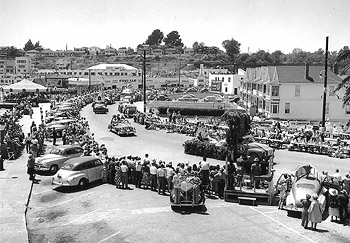 Covello & Covello Historical Photo Collection

Capitola 52 Years Ago: This Fourth of July Parade in 1950 also shows the Edgewater Club, the Circle Drug Store, the Funville Casino, and the summertime merry-go-round. Capitola Beach used to be called La Playa de Soquel and later Soquel Landing. I learned from Bruce Gabriel and Edward Murray that Kermit Darrow actually designed the Dream Inn. He also did the Town Clock structure, so he's not all bad.

Bruce Bratton

KAZU ACTION. Saddened former listeners to KAZU on both sides of the bay are still steamed by station manager John McNally's plotting with CSUMB president Peter Smith. Their decision to cancel almost all locally originated programs of music and talk and sell out to NPR talk and news format will have some interesting fallout. Two groups of listeners are discussing a class action suit against McNally and deep-pocketed Smith at CSUMB. They allege that KAZU fund drives were conducted with full knowledge that promises to keep existing programming on the air were fraudulent and they want all pledges returned, plus damages. Attorneys are being consulted and hopefully listeners on both sides of the bay can join forces in this action. It's amazing to me that CSUMB would be so insensitive to the community, and more than that, that they'd engineer this programming takeover in secret. Especially since Peter Smith promised to allow KAZU to keep its traditional format.

DARK PLEASURES. The Believer is about a Jewish kid who's a neo-Nazi because he hates Jews. It's complex, theological and wonderfully acted and won awards at the Sundance Film Festival. See it, but go warned. Margaret Cho is getting more funny, more deep, more nasty, and more insightful in Notorious C.H.O. She's carrying on the Lenny Bruce tradition of in-your-face comedy with huge amounts of social and personal commentary; don't miss it. The Dangerous Lives of Altar Boys featuring Jodie Foster is clever, unusual and great fun. It's well worth seeing. Lilo & Stitch is cute and very Disney, but not worth paying money to see. It's also degrading to Native Hawaiians; forget it entirely. Tom Cruise's and Spielberg's Minority Report is mostly visual candy. It does contain a dozen or more ideas that could have made for brilliant scripts, but they didn't. Fast Runner, a three-hour Inuit historical saga, didn't do much for me due to some lousy acting, but it's a beautiful film. UCSC's Earl Jackson Jr. showed a Korean film, Bungee Jumping of Their Own, last week, one of the most sensitive, creative films I've ever seen. He also showed Audition, which was also sensitive, creative, gory and excellent. Earl's now working on expanding his showings to double features; stay tuned. No, I haven't seen Scooby Doo, Juwanna Mann, Hey Arnold, or Mr. Deeds, and you shouldn't either.

DOWNTOWN ISSUES COMMITTEE. Last Friday's meeting at the Museum of Art and History of folks who are concerned about the welfare of our downtown was amazing for several reasons. The 75-80 attendees were (a) well behaved, (b) representative of each major interest group and (c) focused. To see merchants, street performers, police, downtown residents, media, Chamber of Commerce, homeless and Downtown Association all together and listening to each other was genuinely hopeful. The only people missing were UCSC representatives and probable City Council candidates like Beiers, Mathews and Rotkin. Primack wasn't there either, but Mayor Krohn and Scott Kennedy attended while Ed Porter and Emily Reilly presided. 33 issues have been identified and now the idea is to work out solutions together. Alcohol, panhandling, bathrooms, noise, vandalism and the Sentinel's traditional bad attitude about downtown seem to head the list. Most cities in the USA and around the world face these same problems. There's a second meeting tonight, which hopefully will be as well attended and will get to work on creating a long-term task force. There was also talk about replacing the downtown social worker position to help out the police and host program.

HAPPY FOURTH. You should go over to the Evergreen Cemetery around 11am on the Fourth; the Museum of Art and History is putting on a special Celebration of Our Independence. They'll be serving apple pie and cider and giving tours of this historical gold-rush-era hallowed ground. You can meet a virtual Isaac Graham who they named the road after. Graham ran a still near Freedom (then called Whiskey Town); he was also a bigamist and a real estate con and did some lumbering and cattle ranching. Ask him about all of his adventures, he has wild tales to tell. Sarah Gourley, another early émigré to Santa Cruz, will be on hand, too. Call MAH at 429.1964 for info.

MORE HAWAI'I REPORTS. The kids on Kaua'i are playing pog again. Saltwater intrusion is a water problem on Maui. I got to sneak through Carlos Santana's new house on Maui; big and beautiful are the words. Mexicans are the newest low members of the labor force on Maui and more are moving there daily. Don't drink the product or bother touring the Kaua'i Coffee Company. The growing and processing is nearly 100 percent mechanical and they sell the coffee--which tastes mechanical--for about $16 per pound at the tour place. The airport security check going from Maui to Kaua'i was tougher than any I encountered to and from Europe. Probably because of the Pacific Missile Range Facility which not only is very active missilewise, but has angered local residents by making their beaches off-limits for no good reason.
---
Bruce critiques films every other Thursday on KUSP-FM (88.9) Reach Bruce at [email protected]
---
[ Santa Cruz | Metroactive Central | Archives ]