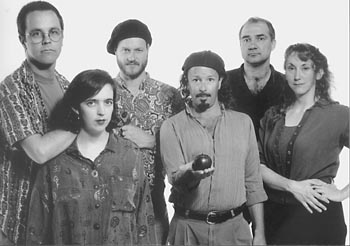 Caution--Comedy Working: Sketch comedy troupe Dangerous Neighbors earns fans with sendups of serial killer librarians and a sharp eye for the absurd.

Back on The Block

Dangerous Neighbors sends up modern living and skewers predictable Santa Cruz theater

By Andrea Perkins

HIDE THE GARDEN GNOMES and cover children's eyes: Dangerous Neighbors is back with a new show. The seventh (sometimes) annual night of original sketch comedy, Certain Urges, features nine new skits by writer Bill Burman in the tradition of Monty Python, Kids in the Hall and Saturday Night Live.

Based in Santa Cruz, the troupe has shared its unusual and often twisted take on American society with the Bay Area for the last six years, during which time they have acquired an unlikely following: One of the group's most-popular skits, Ethel Pratt--about a librarian who harpoons various members of the community in order to get state funding and enhance her book collection--earned invites to perform at several private library functions. The librarians paid more than Dangerous Neighbors had ever made in a five-week run.

This year the company's run is timed to coincide with the Shakespeare Santa Cruz festival. Co-founder, producer and actor Eric Conly describes the move as an attempt to "bring a fresh set of material to the Santa Cruz stage that offers a balance to the stale and encrusted festival atmosphere that is Shakespeare Santa Cruz.

"This is a great town for breeding new actors and writers, but when it comes to being able to actually practice the craft on a stage outside of the university, there aren't too many options that I can think of," he says.

"People don't want to see shows they're not familiar with," he adds. "People are willing to take a chance all the time at Blockbuster, but very rarely are they willing to take the same chance on theater. So most companies stick to what is known. They know Annie will work, so we get seventeen different productions of Annie. To bring out new theater in Santa Cruz is very difficult."

This year's edition tackles the issues of homosexual rehabilitation, gun control and romantic comedies. "We satirize films and TV shows where they're always casting people who don't have to work full-time jobs or wake up every day to an alarm clock, but instead have this free economy to go have panoramic views of the world," he explains.

A MANAGER OF Capitola's New Leaf Cafe, Conly chucked a high-tech career with Intel because it had "no connection" with the rest of his life. Now he spends his spare time reading about Richard Nixon. "He is fascinating," Conly says.

However, William Shatner is his true inspiration. Conly talks at great length about Shatner's under-appreciated style of acting. "It's beautiful how he can overexaggerate a sentence." Perhaps Conly is being sarcastic. It is sometimes hard to tell with him, but something tells me there is more than a grain of sincerity in this tirade.

Comedy is Eric's way of dealing with the fear of life and death, and the disintegration of modern society. "Society is always looking for the next thing to distract it instead of focusing on things that have some kind of intrinsic value," he says passionately. "Comedy lets us look at the absurdity of all that."

The future for Dangerous Neighbors? Two words: corporate sponsorship. Think of it--Budweiser presents Oedipus the musical, complete with pyrotechnics.
---
Dangerous Neighbors' Certain Urges runs Fri-Sat at 8pm at the Santa Cruz Art League Theater, 526 Broadway, Santa Cruz, through July 29. Tickets are $12 general/$10 seniors. (831.429.9278)
---
[ Santa Cruz | MetroActive Central | Archives ]