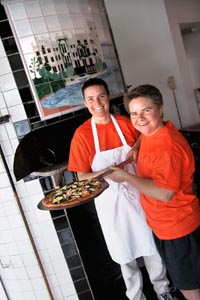 Dough Throwers: Liz Engfer and Katherine McCamant spin pizza pies with practiced hands at Engfer Pizza Works.

Photograph by George Sakkestad





All Fired Up

Engfer Pizza Works heats up Seabright Avenue with a wood-fired oven

By Janet Blaser

OK, OK, SO PIZZA'S my middle name--whutzit to ya? I could blame it on my New York/New Jersey upbringing; I could blame it on the Italian side of my family--whatever the case, good pizza and I go way back. That's also the case with Liz Engfer and Katherine McCamant, the proud new owners of Engfer Pizza Works down on the lower end of Seabright Avenue in Santa Cruz. Since Feb. 1, the two women have been quietly cleaning and testing out a ton of old equipment at the former Seabright Deli, finding their way through deli cases, a huge kitchen in the back, a big brass espresso machine that shined up to be something special and, of course, the pièce de résistance--that gorgeous, free-standing wood-fired pizza oven in the front window.

Slowly but surely, Katherine has been perfecting her dough-throwing chops, practicing on wet towels cut into circles. (I think it's safe to say now that she's reached the expert stage--feel free to ask for a demo, although if you order a pie, she'll throw it for real.) Katherine's first job, in fact, was in a pizza parlor, and it's Engfer's literal dream come true to be running one now. "We feel blessed," Katherine says. "Everything we wanted was all right here; all the pieces fell in place."

And they're still falling in place, it seems. Another long-held wish--homemade pasta packaged to take home and cook--will soon happen. The women found four pasta machines back in the kitchen, for ravioli, gnocchi, tortellini and plain pasta. The neighborhood--one of the sweetest left in the county--has welcomed them with open arms; the addition of a ping-pong table (a customer's suggestion) has turned the smaller dining room into an extra-fun space, and both women have taken to wood-oven cooking like, well, ducks to water. They've resurrected what worked in the past and are recreating what's needed now.

The menu offers more than a dozen sandwich selections ($4-$4.25), an assortment of homemade salads (potato, macaroni, mushroom, coleslaw, etc.) and, of course, pizza. How can I convey how wonderful a pizza cooked in a wood-fired oven tastes? It's kind of like homemade bread vs. Wonder Bread; canned peaches vs. fresh-picked Freestone; Illy Cafe vs. Nescafé instant. You'll just have to try it for yourself, and you can sit right at the counter in front of the oven and watch the whole process. Pick your toppings (all the regulars plus some interesting combos), choose a size (10-inch or 14-inch), and in about 10 minutes that 750-degree oven will have your pizza cooked to perfection.

The cook keeps an eye on the fire, which (I learned) is right in the oven, on the side of the volcanic stone base where the pizza sits--not underneath (that's just the wood supply). Inside, the oven is shaped like a rounded cone and circulates the heat like a natural convection oven. Katherine explains that they keep the coals burning all the time and stoke them every morning with small chips until the fire's big enough to throw on a few oak or madrone logs. They keep the fire ready to cook from
11am to 9pm, Tuesday-Friday, and beginning at 9am on weekends.

The lower end of Seabright, including Engfer's, is about to undergo a major facade makeover, courtesy of the City Redevelopment Agency. So soon you'll find more tables outside on the sidewalk, new signs and other building improvements. Inside you'll find a huge beer selection, including six on tap, wines by the glass or the bottle and assorted other beverages, including Nub chai and espresso drinks. Engfer Pizza Works is at 537 Seabright Ave.; call 429.1856 for takeout or more info.
---
Got a food tip? Email Janet at [email protected].
---
[ Santa Cruz | MetroActive Central | Archives ]