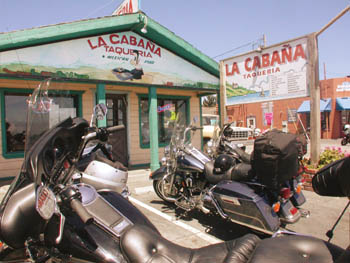 Photograph by Stephen Laufer

Whaddaya Got?: The bikers from 'The Wild One' might have terrorized small towns; the ones from Davenport enjoy the simpler pleasures of authentic Mexican cuisine.

Feel-Good Hut of The Summer

La Cabaña serves up authentic Mexican dishes and Davenport's unique coastal ambience

By Christina Waters

On a perfect morning, cobalt skies and sparkling waves seem to gravitate up the coast to the sleepy village of Davenport. Having warmed up with a cup of Italian roast and one of those sugary scones from the Whale, I have already hiked the cliffs and beaches accompanied by crowds of Queen Anne's lace and soaring pelicans.

Appetite at full throttle, I head over to the sheltered courtyard next to the tiniest post office on Highway 1 and stake out a table by the calla lilies. La Cabaña, beloved of German tourists, Italian bikers and buffed surfers, is about to make me a lunch offer I can't refuse.

On my latest visit, an animated discussion about capital punishment exercises a colorful quartet of longhaired locals, each of whom showcases varying degrees of deep bronze tan, sunglasses and worn mountain boots. Cats doze near the potted bamboo, little staircases wander up and down ramshackle doorways trimmed with viridian paint. The Arro's Store sign prevails, barely, against the elements. Herbs straggle out of weathered wood, and the view of the Pacific, glimpsed just beyond a shirtless guy working on his pickup, is something even Tuscany can't beat. I'm in paradise, or at least close to it, since Josef Bear's Eden Gallery forms the backdrop for this cozy courtyard ambience, where my faded fiberglass table has just been graced by a basket of chips and some excellent, definitely spicy salsa. Acoustic guitar starts up, and we all grin. In a few minutes, my icy Dos Equis quenches a thirst revved up by the first bite of handcrafted soft taco.

La Cabaña looks like a tourist joint--a sign even proudly proclaims "Welcome Travelers!"--but in fact it's a full-service, authentic Mexican restaurant whose menu runs the gamut from chicken mole to myriad burritos and tacos. Towering among these is the rare regional specialty, the artichoke taco--the first time I tasted it, I was struck by the obviousness of this delicious item. Here I was sitting in the open air, gazing at the ocean, surrounded by what? By artichoke fields. Finally I was actually taking a little bite of the land itself. Grilled artichokes, tender and pliant, had been tucked into the freshly warmed corn tortilla and then all topped with a combo of muy picante salsa fresca, diced cilantro, plus a delicious tomatillo sauce. No froufrou sour cream, no designer garnish--simply the real deal, with a wedge of lime. I might have been sitting at the beach in Zihuatanejo, the flavors were that convincing.

Just as good, believe me, are the nopales (prickly pear cactus) tacos, in which succulent shreds of the delicious cactus (tastes like a ripe green bean) are treated to the same salsa and tomatillo topping and presented in a double wrap of soft, warm tortillas. You can have your taco crisp if you want. But I wouldn't. La Cabaña has all manner of other goodies, from quesadillas, nachos, chile rellenos and tamales to full-on seafood dinners involving camarones mojo de ajo (madre Dios!) and charbroiled red snapper. But I can't get past those emerald tacos of artichoke and nopales. They cost $1.79 each.

No wonder those tourists from Hamburg are enchanted. Walk off lunch with a stroll around the prettiest funky town in California. A pause at the wee jail, then up the grassy hill to the equally tiny church. Down past the line of cement company bungalows for a look around the fabulous import world of New Davenport Cash Store. If the hour beckons, you'll want to take a seat at the wine bar and sample some local vintage. Another very leisurely circumnavigation of the town might take you up to the Lundberg Art Glass Studio for a look at some breathtaking Tiffany-style glass (bring your credit card), and then back to the bench in front of the Whale to watch the leading edge of an unforgettable sunset, glimpsed through the windswept thatch of cypresses. And at least once a week I make this pilgrimage up through the canyons and cliffs, to meditate in the sunny haven of Davenport's pricelessly bohemian nooks and crannies. When they pave paradise, they'd better leave this corner of God's country just as it is. This is why I live in Santa Cruz.
---
La Cabaña Taqueria
Address: 500 Hwy 1, Davenport
Phone: 831.425.7742
---
[ Santa Cruz | Metroactive Central | Archives ]