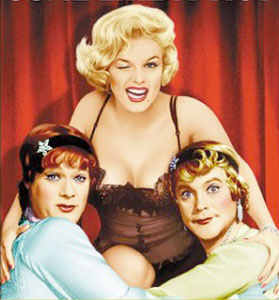 Citizen Kane
Cabrillo Stage gets a little Wilder with 'Some Like It Hot'
By Rebecca Patt
MUSICAL ADAPTATIONS of movies are a tricky business, but this summer at least you can trust Sugar Kane not to stick you with the fuzzy end of the lollipop. On the contrary, Cabrillo Stage's new production of Some Like it Hot looks to deliver hilarious shenanigans of the highest caliber.
Cabrillo Stage has been bringing critically acclaimed musicals to Santa Cruz every summer for the last 20 years, most recently with hit productions of Honk! The Ugly Duckling and Peter Pan. Now the talented team, guided by artistic producing director and musical director Lile Cruse, is doing a little genderbending as it takes on the stage version of Billy Wilder's classic 1959 film.
In lead roles immortalized by Marilyn Monroe and the cross-dressing Tony Curtis and Jack Lemmon, actors Elizabeth Earnheart, Ian Leonard and Tony Panighetti have some big shoes-or rather, heels--to fill. And a sneak peek at some of the musical numbers, which the leads recently trotted out at a snazzy media reception, demonstrated they can kick them up with flair.
Like the movie, the musical follows two down-on-their-luck musicians in Prohibition-era Chicago who witness a mob murder. The panicking twosome are forced to go on the lam, so they don heels and dresses and join an all-girl orchestra headed for Florida. They intend to ditch the band and the outfits once they hit the coast, but plans change when they encounter an irresistible detour in the form of the band's ukulele-playing bombshell Sugar Kane. Joe falls for Sugar but must maintain his "Josephine" guise, while Jerry/Daphne has to fend off the advances of lusty older millionaire Osgood. It's all kind of like Juwanna Mann, only it doesn't suck. In fact, the movie is one of Wilder's best films, which is saying a lot considering he also helmed the likes of The Apartment (also with Lemmon), Sunset Boulevard and Double Indemnity. It was chosen by the American Film Institute as the greatest comedy of the 20th Century.
Always looking to step out of the shadow of Shakespeare Santa Cruz, Cabrillo Stage has really gone all out this year. Despite the common misconception that they present "student productions," the company, which is affiliated with Cabrillo Collegemuch as SSC is linked to UCSC, uses all professional actors which they pick from all over. The show's music, choreography, sets and handmade costumes are all designed to capture the feeling of 1931 and bring the audience from Chicago in the dead-of-winter to sunny Florida. The pit orchestra features almost two dozen musicians, and the choreography ranges from tap-dancing gangsters to old millionaires with wheelchairs, canes and walkers hoofing it up in front of a ritzy Miami hotel. Skip Epperson is overseeing the creation of 14 different sets--from beat-up garages to yachts--which he says are packed in the theater's wings like a Rubik's cube.
"I'm embarrassed to tell you how much the show costs," says Cruse.
Some Like It Hot was first adapted into a musical in 1972 and revised again in 1992, and Cabrillo Stage has shown an uncanny sense of timing to revisit it now. It's a fitting tribute to Wilder, who died only a few months ago (Lemmon died almost exactly a year ago), and it also coincides with a 40-city tour of Some Like it Hot starring Tony Curtis as Osgood.
Not to mention the fact that, as choreographer and stage director Janie Scott puts it, "In this day and age having an opportunity to lift your spirits and laugh is something we can all use."
---
Some Like It Hot plays at Cabrillo College Theater, 6500 Soquel Dr., Aptos, from July 11 to Aug. 11, Wednesday through Saturday at 8pm, Sundays at 3pm. Tickets are $17-$24; call 479.6154.
---
[ Santa Cruz | Metroactive Central | Archives ]