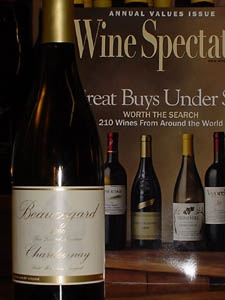 Vive La Révolution
Diving into the middle of summer with Bastille Day and some great new wines
By Christina Waters
CELEBRATE INDEPENDENCE DAY all over again, French-style, in the ambience of Bargetto Winery, this Sunday, July 14. You'll sample fine wines joined by elegant but accessible Gallic cuisine from Southern Exposure bistro/catering, which has earned its slot on the short list of our region's top dining spots. The Bastille Day fun starts with a 10:30am wine tasting (now that should separate the dedicated connoisseurs from the mere oeno-fants), followed by a gastrono-spread from 11am until 1pm. Give your palate a French kiss with salade niçoise, ratatouille, quiche, country pâté with cornichons (this is an unbeatable warm weather dish, the smooth, rich, cool pâté with the crisp bite of tiny pickles), cheeses with baguettes, onion tarts, mini croissants, fresh fruit--all this for $40 per person (includes buffet, wine, tax and tip). The setting is the creekside courtyard at the county's oldest winemaking establishment; Bargetto is located at 3535 N. Main St. in Soquel. Call 831.475.2258 for reservations. Allons enfants de la Patrie! Le jour de gloire est arrivé.
Tales From the Vine
On a recent visit to Shoppers Corner, I ran into owner Jim Beauregard, who proudly turned me on to his Beauregard label Ben Lomond Mountain Chardonnay 2000. Jim grows the grapes and his son Ryan makes the wine. The result? Supple mouth feel with crisp structure, citrusy with a few kisses of tropical fruit. An enlightened, nonponderous chardonnay, and at under $14 it's well within your budget. Old-timers will recall that Jim was one of the original partners of Felton-Empire Vineyard, which made some tasty vintages in the days before the property was transformed into Hallcrest (again).
Here's another wine tip for you. For a few dollars more, you can pamper yourself with my new favorite locally made zinfandel from Storrs Winery. Pam and Steve have struck solid gold once again with their 1999 Rusty Ridge Zinfandel, crafted from old Santa Clara vines. Huge and complex, it's loaded with varietal character and sophistication--splashes of licorice, strawberry and pepper. In a word, spectacular. You can find the Storrs Zinfandel at Shoppers too.
Another Bastille Day idea. Join passionate foodies at Jim Denevan's latest Field Farm Dinner & Tour, July 14 at Ella Bella Farm, in Corralitos. Chef Denevan, devoted to the farm fresh products he uses at Gabriella Cafe, is taking his talents out into the fields where farmer Brandon Ross grows exceptional vegetables and fruit on 30 fertile acres. Inspired by and using the crops harvested that very day at Ella Bella, dinner will be whipped up on location by Denevan and guest co-chef Randy Windham of San Francisco's late Café Monk. A farm tour precedes the meal, which will be enhanced by Bonny Doon Vineyard wines made by Randall Grahm. Dinner and tour, $90. Reservations--988.886.7406.
Product of the Week--Pasta Mike's fabulous Eggplant Parmesan Ravioli delivers a Sistine Chapel's worth of serious flavor, supple texture and wonderfully satisfying interior, for a mere $4.69. We were stunned by just how confident this Santa Cruz product is. Pop these packaged babies into a big pot of boiling water and three minutes later you're in mondo trattoria. Preservative-free, these raviolis are filled with only the best. Add some Barilla tomato and basil red sauce and you're living. Pasta Mike's makes several different raviolis, including a quattro formaggi and a pesto variety. We found our Pasta Mike's at New Leaf. You'll be blown away, too.
[ Santa Cruz | Metroactive Central | Archives ]