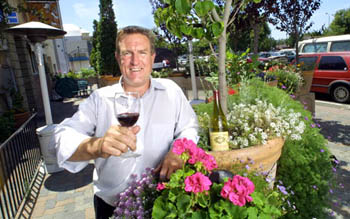 Photograph by George Sakkestad

In the Imaginative Matrix: The dishes at Pearl Alley Bistro always surprise, thanks to the creative forays of chef Marc Westburg.

Bistro Still a Pearl

The tasty upstairs bistro continues to be a delectable work in progress, adding consistency to its long list of charms

By Christina Waters

GOLDEN LIGHT streamed through the balcony doorway, flooding the old woodwork and open-beam ceiling with exactly the glow a bistro deserves. Peter Bargetto was fussing with some pinot behind the zinc-topped bar, and Mark Curtis was checking the nightly specials list. In short, Pearl Alley Bistro was tuned and ready to charm.

Heirloom tomatoes, local goat cheeses, organic produce and the freshest seasonal specialties adorn the evolving menu. Ravenous, Elena and I had come to the right place. A special of grilled figs and prosciutto ($9) proved irresistible, as did duck breast with a glaze of sherry vinegar and fresh cherries ($18).

I insisted that Elena try the signature tricolored vegetable flan ($6), and she fell for the very idea of seared halibut with lavender, white peach and Viognier coulis ($19.50). Conceived by executive chef Marc Westburg and executed by chef Erin Yard, each dish feels poetically tied both to the season and to an imaginative matrix that avoids anything resembling cliché.

A round loaf of bread arrived, crusted lightly with sea salt, along with a pour of olive oil. We joined the fresh-baked welcome with two wines by the glass, a Mason Sauvignon Blanc 2000 hinting of violets and citrus ($5.50) and a voluptuous Santa Cruz Mountains Vineyards Pinot Noir 1997 ($6.25). The wine list is always fun to explore, given sommelier Mark Curtis' adventurous palate.

Dinner began with a splash of colors, textures and inspired flavor pairings--and continued to dazzle through the last trace of sumptuous Belgian chocolate mousse. The grilled figs romanced their companion prosciutto rolled into cylinders filled with goat cheese. A scarlet pool of fresh cherry glaze added another layer of depth to this dish.

The velvety flan, drizzled with garlic-infused butter sauce, worked its magic on Elena, who remarked on the deep, subtle flavors of these colorful bands of beet, carrot and spinach purée. A remarkable starter, it was a good as I'd remembered.

Served on dishes large enough for religious rites, our entrees held their own. Arranged in a half circle around a central duck leg confit were crimson slices of duck breast so delicious that I only wished David Hoy had been there to enjoy it (he being a serious magret de canard fan).

Potatoes luscious with a goat cheese cream sauce were festooned with the slenderest haricots verts, and every bite was a song. The tart sherry vinegar and huge fruitiness of the fresh cherries added yet more subtext.

The halibut was just as wonderful but conceptually even more striking. A salsa of grilled white corn danced along an alabaster fillet of halibut, which was joined by a flock of fingerling roast potatoes and more of the sensational green beans. But it was the liberally applied coulis of lavender-perfumed white peach and Viognier that really did the talking in this dish.

The archetypal herb of Provence, lavender, was absolutely the right choice to heighten the subtle flavor of fish and white corn. The meal could have ended, and splendidly, at exactly this point. But only a fool would bypass dessert at Pearl Alley. Somehow, we resisted a warm blueberry soufflé with mango and chose instead to split an impossibly tender mousse ($5.50) of dark chocolate in a pool of prettily decorated crème anglaise and barely sweetened whipped cream. The ultimate comfort food, it was edible transcendence along with a cup of espresso.

The best flavors of the season, expertly orchestrated and extremely well-priced--Pearl Alley Bistro has always been justly popular. But never better.
---
Pearl Alley Bistro
Address: 110 Pearl Alley, Santa Cruz
Phone: 429.8070
Hours: Open daily. Lunch 11:30am-5pm Mon-Sat; dinner 5-11pm, until 11:30pm on weekends
Extras: Celebrity bartenders: Winemaker Peter Bargetto, culinary guru Charlie Deal
Ambience: *** Terrific sunset light streams into a soft yellow room with smart, bistro woodwork
Service: *** 1/2 Excellent wait staff, knowledgeable about wines, food and preparation styles
Cuisine: *** 1/2 Exquisite ingredients and inventive, nonpretentious presentation distinguishes one of the top dining rooms in the area
Overall: What a pleasure to say that after a substantial history of exuberant bistro cuisine, this local gem shines brighter than ever
---
[ Santa Cruz | Metroactive Central | Archives ]