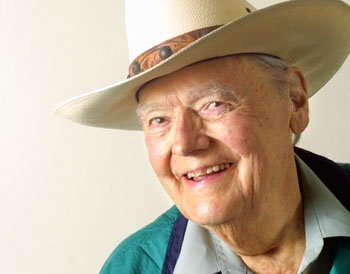 Photograph by George Sakkestad

Once Upon a Time in the Westerns: Walter Reed of Santa Cruz made a career out of character parts.

Western Walter

Santa Cruz actor Walter Reed worked for John Ford and Budd Boetticher in the heyday of the Western film

By Richard von Busack

MANY THINK of the golden age of the Western as the 1930s, when John Wayne was cranking them out six a year. But it really wasn't until after World War II that the American Western reached its prime. Directors and actors--and a portion of the audience, of course--had fought in the war, which taught them bitter lessons about the cost of violence.

And because of the decline of the studio system, moviemakers began to take more creative control of their projects. Thus, what once were "oaters" sometimes became tense, complex psychological dramas. Director Budd Boetticher's name comes up frequently in the story of how Westerns evolved from tales of spotless cowpokes to the ruthless existential characters of The Wild Bunch and Once Upon a Time in the West.

Boetticher made seven Westerns starring Randolph Scott, filmed between 1956 and 1960. Seeing Scott, an icon of unadorned toughness and gravity, makes you understand why that chorus sang out Scott's name so reverently in Blazing Saddles. In Seven Men from Now (1956), Scott plays a man avenging the death of his wife, tracking down her murderers. During the hunt, he also rescues a weakling traveler on his way to California. This Saturday (July 14) at the Nickelodeon, the film, freshly restored, will receive its first screening in 30 years, and the actor who played that weakling will be in the audience.

Today, he lives in a retirement home near Dominican Hospital; his name is Walter Reed (no relation to the Walter Reed who conquered yellow fever). Of that character Reed says, he was "a tinhorn, a wimp ... my favorite part, I think."

LIKE SCOTT, Reed--who has lived in Santa Cruz since 1966--started out onstage, playing in So Proudly We Hailed and doing a lot of stock theater in New England. After World War II, Reed landed an RKO contract and went west to Hollywood.

"I started out as a leading man," Reed recalls, "then I came back from the service, looked in the mirror and decided to become a second man"--the best friend type. "They don't pay as much, but you last longer. I enjoyed character work."

Reed did everything: from science fiction (How to Make a Monster) to rock & roll pictures (Dance With Me Henry). He worked with George Reeves--"He was a good friend"--in Superman and the Mole Men (1951).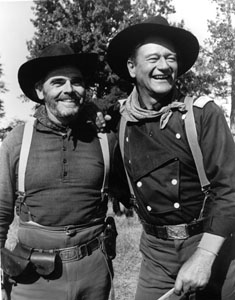 Sidekick: Reed and John Wayne in 'The Horse Soldiers.'

But Reed's most prestigious work in the 1950s and 1960s came from being part of director John Ford's stock company. In Ford's The Horse Soldiers, Reed fights on both sides of the Civil War.
"I loved working for Ford," Reed says. "He was rough, and if he didn't like you, it was good-bye Mr. Chips. But if he liked you, he'd knock himself out for you. I had a part in The Horse Soldiers [1959]; Marty Rackin, one of the writers, got me hired. Ford told me, 'I understand you can talk.' I was playing a Southerner, but he put a beard on me and gave me some lines so I could play a Northerner, too. I was the man with the reversible uniform. I drew double pay for 14 weeks down there in Louisiana."
Reed turned up in Ford's last films, including Sergeant Rutledge and Cheyenne Autumn. "If he lived, I would have got a darn good part from him," Reed says.
Reed says he's acted in 150 films, and that the Internet Movie Database listing doesn't begin to get them all. By his count, he's also starred in 400 TV shows: "We hacked them out in those days."
Reed's health finally put the brakes on his career. "I'd had a massive heart attack and had to get away from Hollywood," Reed says. "My wife was a minister in the Church of Religious Science, and she opened up a church up here. I'd invested pretty well--I'd bought the Main Street Arcade in Los Gatos, with antique shops, an art gallery in the basement and offices upstairs. It was a good move for me."
Now in his mid-80s, Reed watches movies on television but not so much at the theaters. "I don't like 'em. I don't mean I'm a prude, but some of the sex and brutality is unnecessary. When I was working with Jimmy Stewart in the movie Bombardier, he told me it seemed like they could take a roll of toilet paper and put sprockets in it and show it to someone."
On the afternoon of July 14, at least, Reed will be watching a good movie at the Nickelodeon. Before the screening, he will be given the Grauman's Chinese Theater treatment on the sidewalk outside.
"They're going to put me in cement," Reed says. "I'm going to get down there on my knees and put my hands in it. But I told them they're going to have to use a forklift to get me up. I mean it."
---
Seven Men From Now shows Saturday (July 14) at 1:30pm at the Nickelodeon in Santa Cruz. The screening will be preceded at 12:30pm by a special presentation in honor of Mr. Reed. Santa Cruz Mayor Tim Fitzmaurice will proclaim the day Walter Reed Day. Tickets for the screening are $5.
---
[ Santa Cruz | Metroactive Central | Archives ]