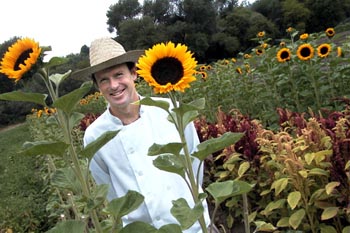 George Sakkestad

Farm Fresh: Jim Denevan will be cooking for the Outstanding in the Field farm dinners.

Down on the Farm

Local farm tours give guests a chance to sample fresh, earthy treats

By Janet Blaser

IT WAS ALMOST a year ago that I attended my first farm dinner hosted by the charming chef-duo of Jim Denevan and Tom King. Since then, the event has lived on not only in my own mind but also in the photos on the website of Outstanding in the Field. Well, Jim's just informed me that the start of another season is upon us, with a dinner set for Sunday (July 16) at 4pm at Thomas Farm in Corralitos.

King is no longer part of the project--he's in Kansas, heading a restaurant project. Instead, chef Katherine Stern is Jim's new right hand, taking care of the pastry needs at Gabriella Cafe during the day and cooking in the great outdoors when the opportunity presents itself. And that's what Outstanding in the Field is all about--taking the restaurant to the farm and "bringing to light the hidden treasures of our fertile region on the Central California coast."

Included in the itinerary is a tour of the farms--all of which are organic, by the way--led by the owners/growers, in this case Gerry Thomas and family, culminating in a feast cooked entirely on the premises by Jim and Katherine, using products produced by the farm. Sound like fun? Well, it is--and it's almost impossible to describe what it feels like to sit at a big outdoor table set in the field or greenhouse, say, between rows of 6-foot-high staked tomato plants or between newly furrowed rows ready to be planted with broccoli or the next round of salad greens. You become one with the Earth, in the truest, albeit corniest, scheme of things.

Andrew McLester (a.k.a. "The Wine Guy") will be doing his thing, pouring wines from Storrs' Christie Vineyard, along with winery owners Steve and Pamela Storrs. Those two are still tingling from the superprestigious red wine Sweepstakes award their 1997 BXR (a combo of all five classic Bordeaux varietals) won at the recent San Francisco International Wine Competition.

As far as a dress code, I'd call it California casual. You want to be comfortable enough to tool around the farm, yet you don't want to look like a field hand when you sit down to dinner, which I would call semiformal (white tablecloths, candles and flowers on the table). You'll also want to bring your own plate, a tradition that Jim and Tom set up at the beginning. You see, everyone's plates become instant conversation pieces, plus they add to the already-homey atmosphere that's developed all afternoon. Never fear, though--if you forget or you're just shy about dinnerware, the staff always has a bunch of plates on hand. Jim plans to do the farm dinners once a month as long as the weather cooperates, and if I were you, I'd log on to the website and make reservations now--space is limited. Note that it's much more fun if you bring some friends. You can also make reservations or get more info at Gabriella Cafe (457.1677) in Santa Cruz, where Jim is the head chef.

Vinting Notes

This week brings a chance to sample some of the fine wines being produced in our area. The Passport to the Wineries of the Santa Cruz Mountains takes place Saturday (July 15), 11am-5pm. A score of wineries will be open for tastings. Tickets, which cost a modest $15, can be bought from the Santa Cruz Mountains Winegrowers Association office, 7605-A Old Dominion Ct., Aptos. Call 479-WINE for details. ... Meanwhile, it's not too early to start planning for the eighth-annual Winemakers' Celebration in Monterey County. The event takes place Aug. 12 (noon-5pm) at the Custom House Plaza. Tickets are $25 in advance; call 831.375.9400 for details.
---
Got a food tip? Email Janet at [email protected].
---
[ Santa Cruz | MetroActive Central | Archives ]