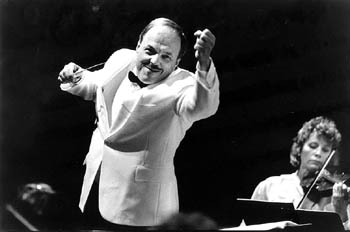 I Believe I Can Fly: Music director Bruno Weil returns for a Carmel Bach Festival that's taking off again.

Bach in Business

After two years of struggling, the Carmel Bach Festival is back in full force

By Scott MacClelland

Music festivals are designed for the marathon music lover, the spectator who can sustain a high level of concentrated listening over the spread of a week, or so, at a time. At least that's what the producers of summer festivals are hoping for, though they usually have tickets available for individual concerts during their three- or two-week summer seasons.

The 67th Bach Festival, July 17 through Aug. 7, presents generous variety itself in programs that range from great J.S. Bach sacred works (Saturdays and Sundays) to classical symphonies by Christian Bach, Mozart, Haydn and Beethoven (Tuesdays), baroque violin concertos (Thursdays), sacred settings by Mozart (Fridays) and intimate recitals and chamber music from across the 18th century. Performed at the recently overhauled Sunset Theater, Carmel Mission Basilica and area churches, the programs feature many outstanding singers and instrumentalists, in tandem with a fine chamber orchestra and choirs. Prominent principal artists include music director Bruno Weil, concertmaster Elizabeth Wallfisch, trumpeter Wolfgang Basch, baritone Sanford Sylvan and, after a many-season hiatus, Canadian tenor Benjamin Butterfield.

According to Jesse Read, festival principal bassoonist and recital director, the orchestra is back to its full complement, after two years of reduced forces due to post-9/11 funding losses and increased expenses during the Sunset Theater renovation. Artistic administrator Nana Faridany describes the Festival Chorale as virtually all new, under new director William Jon Gray. Starting in late January, Gray, on the faculty of Indiana University Conservatory, conducted auditions at Bloomington, Boston, San Francisco, Los Angeles and Carmel.

Bach highlights this summer--with programs repeated in the second and third weeks--are the St. Matthew Passion, Brandenburg Concerto no. 6, the Concerto for Two Violins in D Minor, and, for the first time, the sacred cantatas Gott fähret auf mit Jauchzen and Christen, ätzet diesen Tag, all at Sunset. On Mondays and Wednesdays, respectively, Carmel Mission will hear a mix of baroque concertos and suites, featuring soprano Kirsten Blase, and "The Glory of Venice," comprising works by the great 17th-century Venetian masters Gabrieli, Monteverdi, Grandi, Castello, Lotti and Legrenzi.

The overall theme of Weil's tenure, "Bach and Beyond," is intended to demonstrate both the antecedents of the Leipzig cantor's works and his influence on subsequent generations, hence the inclusion of Beethoven's Symphony no. 4 and Stravinsky's Octet for Winds on the opening night program. (Read says that Weil has "dreamed" of doing Beethoven's Missa Solemnis in the future, and will also be enlarging the role of the fortepiano. Read also notes the peculiar instrumentation of the Stravinsky, a "neoclassical" piece for flute, clarinet, two bassoons, two trumpets and tenor and bass trombones, which "came to him in a dream.")

Because the new glass-walled foyer at Sunset is so acoustically responsive, a Foyer Recitals series has been created for the three Tuesdays, (one at 1pm and two at 11am) under the direction of the excellent lutenist Richard Kolb. Afternoon "Intermezzo" and evening "Candlelight" chamber and solo recitals are scheduled for All Saints Church (a short block away from Sunset). They will feature works by Bach, Mozart, Rameau, Couperin, Biber, Telemann and rarely heard composers D'Anglebert, Uccellini, Sartorio, Marini, Kapsberger, Cavalli, Fontana, Muffat, Fux and Geminiani. "Twilight" performances at Church in the Forest (on the campus of Robert Louis Stevenson School in Pebble Beach) will include a brass and organ recital, the festival string quartet playing Beethoven and Mozart, and works by Heinichen and Zelenka composed for Dresden's "Golden Court."

Patrons have abided with patience the last two difficult Bach Festival seasons. This summer, they'll get a generous recharge of the festival's historic highs, and then some.
---
The Carmel Bach Festival runs July 17 through Aug. 4. For a complete schedule and ticket information, call 831.624.2046 or go to www.bachfestival.org.
---
[ Santa Cruz | Metroactive Central | Archives ]