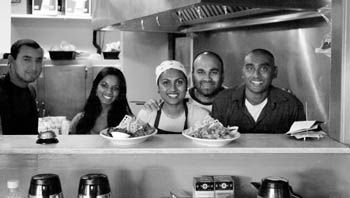 Photograph by Stephen Laufer

The Power of Sri: The folks at Santa Cruz's newest Sri Lankan restaurant are ready to serve you.

Currying Favor

At the new Sri, Santa Cruz can share the Sri Lankan curry obsession

By Jessica Neuman Beck

In Sri Lanka, curries are a way of life. You name it, they can curry it--heck, even if you can't name it.

Case in point: at the newly opened Sri restaurant in Santa Cruz, owner Indika makes a fantastic triple mushroom curry with grilled portobello, button and oyster mushrooms, using a recipe recalled from his youth. The difference is that back then no one was really sure what mushroom they were using.

"We use a mushroom that we find around our neighborhood," he laughs. "They don't have really names, but they are palatable."

Indika knows a thing or two about names, though, since he has several himself. "Actually, I've got four names," he says. Though he goes by the single appellation now, his full name is Anura Bandara Indika Mudannayake. He moved to Santa Cruz nine years ago, and found himself wanting to bring the flavor of his home country to the people of Santa Cruz.

"I was working here part time in a restaurant, and I'm thankful to them for giving me the idea of opening a restaurant," he says. "I wanted to do something that would represent my country and give the people that live over here a different taste of Sri Lankan food."

Sri Lankan cuisine is flavored by a multitude of influences. Colonized by the Portuguese in 1517, the Dutch in 1658 and the British in 1796, Sri Lanka, then called Ceylon (a name you might recognize from that gourmet tea in your cupboard), gained independence in 1948 and now maintains an uneasy peace between its Tamil and Singhali factions. Their food, however, remains heavily Indian-influenced.

"The difference between the Indian and the Sri Lankan way of cooking is that the Indians cook with raw curry powder and we cook with roast curry powder," says Indika. "Another thing is Indians use a lot of ghee and garlic and butter for cooking, and yogurt, and we use coconut milk instead."

Sri's menu features appetizers like salad rolls, satay sticks and freshly baked paan, as well as a traditional Sri Lankan coconut roti. Several types of curry are available, as well as bok choy tofu and vegetable stir-fry with tempe, and four different kinds of salads.

"In our country we have a lot of access to vegetables, so we eat a lot of salads," Indika says. Desserts include mango ice cream and caramel pudding.

And, of course, there is the tea. It is in this department in particular that Sri Lanka's British influence can be felt--as far as countries obsessed with tea go, they're about on a par. Sri Lanka, however, has the advantage of actually growing the tea it drinks.

"It's the finest tea you can find," Indika says with pride. Sri features a fine variety of black and herbal teas, all exported directly from Indika's home country. But don't come in expecting a nice, mild cup of tea--as the leading tea exporter in the world, they mean business. "We make it a different way," Indika tells us. "The concentration is different from the other teas around here."

Sri has done its best to create a Sri Lankan escape for its customers. Decorated in oranges and greens, the atmosphere is comfortable and relaxing. "The colors that you find in here are the colors that you find in Sri Lanka," says Indika, whose sisters supervised the decoration. "I just want to make people feel like they are in a different place and forget all the day-to-day life."

Although Sri opened only two months ago, business has been steady. "Things have been moving in a positive way," Indika tells us. "People are coming back." Lured in by the promise of something a little bit different, customers are finding that Sri Lankan cuisine is something to savor. "They have a cup of Sri Lankan tea," Indika says, "and they stay until we close."
---
Sri is located at 736 Water St. in Santa Cruz, and open for lunch and dinner. Contact them at 831.457.2350.
---
[ Santa Cruz | Metroactive Central | Archives ]