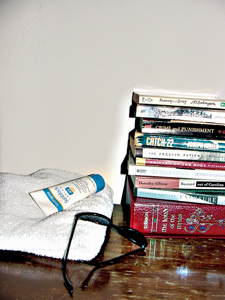 Photograph by Jessica Neuman Beck

The Books of Summer

Now that summer is officially under way, it's time to get started on that list of books you've always meant to read but haven't. But what if you've finished all the books on your list? What if--God forbid--you have no such list? Well, it's time for another list. You could go with the much-ballyhooed BBC list that was recently released. But ours is much better. Really!

By Jessica Neuman Beck

In late spring, the BBC's Big Read came out with their compilation of the 100 most-beloved books. The results were a little disappointing, and not just because I'd only read 39 of the 100. Seriously, people--The Thorn Birds? The classics are mostly on there, which is a good thing--I understand that there are people in the world who liked Anna Karenina, even if I didn't--but so many things were missing! And some, while perfectly enjoyable books, were hardly what I would consider examples of literature at its best. I mean, I liked Bridget Jones' Diary, but c'mon now.

So, in the time-honored tradition of people everywhere who look at a finished product and say, "I could do better than that!" I bring you my personal Top 10 books, in the order they occur to me:

1. 'The Lord of the Rings,' J.R.R. Tolkien

Who hasn't read this? Tolkien's magnum opus should be required reading for anyone who loves language. Like the movies, LOTR is usually broken down into three parts. I do, however, have a copy at home in which all the volumes are bound as one, the way Tolkien intended. It's pretty and red. I have a single-bound copy of Mickey Spillane novels, too, but that's different. You don't have to read those.

2. 'The Magus,' John Fowles

Yes, like a couple of my other choices, the BBC lists this as well, but what they should have specified here is the original version of The Magus, not the revision, even though Fowles himself revised it. (In an effort to make his novel more palatable to fans, Fowles did his best to clear up the book's ambiguity--and stomped all over the very thing that made this novel so stunning.) The Magus has quite a lot in common with the 1997 movie The Game--they both share a sense of misplaced reality and a protagonist who is trying, to the end, to figure it out. The revised version of the novel is the one you'll find in most retail outlets, but a little patient hunting in the used stacks will probably yield a copy or two of the original.

3. 'The Virgin Suicides,' Jeffrey Euginides

My favorite books tend to be short on plot and long on emotion, and The Virgin Suicides is no exception. Haunting, disturbing and doomed--the opening scene shows paramedics arriving after the last suicide--Euginides writes about the disturbed sisters without trying to explain them.

4. 'Catch-22,' Joseph Heller

I have a crush on Yossarian.

5. 'Crime and Punishment,' Fyodor Dostoyevski

For the longest time I avoided this book, thinking that (a) it'd be like Anna Karenina, without the fancy dresses and (b) it'd be over my head. It's neither. It's amazing. Dostoyevsky managed, in 1866, to write something so pathos-ridden and immediate that it could have been written yesterday.

2003 Summer Lit Issue:
'Living History' by Hillary Rodham Clinton
'Get Your War On' by David Rees
'Oryx and Crake' by Margaret Atwood
'Harry Potter and the Order of the Phoenix' by J.K. Rowling
Harry Potter slash fiction
'Beyond Belief' by Elaine Pagels

6. 'The English Patient,' Michael Ondaatje
You may think that because you saw the movie (in my case, seven or eight times) you don't need to read this book. You are wrong. Ondaatje, an accomplished poet, manages with his prose to be both lyrical and bitingly realistic, drawing your attention to details such as the feel of cotton and the smell of wet earth. Hana and Kip have a far richer life than the one we saw on the movie screen--the backstory about the young Indian sapper alone is worth the cover price.
7. 'Bastard Out of Carolina,' Dorothy Allison
After I finished this book I was sick to my stomach for about three days. I had to take it off my bedside table because I couldn't stand to look at it before I went to sleep. Any book that will do that--any book that can do that--is a keeper. Roughly based on her own abusive childhood, Allison creates a main character whose voice you can hear in your head, even if at times you don't want to.
8. 'Exposure,' Kathryn Harrison
Most people associate Kathryn Harrison's name with her memoir The Kiss, if they recognize it at all. She's far less famous than she should be, given her talent. I first discovered her a long time before she became a sweetheart of the tabloids, when I stumbled across Exposure in the sale rack at Bookshop Santa Cruz. In a haunting story about denial and subversion, Harrison uses her own skewed experiences to create a world full of flawed, distant characters you can't help but remember. The character of Ann (a kleptomaniac) was the first thing I thought of when Winona Rider was arrested for shoplifting.
9. 'Written on the Body,' Jeanette Winterson
From the moment I read the words "Wallowing is sex for depressives," I knew I'd found a kindred spirit in Jeanette Winterson. Some of her more surreal books have garnered her a devoted, sometimes militant following, but I prefer her brooding, borderline-obsessive take on true love.
10. 'Franny and Zooey,' J.D. Salinger
Salinger's much more famous for The Catcher in the Rye, but it wasn't until I read Franny and Zooey that I understood what the fuss was about. The man can write. My first impression of this book was that it was entirely devoid of plot, but after repeated readings I've decided it has a plot. It's just sneaky about telling you what it is.
[ Santa Cruz | Metroactive Central | Archives ]