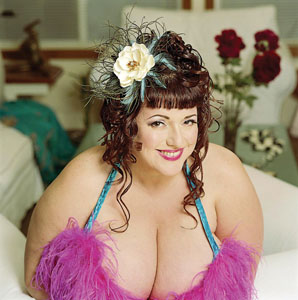 Kane and Ample: Candye Kane is pro-sex, pro-woman, pro-blues--and she votes.

Everybody Wants Candye

As musically risky as she is risqué, Candye Kane is the blues diva of our naughty dreams

By Steve Palopoli

In yet another of her trademark sexy covers, Candye Kane appears on the front of her new album, Whole Lotta Love, with the title tattooed on her cleavage.

All I can say is: they could have fit a lot more words on there.

"Yeah," says Kane with a sly laugh, "'A Whole Lotta Big Juicy Wonderful Warm Fun Love.'"

Kane is not one to back down from bantering about her breasts, which have gained some notoriety of their own over the course of her career. And not just for their looks, but for their talent--they're also known as the other body parts that Kane sometimes uses to play the piano live.

If Kane's is the most fun career to follow in all of contemporary blues music--and, for the record, it is--it's because she's blended her musical talent and passion with a full-on embrace of what she calls her "colorful, controversial past" as a stripper and adult-film star, to spectacular effect.

The results are audible on all the best tracks from her records and visible at every one of her live shows, as she generates for her audience the crackling, intoxicating energy of their ears, brain and naughty parts all being stimulated at the same time.

And audiences eat it up, often all night--as prescribed, of course, by her song "All You Can Eat (And You Can Eat It All Night Long)." Other salacious crowd-pleasers include "Let's Commit Adultery" and "Let's Put the X Back in Xmas," which she recorded with the late and equally outrageous Country Dick Montana.

The best teaser on the new album is "Fit, Fat and Fine," another in a lineage of Kane's odes to big-girl sexuality that stretches back through "You Need A Great Big Woman" and "200 Lbs. of Fun." Interestingly, these are the songs that audiences often seem to find the most sexy, completely flying in the face of the popular notion that all men have been successfully brainwashed into only being turned on by post-Kate Moss thinitude.

"Fit, fat and fine, I think it's really true," says Kane. "I'm not an unhealthy person, you know? I'm a really healthy person, and I am fit, fat and fine, and it pisses me off that it's OK to discriminate against people my size just based on my size. The song is a friendly, fun way of saying it, and it happened to be written in the '40s by Billy Valentine. I added some of my own lyrics to it, because Billy Valentine sang it as an ode to women: 'She's fit, fat, fine, and she's all mine/ My baby's got a lot of love, as sweet as it can be/ She's got enough for everyone, but she saves it all for me.' I added some of my own stuff, like 'I've got news for you, I weigh 242.' That was my line."

Another charmingly nasty song on the album is "27 Times," an over-the-top sexual boast that's as good as any she's done before--and between the aforementioned "All You Can Eat" and "Seven Men a Week," she's done some great ones. Of course, as untraditional as Candye Kane might seem on first listen, the truth is that on songs like these, she's practically a traditionalist. Blues singers, male and female, have long been some of the most clever sexual braggarts in history, a tradition that influenced "toasting," and eventually rap and hip-hop.

"I think it's really natural that I would find a home in the blues, because this is the place where it was OK to be a big, powerful, sexy, fat woman, to take that power and be OK with it," says Kane. "Traditionally, the blues is all about that. About women being powerful sexual personas, and having active, rich sexual lives."

Not Tonight, I Have Musical Talent

Of course, the curse of doing something so well--in Kane's case, fostering what she calls "a sexual celebration"--is that people can't shut up about it, often to the point where they overlook everything else. Take for example the fact that my entire article thus far has been about Kane's musical sex life, and I even included the description of her as a former "stripper and adult-film star," which I was secretly kind of hoping to avoid, since those five words have been in roughly every article every written about her. It's even followed her around the world, since, as she puts it, "'Porno' is a word that's pretty universal--it's the same in every language pretty much."

Occasionally, she gets sick of being so irrevocably linked to her past, and worries at some level that she'll be considered a novelty act or, even worse, scare off more conservative blues fans who might not be willing to give her a chance. But she underestimates how much people get it, as she learned recently at a blues festival in Switzerland, after having freaked out about her racy past being written up in a local article.

"I saw a lot of the audience was older people, so I was like, 'Why did they put the porno thing in here? Why did they think that would make these old ladies want to come and see my show?' It upset me," she says. "But, ironically, it actually did make a lot of women want to come and see the show. I went around and talked to a few of them."

In particular, one response she got after introducing herself to a festivalgoer reminded her that she couldn't judge audiences by their appearance, either.

"She goes 'Oh my God! Oh my God' And she got all excited and she said, 'I read this story about you, how you were a porn star and you were for feminists and you sing songs for women who are big, and the gay community!'" says Kane. "And she was, like, 60!"

Whole Lotta Rock

At the same time, of course, all the sexy talk about her music does mean that the more subtle aspects of her talent sometimes go unrecognized. Like the way her powerful blues-diva vocals hit new heights on "Something's Got a Hold on Me," the opening track of Whole Lotta Love. Or the way the title track, a cover of Willie Dixon via Led Zeppelin, is by far the most rockin' thing she's ever done.

"I've never thought of myself as a rock singer, so it's really fun to sink my teeth into one of the greatest rock songs of all time," she says. "I grew up listening to that song in my boyfriend's pickup truck-- drinking Olde English 40s, smoking my first joint and listening to that song in a cassette player. When I found out that Willie Dixon wrote the song, and I heard his version of it, it made it come full circle for me. And I also think that when I sing it it takes on its own campy meaning. Because I am a big woman, I am a whole lotta love, and so the song really fits for me."

The song's sharp turn into hard rock is less surprising than it might be if Kane hadn't proven herself in so many genres before. Though blues is of course the thread that winds through all of her work, she dunked her debut album, Home Cookin', in Americana, and briefly jumped to a major label in 1998 with the swing-revivalist Swango.

"I've always thought it was an asset to be diverse," she says. "Apparently not for people who own record stores, 'cause they always feel like they need to categorize you into some neatly packaged place where you're supposed to be. 'What rack do I put it on? Oh my God!'"

Perhaps this kind of maverick genre-jumping is to be expected from a woman who came up in Los Angeles playing in a purist country band called Rawhide in the midst of possibly the most raging punk-rock scene in history.

"I love punk rock, though," she says. "I was a punk rocker. I grew up in the '80s with the Circle Jerks and Black Flag. I was on the cover of a Mentors record. Because I was a sexual libertine, and because I was using money I made in the sex business to make music, I was definitely considered a social anarchist. It was a really great time to be part of music in the L.A. scene, plus being a stripper and a porn star made me that much more of a punk at that time.

Her former husband Tom Yearsley from the Paladins originally turned to her on to the blues greats, and before she knew it, she'd found her calling.

She does, however, want to continue to be as musically risky as she is risqué.

"I'd love to do a record where I could just be theme-oriented," she says. "I'd like to do Candye Salutes Kay Starr, or The French Album, or Candye Sings Jewish Favorites. I would like to do those records, but for now I just try to get it all on one record. I always look at it like, 'If this is the last record I'm ever gonna do, then let me put all the songs that are in my head on this record right now.' Every time I make a record, I feel honored and blessed and privileged to be able to do that. To be given the opportunity--and to have someone else pay for it--is a tremendous blessing, so if I can do that, I try to put as much as I can into one thing."

Then, tongue ever in cheek, she lets loose for a moment with that irresistibly sexy, come-hither tone.

"I don't know ... is that wrong?"
---
Candye Kane performs two nights, Friday (July 18) and Saturday (July 19), at 9:30pm at Moe's Alley, 1535 Commerical Way, Santa Cruz. Tickets are $12-$14 on Friday, $13 adv/$15 day of show on Saturday; call 831.479.1854.
---
[ Santa Cruz | Metroactive Central | Archives ]