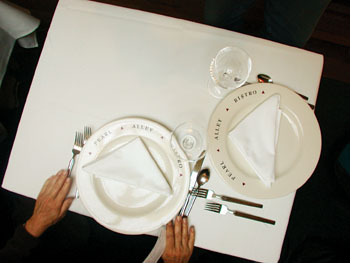 Photograph by Stephen Laufer

Pearl Before Swine: Most Pearl Alley diners are sophisticated enough to know that napkins are not for eating.

The Pearly Gates

With chef Danny Abruzzese finessing the flan, downtown's landmark bistro continues its gourmet conquest

By Christina Waters

Simone and Paul are longtime Pearl Alley Bistro patrons, so it was fun joining them at this local landmark of wine and food. A warm summer evening last week found us in the Languedoc region of France--featured this month on the Pearl Alley menu--and that was just fine with us.

A syrah and some duck confit, what could be better? Plus, our visit gave us a chance to sample the handiwork of current chef Danny Abruzzese, who brings his own spin to the bistro's Euro emphasis. Sunny yellow wall treatment and gleaming dark wood floors always infuse a sense of homecoming to this inviting room. From our corner table, we had a full view of the dining action, as well as those well-stocked wine cabinets.

Bypassing the fabulous flan of many colors, we chose to share starters of day boat scallops ($12.50) and duck liver paté ($9.25). Pearl Alley Bistro adores duck as much as Paul and I do--he had the confit ($14), and I had the pan-seared duck breast ($14) as our main courses. So if you crave this rich, supple game meat, Pearl Alley is your Fort Knox.

Always a treasure house of interesting wines by the glass, the bistro didn't disappoint us last week. Paul went for a leather and cherry-filled Soquel Vineyards Cabernet Sauvignon Reserve 1998 ($8), Simone, always culinarily correct, preferred her huge fruity syrah from Mas Grand Plagniol 2000 ($6.25) while I feasted on a glass of the incomparable Cigare Volant 2000 from Bonny Doon Vineyards, laced with satiny bursts of blackberry and spice ($8).

Gliding from one luscious dish to another, we three enjoyed a truly memorable meal. Rotund sea scallops, impeccably sautéed and succulent, arrived in a deep wide bowl on a pillow of creamy corn pudding. Bits of country ham made salty accents--Southern comfort bistro-style. Simone's plate of duck pâté was perhaps a bit overwhelmed by its avalanche of cornichons, but nonetheless the marriage of spicy apricot preserves and ultrarich peppery pâté was a lesson in earthy elegance. We frosted warm focaccia points with pâté and jam and then dove into the piquant little pickles. Playful yet conceptually apt, this dish emblematizes the smooth segue from old country to new world that Pearl Alley does so well. The South American jazz in the background didn't hurt this impression one bit.

Yes, we did demolish several of those round, warm loaves of salt-crusted bread. The house signature is ever perfect for soaking up exquisite juices and sauces, such as Paul's Roquefort vinaigrette. That sumptuous dressing drenched a salad of crisp endive and hearts of palm, which cushioned a lavish portion of unctuous duck confit. Simone was occupied by a small cast iron skillet which arrived laden with a cassoulet of white beans, slices of Toulouse sausage and luscious bits of chicken. Protesting that she would need to take most of it home, she proceeded to finish this slow-simmered specialty to the very last white bean.

My main course of pan-seared duck breast arrived on the medium side of rare, but it was still plenty pink and very supple. A fan of plump slices draped over a froth of creamy polenta, with haricots verts and sweet roasted garlic singing counterpoint. These hearty, generous dishes are presented with great appeal, yet allow immediate access. Pretty without pretension is the rule here. We managed to save room for a shared dish of warm pear crisp, pooled with crème anglaise, dotted with a few fig and strawberry slices, covered with a cinnamon crumb topping($6). Simple and absolutely delicious, the fruit dessert was complemented by a perfect espresso. Pearl Alley maintains its irresistible French accent, and then some.
---
Pearl Alley Bistro
Address: 110 Pearl Alley, Santa Cruz
Phone: 831.429.8070
Hours: Dinner nightly from 5pm, till 11pm Fri and Sat
Ambience: *** A cozy upstairs chamber armed with Old World sophistication
Service: *** Well-trained and forthcoming, servers are among the many assets of this treasure.
Cuisine: ***1/2 Deeply fulfilling flavor orchestrations and sensuous ingredients mark this consistent kitchen.
Overall: Pearl Alley shows no signs of culinary smugness, and rewards even relentless regulars with its revolving menu of international bistro hits; full bar
---
[ Santa Cruz | Metroactive Central | Archives ]