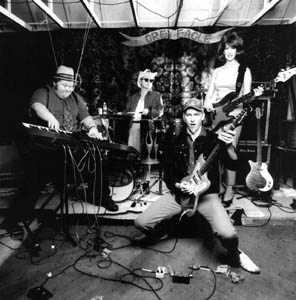 Photograph by Ron Keith

Chicken Fried Shake: Nothing lubes up a Southern Culture on the Skids show like an eight-piece box.

Crazy for Chicken

Southern Culture on the Skids comes clean about all that messy poultry chucking

By Mike Connor

The mysterious hillbilly prophet Bubba Sutra once said that "the fallen birds will fly again." So it was written, and so it shall be done, every time the four-piece, Southern-fried, honky-tonk rockabilly group Southern Culture on the Skids brings its chicken-throwing antics to town.

It's fried-chicken madness that's truly a sight to behold: About midway through their set, the band invites a host of lovely ladies from the audience to come up onstage, dance around and send buckets of fried chicken flying into the crowd.

"I prefer KFC original recipe," says singer and guitarist Rick Miller. "It doesn't hurt as much. Extra-crispy can put an eye out. And if there's one thing I've learned, it's that whatever speed a chicken leaves the stage, it returns at twice the velocity."

As its name implies, Southern Culture both celebrates and lampoons the joys of white trashdom, paying tribute to the glories of rockabilly music, big Cadillacs, girl fights and cholesterol. When it comes to flinging banana puddin' at a concert, it's pretty safe to say that no one has thrown around as much as this band. And as for the chickens, no one--not even the band--is safe from the finger-lickin'-good, chicken-chucking madness.

"It's like a chemistry experiment," Miller explains. "We mix beer, chicken and rock & roll, and see what happens."

Miller has stories of weddings onstage during the chicken-throwing melee, naked chicken-choking and even an unfortunate incident with a raw chicken.

"Somebody brought a raw chicken one time," recalls Miller. "They were throwing it around like a wet dishrag. There was this woman go-go-ing onstage next to the drumset. I watched the chicken come flying through the air, spinning, and it just smacked her right in the head--she fell back into the drumset. And then there was all this fecal soup that spilled out; it was so gross. But we usually use cooked chicken."

Miller says all this chicken craziness is built right into their contract: no chicken, no show. And after getting robbed while buying chicken in Mobile, Ala., the band makes the promoters buy the bird.

"We used to buy it, but it was breaking us," explains Miller. "And then we got a gun pulled on us at a chicken joint in Mobile. We got robbed. So we decided, let's make this the promoter's responsibility. Because nobody wants a rock & roll band to get shot buying chicken. But promoters ..."

Born in Henderson, N.C., Miller grew up listening to a hodgepodge of swamp, R&B, country, blues and rock music. And it's easy to hear the surf and punk-rock influences that he picked up on while living in California. But like any dedicated Southerner, Miller returned to North Carolina to work at his dad's mobile-home plant. Almost 20 years later, Miller now has his own house and studio in Chapel Hill, where Southern Culture produces its own records and other bands' besides.

"We started a band just for shits and giggles, to make some money, meet some girls and drink some beers," he says. "We had to work at it really hard; we booked our own gigs; and all lived in the same house, meantime putting out 45s and EPs. It's really been a do-it-yourself thing for us, being stuck out here in the boondocks."

Besides all the recording business, the band also hosts Sleazefest, an annual three-day garage/surf/rockabilly party at two neighboring dive bars, where plenty of "The" bands like the Forty-Fives, the Dirtbombs, the Woggles and the Fleshtones rock out Southern-style.

Currently, Southern Culture is touring with rockabilly icon Reverend Horton Heat.

"I've always liked the Reverend Horton Heat; we toured with them a long time ago when we were just getting started," Miller says. "I'm looking forward to this, man--the pressure's off. I'll do my 60 minutes, kick back and have a cold one."

Spoken like a true Southerner.
---
Southern Culture on the Skids opens for Reverend Horton Heat on Thursday, July 17, at 9pm ($15 adv/$17 door) and Friday, July 18, at 9:30pm ($16 adv/$18 door) at the Catalyst in Santa Cruz.
---
[ Santa Cruz | Metroactive Central | Archives ]