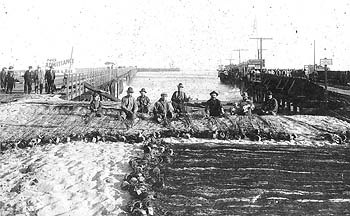 Two Santa Cruz Wharves 1914: Folks tell me these are mostly Genovese fishermen working on their nets between the new (and still existing) wharf on the left and the older wharf on the right. You can almost see John Faraola's fishing equipment store and the fishing boats hanging off the sides of the wharf.

Bruce Bratton

OHLONE PARK. The City Council will be considering the EIR for the excellently planned Ohlone Park down by Neary Lagoon, the bottom end of Pacific and the old liquor store area. If the original park plan goes through, we'll have a oceanfront park that will not just be environmentally sound but will rival the oceanfront parks that Santa Barbara and nearby Monterey have constructed in just the last 10 years. Various interest groups have been gnawing away at the Ohlone Park plan. If some of their plots--such as using $700,000 worth of astro turf to make playing fields and Roaring Camp's campaign to build a faux depot station for their train--aren't more carefully considered, we'll end up with just another bunch of commercial urban development. The city needs to make sure Roaring Camp's replica depot is much better crafted, painted and detailed than anything they've built on their property. We need to be on top of any signage they are allowed to use, too. Then there's the problem of Roaring Camp parking taking up all the spaces--we've got to remember that the beaches and ocean frontage are ours to use and protect. The Boardwalk and Roaring Camp can't take it all away from us. Or if we do buckle under to them, let's raise their land-use tax to a fair level. There are several other sources of money the city can use for all this. The Coastal Conservancy wants to partner on this project, Fred Keeley has spoken about federal monies, and the possibility of linking with the Monterey Bay Trail would add funds as well. The Ohlone Park Task Force has worked hard on getting consensus on Ohlone Park, and Ralph Meyberg has given years detailing the parks' unique concepts. Now's the time for the council to think about the big picture and the marvelous chance to make these 64 acres into a beautiful eco-tourist destination. Tell your City Council what you want before July 23 when they look at all that Ohlone Park can be.

DARK PLEASURES. Elvis Mitchell of The New York Times calls Mathew McConaughey's Reign Of Fire loads of fun, swift filmmaking, high-spirited, and solidly cast, and I agree completely. It's a guy film about fire-belching dragons in London 2020. They eat burnt humans, giving new meaning to the phrase "You're toast." It's what fun films like Conan, Mad Max, The Postman and Waterworld try to be. The best line in it is when surviving Londoners are told, "There's only one thing worse than dragons--Americans." Ridley Scott's cinematographer and Mad Max's writer were involved with this "seamless merging of high concept and technology," as Boxoffice called it--go see it. Tom Hanks and Paul Newman are at their best in Road to Perdition, a dark somber film noir job that only lacks Ida Lupino or Claire Trevor or Rita Johnson to make it traditional. It's an excellent film and only on the big screen can you appreciate it fully.

BITS AND PIECES. Rumors say that Stagnaro's bought the Opal Cliff's market at 41st and Portola and that they're planning to open one or two restaurants in that space. Saw Lois and Wally Trabing last Sunday; they said to say hello to everybody. Now that Cynthia Mathews has announced her running for City Council, I'm betting she'll be in the final race with Mike Rotkin, Tim Fitzmaurice, and Katherine Beiers. Giselle Chiring asked where Happy Valley's name came from. Donald Clark's book Santa Cruz County Place Names says they changed it from Squabble Hollow which is nestled in Blackburn Gulch up along Branciforte Drive. It's just not true that there's a group called "Potato's for Peace--and Quiet" who are stuffing potatoes up Harley Davidson motorcycle exhaust pipes. Anyone else notice that Odwalla's carrot juice has been watery and chalky lately? Must be those Coca-Cola owners cutting back on costs. Remember when we could get fresh squoze carrot juice from that health food store over near Del Williams' place?

THE MUSICAL SAW FESTIVAL II. The latest news on this weekend's Musical Saw Festival is that Marghe McMahon, the sculptor who did Tom Scribner's statue in front of Bookshop Santa Cruz, will be at the statue tribute Saturday at 1pm along with several saw players. On Sunday's show at Roaring Camp beginning around 1pm there'll be performances by the Sibling Brothers; the Banana Band, which is a group of 10 blind children, including a jug player; Kenny Hall, a mandolin player from Fresno; the Haines Family Band; 2 sawyers from Texas; one from Japan; and a bunch of others on the big stage. This only happens once a year, and if you've never seen or heard the musical saw as it should be played don't miss Saturday's free and very casual show at the statue or Sunday's extravaganza at Roaring Camp.
---
Bruce critiques films every other Thursday on KUSP-FM (88.9) Reach Bruce at [email protected]
---
[ Santa Cruz | Metroactive Central | Archives ]