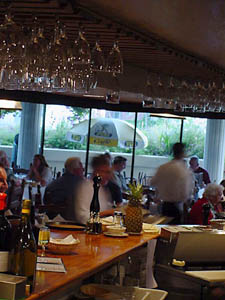 Second Star on the Left: The Bene folk have expanded into a second location with Café Mare.





Brave New World

The enterprising culinary group from Star Bene has unveiled a new, ambitious downtown trattoria

By Christina Waters

HAVING BEEN a big fan of Star Bene since the week it opened on East Cliff Drive a few years back, I was delighted to see the same team opening Café Mare in the sunken dining room that formerly housed Hobee's.

A curved wine bar now greets customers to the spacious dining room. White linens, furniture from Italy and a seductive view of the street action outside all create an urban trattoria ambience matched by the very lengthy Café Mare menu. The wrap-around visuals are dampened only by the acoustical tile ceiling which blunts the intended sense of casual chic.

We enjoyed excellent service on our recent visits to the new restaurant. Along with my world-traveled companion Keith, I sampled a meal that began with an attractively presented fish carpaccio (very likely a transparently sliced halibut) served with all the trimmings--capers, lemon and olive oil ($7.50). Another order of Calamari Saltati ($6.50) was unexpected. Advertised as sautéed calamari with mushrooms, fresh tomatoes, basil and garlic, the dish provided tender squid in a mild-flavored tomato broth, essentially a soup, joined by shiitake mushrooms but very little basil and garlic. Nice, but extremely low-key. Keith commented that Café Mare would do well to up-grade its bread selection. With so many fine local bakeries, the choice of flavor-free Italian baguette and undistinguished focaccia seemed cavalier.

However, we were both happy with our lunch entrees, especially a luscious platter of fettucine lavishly laced with sliced fresh porcini ($13). My special pork chop was tasty under its layer of breading, but even with a few potatoes and sautéed veggies the single chop seemed costly at $16.50. A shared goblet of chocolate gelato proved very chocolatey, but much too icy ($5)--espressos were excellent.

At dinner the next week, Jack and I began with something from the modest Italianate wine list. My glass of Garland Ranch Cabernet Sauvignon ($6.50) was tasty--though it would have been far tastier if not poured into short, squat stemware. Jack's Montepulciano D'Abruzzo, "Vestini," 2000 ($4.50) was even better. Complex and spicy, it made a smart companion for our openers of insalata mista ($4.50) and Polpette di Salmone ($7.50). Round, crimson cakes of salmon arrived in a mild marinara sauce and with the application of salt were actually quite interesting. The salad was lovely.

Jack had been fantasizing about veal marsala all day, and when his entree arrived he tore into it like a gladiator fresh from subduing the French provincials. Unfortunately, Café Mare appears so intent upon pleasing every palate that the kitchen is reluctant to apply robust seasonings. Santa Cruz diners can handle more sophistication and we know this kitchen is capable of far more than politely neutered tourist standards. Two veal scallops had been topped with a sauce apparently absent of marsala, though long on button mushrooms and porcinis ($16.50). So little flavor, so much anticipation.

The roasted potatoes accompanying were harmless, but the sautéed vegetables were lackluster. My entree of fresh local halibut (topped with a sauce of green tomatoes and shallots) had been roasted into oblivion--our astute server was quick to comp the dish when we commented on the preparation.

Undaunted, Jack and I sampled a panna cotta from the listing of authentic Italian desserts. Having loved the panna cotta at Star Bene we had high hopes. But we hoped in vain. Crisscrossed with excessive tracery of chocolate, vanilla and raspberry sauces, the gluey little pudding seemed stuck in its white bowl and reluctant to yield to the spoon ($5).

Que sera. Hopefully, continued fine-tuning will put Café Mare on the same track pursued with gusto at Star Bene.
---
Café Mare
Address: 740 Front St. #100, Santa Cruz
Phone: 831.458.1212
Hours: Open daily. Lunch 11:30am-2:30pm; dinner 5-10pm
Ambience: *** Attractive main dining room with 250 degree views of landscaping and street beyond
Service: *** Very friendly, helpful and attentive staff, some of whom are Italian-born
Cuisine: * 1/2 Still a work-in-progress; the kitchen underestimates the culinary sophistication of its patrons.
Overall: So much potential, so much talent, and so much demand--with fine-tuning, Café Mare can live up to its promise. Great place to practice your Italian.
---
[ Santa Cruz | Metroactive Central | Archives ]