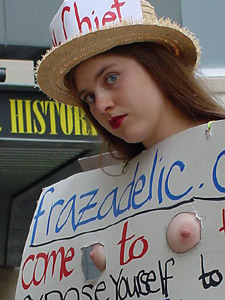 Nipples Make Ripples: The Areola Rebel Forces strike.





Nüz

Titty Council

Jasmine Byron caught the eye of Nüz long before she removed her shirt at last week's City Council meeting.

Sporting an impressive Mohawk (which insiders tell us is maintained with Elmer's Glue) Byron reminded us of the similarly coiffed guy whose photo graces the county's traveler's guide which claims that "Bohemian Santa Cruz embraces the offbeat."

Recently, this assertion has seemed wildly at odds with the future our city leaders have been contemplating, a distinctly non-offbeat landscape in which it could become illegal to play hackeysack, lean against a building, gather with six or more persons for over an hour, panhandle within 12 feet of buildings or display merchandise with intent to sell.

Not to mention that there's been talk that it could become unlawful for any female to expose her nipples in public, except for the purposes of breast feeding.

So, Nüz was pleasantly surprised when Byron took the speaker's podium and took off her shirt, thereby inviting the City Council to "Expose yourself to art" while announcing that she was a member of the newly formed Areola Rebel Forces, a.k.a. ARF.

Art historians may remember the 1970s "Expose Yourself to Art" poster, featuring Portland-based Bud Clark as the man in a trench coat flashing a naked statue, a statement so politically popular that within two years Clark was voted Portland's mayor.

But here in Santa Cruz 30 years later, Councilmember Scott Kennedy responded to Byron's borrowed mantra by asking that the TV cameras be switched to areola-free views, a request that drew hisses from the audience, but did not deter Byron, as she read aloud a section from the freshly penned "Mammary Manifesto."

Turns out said manifesto was authored by one Samantha Sushimam, supreme commander of ARF, a self-described "artists advocacy group, with no affiliation to existing homeless groups or existing political parties but manifested in response to merchants' fear of breasts."

Two other girls and one guy, all ARF members, also went topless as they read sections from their manifesto, which takes merchants to task for creating negative images of downtown, a policy that ARF members say is shooting business in the foot.

"Naked people and artists are not the problem ... drug addicts rarely shoot up naked," read another ARF member. "The only time women go topless in large numbers is to make political statements."

Reached by phone, ARF spokesperson Press Manipulation Sergeant (PMS) Man, said the group aims to get the council to ignore the original merchants' petition, which includes ordinances that "look like a fishing expedition for lawyers."

PMS Man said ARF also wants the council to set aside designated areas where artists can display art and play music without being hassled. "We believe that art parks will be good for business--look at Fisherman's Wharf and Telegraph Avenue," PMS Man said. "But if we turn Santa Cruz into Los Gatos, people won't come."

Noting that crime in Santa Cruz has decreased by 25-40 percent in the last five years, and that no injuries from hackeysack playing have ever been recorded, PMS Man maintained that entertainers are an asset to downtown.

"Crack down on crime, back down on entertainment," he said.

And while Vice Mayor Emily Reilly and Councilmember Ed Porter insist they have not been swayed by any one group, ARF members disagree, pointing out that the "discussion process" is happening in the absence of a major voting block and downtown presence--UCSC students.

For now, ARF is planning a clothing optional performance protest, from 3 to 6pm at the July 23 council meeting and have posted their manifesto at www.frazadelic.com.

They are also holding a City Council candidate search.

"The Art and Evolution Party announces its Tit For Tat (Topless Artist Ticket) platform," PMS Man said, noting that the filing period for City Council candidates ends Aug. 7. "Those interested in changing city council's gender balance and direction should contact [email protected]. Merchants' own breast fear manifested us. You get what you fear."

Denied Entry

Geoff Browning, a California-based member of the Fellowship of Reconciliation (FOR) group recently denied entry into Israel, told Nüz his experience was, in a word, horrible.

"Personally, I was devastated to spend so much time, travel and expense to get turned back, it felt like a bit of a mugging," said Browning, reached by phone at his home.

"Furthermore, 'Denied Entry' is now stamped on my passport and that of the 16 other members of our delegation, whose goal was to visit Israel to listen and learn from as many people on both sides of the Israeli/Palestinian conflict as possible."

Organized by the 85-year-old pacifist FOR organization, the delegation was, says Browning, comprised of Jews, Muslims and Christians.

"We came together committed to respectfully learn from one another and from those we hoped to meet in both Israel and the West Bank. But all our planning and time and expense for the trip was for naught. And perhaps worst of all, our 'Denied Entry' status bars us from entering Israel for the next ten years."

In an AP article about the aborted trip published on July 2, Israel's Interior Minister Eli Yishai warned that "the ministry does not, nor will it, allow those coming to support terror and those out to harm the state of Israel into the country, especially at such a difficult time."

A discussion by participants in recent delegations to Israel and Palestine from the Resource Center for Nonviolence will be featured in a Santa Cruz Community Television program to be aired on Channel 27, July 18 at 9pm.
---
Nüz just loves juicy tips: Drop a line to 115 Cooper St, Santa Cruz, 95060, email us at , or call our hotline at 457.9000, ext 214.
---
[ Santa Cruz | Metroactive Central | Archives ]