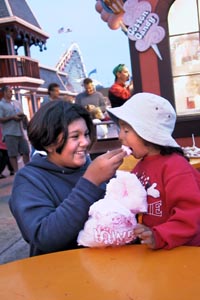 Spun Fun: A cotton candy break at the Boardwalk.

Photograph by George Sakkestad





Boardwalk Bounty

It's possible to have fun and eat well, too, at the amusement park

By Janet Blaser

ON A RECENT Sunday afternoon, my 12-year-old son, Dennis, and I headed for the Santa Cruz Beach Boardwalk. We went in search of foods to transcend the standard amusement-park fare of burgers, fries, hot dogs and burritos/tacos/nachos. Intent on looking beyond popcorn, churros and soft frozen yogurt, Dippin' Dots and funnel cakes, we strolled through the Boardwalk for almost three hours. Even--sigh--waffle cones and cotton candy were dismissed.

Top of the list for taste, selection and price goes to Twisselman Foods, which runs California Wraps, Board-Wok, Hot Dog on a Stick and World Grill. Owners Matt and Sue Twisselman believe that people do want "real" food to be part of their Boardwalk experience, and so they cook from scratch all the offerings at each of their stands. Frantically busy staff can be seen washing, cutting, grilling, wokking and wrapping a half-dozen California-style wraps, in spinach or plain tortillas ($4.95). Choose from Chinese, Greek or Thai Chicken; chicken or steak fajita, or a vegetarian version that is stuffed with a smorgasbord of sautéed veggies. Moms will be happy to note the simple meat or cheese quesadillas ($2.05-$2.80), a happy, healthy and familiar favorite for tots. Here you can also get rice bowls ($3.50): big, 12-ounce bowls of fragrant, steaming Jasmine rice topped with heaping helpings of chicken, beef or veggies marinated in teriyaki, spicy peanut, Asian or Greek sauce. Have a spring roll ($1.95) on the side.

At this point, our hands full, we dealt with the next aspect of eating at the Boardwalk--where to sit. A little sleuthing yielded an indoor dining room. Find it under the green "hot dog" awning next to California Wraps, behind a smattering of orange picnic tables. Over at World Grill (opposite Fascination), you'll find more cooked-from-scratch goodies: Philly cheese steak or chicken; chicken or beef gyros; and spicy Fajita in a Pita. The flavorful, hero-style sandwiches ($4.50) come slathered in sautéed bell peppers and onions, with tomatoes and other accouterments. I guess I have to mention the caramel apple chips ($2.50), a decadent dessert of sliced Granny Smith apple drenched in warm caramel syrup and whipped cream. Healthy? Well, you know what they say about an apple a day.

Java junkies will be relieved to know that espresso drinks can be found in several places; my recommendation is Marini's, where it's hand-pulled and not made by one of those automatic machines. You'll find two Marini's, at opposite ends of the Boardwalk, and if you're good you can treat yourself to a pecan turtle or a piece of chocolate mint fudge, too. Looking for chai? It's at the espresso cart opposite the Big Dipper, along with Santa Cruz Coffee Roasting Company coffees. Hodgie's, opposite the stage under the overhang, is another full-on restaurant serving hot, fresh-made foods. Check out the chowder bread (a sourdough round filled with clam chowder or chili), perfect for when the fog rolls in, and the spicy linguica sausage sandwich ($4.50). Vegetarians will revel in the deep-fried veggies: mushrooms, artichoke hearts and zucchini, sold individually ($3.50) or as a combo ($7.25).

Really good fried food can be had at Fish & Frys, where the potatoes are fresh-cut into thick shoestrings and the fish (cod) and shrimp are batter-dipped and deep-fried to order ($5.95). Find this stand tucked under the end of the Sky Glider, next to the Wavejammer. Big spuds, with or without a mélange of toppings, can be found at both the Dipper Diner (near the Haunted Castle) and the Barbary Coast Restaurant (at the entrance to Neptune's Kingdom). Barnacle Bill's satisfies those special cravings with giant pickles ($1.19). Here, also, is where Dennis and I found one of our favorite foods of the day: a warm, flaky, rich, twisted Cheese Stick, served with a side of Ranch dressing (well worth the extra 45 cents).
---
Got a food tip? Email Janet at [email protected].
---
[ Santa Cruz | MetroActive Central | Archives ]