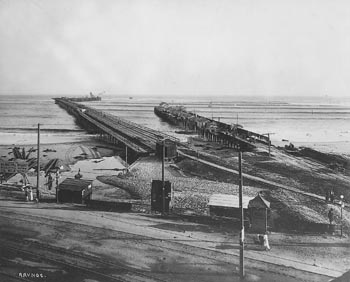 Covello & Covello Historic Photo Collection

A Three-Wharf Town, 1913: This photo doesn't show the third wharf/pier, which was the Pleasure Pier over by the Boardwalk. You can just about see the fishing boats on the wharf to the right hauled up out of the water due to the heavy tidal action. The Municipal Wharf being built on the left had, and has, that angle on the end to face into the oncoming waves to cut down their impact.

Bruce Bratton

POLITICKING TIME. Somebody remarked that Dick Doubrava already has so many of his City Council campaign signs up that it'll take Scott Kennedy and Mike Rotkin a week to tear them all down. We don't want to forget that it was during the last City Council campaign in '98 that Jerry Kaufmann caught the award-winning Scott Kennedy of the Resource Center for Non Violence and our socialist-banner-carrying City Councilman Mike Rotkin tearing down Tim Fitzmaurice's campaign sign. Kennedy went beyond that and sent a "poison pen" (Kaufmann's words) letter to Kaufmann. Rotkin, on the other hand, apologized. So last week, when Kennedy told me he's "not a candidate" for City Council, what it really means is that he's up to his tricky style of politicking again. The same day he told me he wasn't a candidate, he told others: A) he's running again because it's in his blood, B) he hasn't made up his mind. My spies tell me he's having trouble finding support and putting together a campaign committee. We'll see if he runs soon enough, but you can bet if he does, it'll be a replay of his no-straight-answers backstage maneuvering and using our City Council podium as some divisive plaything.

CINEMA SIGHTINGS. There are as many reasons to go see Kenneth Branagh's Love's Labour's Lost as there are to stay away from X-Men. For about the first 10 minutes of X-Men, you delight in an exciting Marvel Comics fantasy-world film and think this is pure creative imagery and fun. It all crashes and becomes boring from then on. Talents such as Ian McKellen, Patrick Stewart and Anna Paquin have never been so poorly used. Well, actually, Stewart is poorly used in every film and TV project he's been in, and I can't figure why. Renting X-Men won't work either, because the effects would be even less spectacular. Love's Labour's Lost, the film, is great fun. Santa Cruz Shakespeareans Audrey Stanley, Sue Warren and the real Michael Warren all liked this tap-dancing version. With many "show-stopping" songs in full production numbers and Shakespeare's script cut about in half, the whole film moves lightly and rapidly. Go see it before you see the stage version; it'll help make some sense out of the silly plot.

NORTH COAST VICTORY. It was truly amazing to have the Coastal Commission order Santa Cruz Biotechnology to remove the goat operation from Back Ranch Road up on our north coast. It shows the power and the potential that a small and very dedicated group of people can have when they stick with their beliefs. With superior legal direction and meeting every filing date and watching out for all the technicalities, they proved that you can beat City Hall, or in this case a majority of the Board of Supervisors. Mardi Wormhoudt and Jan Beautz can be very proud of their voting against the goat operation. Word has it that Santa Cruz Biotechnology is already moving the live goats to its San Luis Obisbo property and hauling the dead ones to the Buena Vista Dump. Hopefully, after a lot of scrubbing, that part of the north coast that Santa Cruz BioTechology nearly destroyed will stand as a warning to the next developer and a monument to that small community who fought so tenaciously to save the environment for all of us to enjoy.

THE WILSON PROPERTY. That large piece of property bounded by north Pacific Avenue, River Street and Bulkhead has gone through many plans. Once, Joe Cucchiara was going to put up a multiplex theater there. Then there was a housing project planned, but now that's scrapped, too. The problem is that the property is contaminated, so the Wilson Family is going to put up $2.6 million to clean it up. Now, Lutris Technologies wants an office building there. Plans call for retail along Pacific (across from Jesse's Shoe Repair) and the rest as offices. State Toxic Control is looking at the site, plans are at the planning department, and if all goes well, demolition could start in the fall.

THE LOOK OF OUR DOWNTOWN. Matt Thompson of Thacher & Thompson Architects, speaking on behalf of five-story buildings, said at a recent City Council meeting that people go to see big buildings in cities. It makes you wonder exactly which big buildings anybody would come to see in Santa Cruz--especially the new structures. Many people have pointed out the holes in the half-inch foam core that the faux Cooper House is built of. Other folks have been asking just how long those peel 'n' stick or contact bricks will last on the Front/Soquel parking garage. If we keep allowing such temporary fake facades on our new buildings, we won't even have a downtown five years from now.

RIVERSIDE ELECTRIC. I've been meaning to give an out-and-out plug for Riverside Electric over on Soquel and Riverside for years now. I don't think they need a plug, because they seem to be doing excellently, but we need to realize just what an amazing business we still have in our community. It's among the last of the independent, customer-caring electrical hardware stores in California, according to folks who have looked and shopped in other communities. They have a staff who know their stock, they carry incredible amounts of inventory, and due to clever management they are continuing to compete with Sears, Circuit City, Ace Hardware and others. That means you can still buy one each at Riverside, and they do repairs, too!

ED PORTER'S CAMPAIGN. Ed got the jump on all the City Council candidates last Monday morning by declaring and filing his candidacy all at the same time. He's got a formidable campaign committee and group of supporters. Bert and Lois Muhly, Celia Scott, Bernice Belton, Ruth Hunter, Mathilde Rand, Claudia Shaffer, Sue Powell, Louis LaFortune, Bill and Joyce Malone, Fred Geiger, Elaine Herman, Carl Stacil, Dave and Marilyn Rigler, Marge Ravven and the previously mentioned Jerry Kaufmann. Ed's done years of homework on task forces, commissions and committees and has learned the ropes. You can be sure this will be a memorable City Council campaign.

THINK ABOUT THIS ONE. In discussing the possibility of the MetroBase locating at Harvey West at a recent meeting, somebody brought up the concept of "why the city of Santa Cruz?" The idea being that the city of Santa Cruz already has the County Building, the Boardwalk, UCSC, Costco and Gateway Plaza, and those are huge users of water, streets, police and facilities. The city of course collects the taxes from those operations, but it also picks up the check. Why locate the MetroBase in the city limits at all? What with the Santa Cruz's population growing ever southward--and certainly Watsonville's population growing ever northward--wouldn't it make more sense to locate all our buses in the middle of everything? Somebody must have thought about that idea.

STICKER SHOCK. After such a long time with so few worthy and witty contributions, this week there's a plethora, a surfeit, even a glut. Por ejemplo, Peter Scott told me he saw "Obfuse Eschewcation," and if that isn't clear take it up with Peter. Ever eagle-eyed Michael Gant pontificates with "Jesus Loves You, but Everyone Else Thinks You're an Asshole!" Deborah Hayes' first-time contribution is a winner and very dignified: "Not All Who Wander Are Lost." These statements of individuality are fewer and farther between, so if you see some around our county send them in. I repeat, don't bother with the Internet lists, I've got 'em, they're funny, but not Santa Cruz, if you know what I mean.
---
Bruce critiques films every other Thursday on KUSP(88.9FM) at 12:50pm. Reach Bruce at [email protected] or leave messages at 457-5814, ext. 400
---
[ Santa Cruz | MetroActive Central | Archives ]