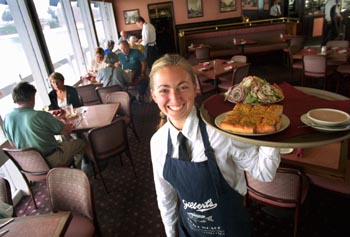 Photograph by George Sakkestad

Lovely Louie: Kallista Haltom shows off the personable service and the dramatic ocean view (not to mention a great Crab Louie) that make Gilbert's one of the best reasons to visit the Santa Cruz Municipal Wharf.

Catch Of the Day

The sparkling view from the Santa Cruz Wharf is only one of the attractions at our new favorite seafood house--Gilbert's

By Christina Waters

THE VINTAGE photographs lining the walls tell a colorful saga of Santa Cruz' mighty Italian fishing community and the glory days of the early Boardwalk and Casino. Housed in a historic mid-wharf slot, Gilbert's aims its glass-lined dining rooms at the legendary surfing lanes south of Lighthouse Point. One look at the menu would convince any local or visitor alike that this place has the seafood you need. But Gilbert's has two other things that most restaurants would kill for--a poised, outgoing staff and breathtaking views.

Old-timers will remember it as Malio's, named for the irrepressible Malio Stagnaro, whose life and times adorn the walls. But Jack and I were here last week on the track of a genuine Crab Louie--where we found it, along with some other nice surprises.

Perfect for dinner dates, Gilbert's specializes in fresh flavors, generous portions and modest prices. Though the wine list leans distinctly toward white--I found a very nice Mondavi Fumé Blanc by the glass ($5.75)--and the butter arrives wrapped in foil, there was a big basket filled with likeable sourdough rolls, and a perfect summer evening was unfolding just outside. Armed with enough rooms to handle tour bus-loads of eager tourists and still provide cozy conversation space for couples and families, Gilbert's lets the view outside its floor-to-ceiling windows do most of the work.

A lovely white sloop bobbed in the golden sunset light just off the wharf, while pelicans soared and dove into the glittering waves. On Wednesdays, you can enjoy the sight of all the little yachts making their rounds of the bay against a backdrop of turquoise water. Heaven. A basket of fried calamari ($6.95) arrived hot and crisp, along with excellent house cocktail and tartar sauces. Big curls of calamari steak are the delivery system for cocktail sauce that Jack adores. Lacking designer pretensions, the appetizer was quite addictive and tasty, especially with a few squeezes of lemon.

Our waitress, skillful and friendly, paused at the next table to compare jambalaya notes with a couple from Louisiana, and then brought our entrees. Choosing the smaller of two available portion sizes, Jack indeed had found the mother lode of fresh Dungeness Crab Louies ($11.95). It looked like the ones my mother would laboriously create at home. Hard-boiled eggs, radishes, Bermuda onions, mushrooms, an acre of shredded iceberg, jullienned carrots, artichoke hearts, tomatoes--all crowned by a hefty helping of sweet, fresh crab. On the side was a bowl of Louie dressing--essentially a nonmysterious but deeply satisfying blend of mayo, cocktail sauce, lemon and pickle relish.

My entree of grilled halibut ($15.95) was just as appealing. A long, thick wedge of snowy, moist halibut had been impeccably grilled--why can't I get those perfect criss-cross marks on my grilled halibut at home?--and not messed with. Served simply with wedges of lemon, the fish was accompanied by a pack of fresh steamed broccolis and their friends, the boiled red potatoes. All just right, very home-cooked. And tasty.

We had many occasions to admire the professionalism of our waitress--every staff member we noticed that evening was well-trained and personable. "How are you two doing?" is so much nicer than "Are you still workin' on that?"

She even suggested a dessert that we both agreed made exactly the right end to a satisfying seafood dinner. Along with well-made decaf coffee, a wedge of pretty key lime pie ($4.50) absolutely hit the spot. Jack liked the crunchy crust and sprinkling of minced nuts on a lavish crown of real whipped cream. I found momentary religion in the authentic filling, simultaneously tart and rich--the ideal finish for a genuine seafood dinner. A special thanks to Ann Parker for that tip about the great Crab Louies at Gilbert's.
---
Gilbert's Seafood Grill
Address: 460 Municipal Wharf, Santa Cruz
Phone: 831/423-5200
Entrees: Moderate
Hours: Lunch and dinner daily
Service: ***1/2 Warm, smart and precise.
Ambience: ** The decor is minimal, but the view is incomparable.
Cuisine: ** 1/2 Basic, delicious and well-priced.
Overall: Gilbert's is the perfect reminder to visit our matchless wharf.
---
[ Santa Cruz | MetroActive Central | Archives ]