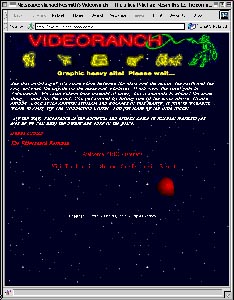 Online With the Nez
By Dan Young
www.videoranch.com
YEEHAW! Michael Nesmith ("Nez" to all his pards) has traveled a long, dusty trail from his days as the lone musician in the Monkees, the 1960s TV sitcom-cum-band designed to be a wacky romp along the lines of the Beatles' Hard Day's Night. Today former Monterey Bay resident Nez can be found hunkered down in the hills of Santa Fe, N.M. writing, roping and real-time streaming from Videoranch, his virtual hideout in the sky.
Nez has had a long, successful career as a musician, producer and writer of prose. He has been credited with founding the country-rock genre and, believe it or not, inspiring MTV. It must run in the family; his mother created Liquid Paper. And now the Internet has become a new source of creativity.
This cyberspace cowboy has one cool site, decked out in a space/neon décor with quick pages where a dude at the ranch can click on FAQs regarding Nez's career or the Videoranch, and order music, Nez's book (The Long Sandy Hair of Neftoon Zamora) or other Nez-oriented artifacts. Hit Vranch3D for a 3D journey around the place or Sunset Lounge for a chat ( ya gotta sign up first ). There is a vidcam that gives you a minute-by-minute update of what the dogs and horses are up to--and maybe an UFO or two.
And there is a local link; our very-much-beloved KPIG is plugged wholeheartedly by Nez 'cause it's the man's favorite station. He can pick up the Pig on the Net while he is out on tour.
[ Santa Cruz | MetroActive Central | Archives ]