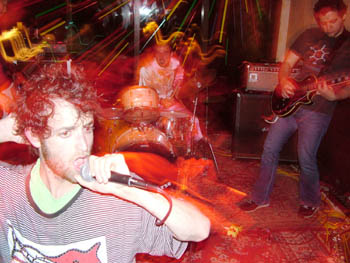 Testing: One, Two: Amitai Heller eats microphones like you for breakfast.

Inspecting the Spectacle

Clawing through the dirges and theatrics of the New Thrill Parade

By Mike Connor

Sometimes they chew beets onstage and let the gory pulp drip from their mouths like blood. Sometimes they smear black grease around their eyes and mouths, or wear masks covered in crosses. With the New Thrill Parade, it's hard to know what to expect, except confusion.

"I don't want any ambivalence," says DeSanto, the band's drummer. "Why would anyone want that?"

Their music is rock oriented, with a solid rhythm section and spasms of amplified guitar, but it's intentionally muddied up into a dramatic cacophony, full of passionate falsetto screams and squealing saxophone wails. At times, it's not so much cutting edge as completely over the edge, liberated in free fall from the earthly bonds of meter and melody, yet doomed to a gruesome fate on a rock below.

"I think it's important," says singer Amitai Heller, "that if we're making challenging music, we need to stand by the challenge. I always feel I want to step it up in terms of giving people a full experience. I really want them to leave disgusted or just completely confused. ... We definitely want people to be spiritually affected by the music in any way possible. Anything we can do to make that happen, we're willing to do."

Three of the band's members come from the Gross Gang, a riff-oriented noise-rock band known around Santa Cruz for its insanity-inducing shows, popular because "people would dance and lose their shit," says Heller. "I would end up bleeding on the floor and being thrown into the ceiling."

In its current incarnation, the New Thrill Parade--which releases its debut, self-titled vinyl EP at its upcoming show--made a conscious decision to completely change the sound of the music, forsaking forever what Heller describes as the "macho atmosphere" and "tough riffs" of the Gross Gang, along with the full-contact approach of bands like the Birthday Party, the Jesus Lizard and the Butthole Surfers, who all get physical with their audiences.

"I went to the audience a lot," says Heller, "throwing my body out there and having them do with it what they will, provoking it, antagonizing it ... but when we started this new band, I was like, that's the element I want to get rid of. I want people to feel uncomfortable, maybe miserable, maybe terrible, but I didn't want them to feel unsafe."

NTP also consists of Rooski--a professional opera singer--on guitar, Squaw on the bass, Bebop playing saxophone and singing backup vocals, Marcello playing trash, and Tim, who is the God of Shit. They've turned down the audience participation stuff and turned up the theatrics, incorporating costumes and multimedia displays into their shows. They also write their songs all together, democratically.

"It's important that the band operates according to same ideals I want to live my life by," says Heller.

"We also want to amuse people, too," says DeSanto. "We don't just want to make them flip out and vomit on themselves or anything; we're making ourselves as low as possible, as disgusting as possible, so you're free to laugh and you're free to at least put off your normal judging self and just be gross and weird with us while you're sharing that experience with us."
---
The New Thrill Parade performs with Mammatus and Oracle at the Blue Lagoon on Wednesday, July 20, at 9pm. Tickets are $3; 21 and up. Visit www.newthrillparade.com or www.myspace.com/newthrillparade for more info.
---
[ Santa Cruz | Metroactive Central | Archives ]