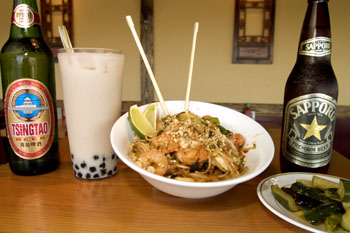 Photograph by Stephen Laufer

Almar in the Family: The owners of the Almar Grill have kept the restaurant, but changed the identity. Their new Xin Noodles serves up a pan-Asian spread.

Using Their Noodles

The owners of the Almar Grill go pan-Asian with the new Xin noodle house

By Jessica Neuman Beck

In a town where it seems like a new restaurant is opening--and closing--every other day, the owners of the Almar Grill had a novel idea: keep the restaurant, change the identity. "We were doing Spanish tapas and Spanish wines and stuff like that," says Karl Cook, one of the co-owners, "and we found that we were working for free. So we were sort of looking over the restaurant thinking, well, why don't we just close this place, remodel for a while, open up under a different name, and do it."

The name they chose was Xin Noodles. Pronounced "she-yin," the word has several meanings. "It means new or fresh, up to date," says Cook. "That's what we're trying to be."

The journey from tapas to noodle bowls isn't as lengthy as you'd expect. The idea for a pan-Asian noodle house was something that Cook and co-owner Roger Grigsby had been wanting to do for a long time.

"We wanted to be able to hit a lot of different areas taste- and flavorwise," says Cook. "We also wanted to be able to keep it really affordable. We see that a lot of people are a little apprehensive about dropping 25 bucks on wine, dessert and a really nice meal, but a good bowl of noodles can be really satisfying."

Cook and Grigsby have been working as a team since 1985, when Cook began working at Grigsby's other restaurant, O'mei. "Over the years cooks come and go, and I stayed," Cook explains. "We traveled to China a few times together, and we always came back with new ideas of improving the food." The pair opened Almar Grill about four years ago, but the idea of a noodle house stuck with them. "We developed a lot of recipes, and we had some opportunities kind of slip by," says Cook.

The transformation from Almar Grill to Xin Noodles began with a remodel. "We put up a corrugated tin roof in the dining room," Cook says. "We tried to make it feel like an Asian outdoor street scene." They added a Chinese range--"It has four or five times the firepower; it's a lot of fun," says Cook. They also changed the bar into a counter. "People can come in and order right at the counter and eat outside."

The goal was to provide a casual, fun atmosphere where people could get good food at an affordable price. "We don't want this to be really complex cuisine," says Cook. "It's good soul food, where you take good ingredients and you're just smart with them. You're not going to see fancy garnishes. Sometimes so much emphasis is placed on stuff like that that the food loses its character and its ability to make you feel good."

One of the more unique aspects of Xin Noodles is the fact that almost all of the dishes on the menu can be vegetarian. "I really didn't think it was going to take off in that direction, but it's amazing the amount of tofu we go through," laughs Cook.

Taking influences from all over Asia, Cook and Grigsby are able to offer a number of dishes diners can't find anywhere else in Santa Cruz.

"My favorite dish is a salad that we do, a Vietnamese salad," says Cook. "I go over to the Asian markets a lot, and there's a Vietnamese restaurant that I used to go to, and one of the things I used to have there that I always loved is a rice noodle salad. They call it Bun. It's basically vegetables--lettuce, Napa cabbage, sprouts, cucumber, red onion, baby carrots--and a Vietnamese dressing. The way we're doing it, you can have poached chicken or tofu on the top. There's no oil in it. It's very satisfying, especially on a hot summer day." They also have pan-fried noodles and pad thai, as well as spicy beef noodles and miso ramen. "Almost everything comes in a bowl," says Cook.

One thing that doesn't come in a bowl is the restaurant's version of pearl drinks, a milky beverage with tapioca pearls at the bottom that's hugely popular in Asia. "It's really fun," says Cook. "A drink you can chew on."

Cook and Grigsby miss the Almar Grill, but Xin Noodles is giving them a chance to fulfill a longtime dream.

"This is stuff that we lived and breathed," says Cook. "Food is one of these things. You don't have to go out. In my house, the most important room is the kitchen. We're talking, and we're spending time together, and it's all around food." The fact that the restaurant has been steadily busy since it opened doesn't hurt, either. "We've seen that this is what people want. The seats aren't empty," says Cook.
---
Xin Noodles is located at 841 Almar Ave. in Santa Cruz. They're open for lunch 11:30am-2pm Tuesday through Friday and for dinner 5-10pm Tuesday through Sunday. Reach them at 831.420.0114.
---
---
Send a letter to the editor about this story to letters@metronews.com.
---
[ Silicon Valley | Metroactive Home | Archives ]