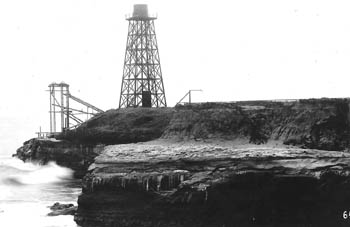 Covello & Covello Historical Photo Collection

The Wave Motor: This miracle machine stood out on West Cliff Drive in the late 1890s. It was invented by J.E. & William V. Armstrong and used the power of the waves to pull the ocean water up into a 6,000 gallon tank. The water was used to sprinkle dusty streets. I still can't figure why there aren't more wave machines generating power today.

Bruce Bratton

WIDENING HIGHWAY 1. As the debate goes on, there is one source of information that is easily understood about the cons involved in making Highway 1 wider. Go to www.sensibletransportation.org and read it over. Check out the facts. In addition to that, would someone please step forward and point out some place in the United States where widening a highway did ease the traffic for more than a month?

DARK PLEASURES. I liked Eight-Legged Freaks better than Roman Coppola's CQ. CQ wasn't funny or clever or even very insightful about foreign filmmaking in the '60s. Eight Legged F's at least has about two laughs in it. Lovely and Amazing provides even more reasons not to live in L.A. It stars Catherine Keener and Dermot Mulroney (full disclosure: their dog ate my daughter's dog when they were neighbors a few years ago, but I still liked the film). K-19: The Widowmaker not only stars Harrison Ford but is the first film to have National Geographic's production label on it. Forget what the critics say about Ford's Russian accent, this is an exciting, well-made film. So is Late Marriage, which takes place in Tel Aviv's Georgian émigré community. It's a serious version of My Big Fat Greek Wedding, and is apparently the highest grossing Israeli film in Israel since 1984. Don't miss it.

INVASION OF IRAQ. The People's Democratic Club of Santa Cruz County is presenting Bill Monning speaking on "The Invasion Of Iraq: The Bush Administration's Planning and Foreign Policy Implications." Monning is a professor of Negotiation and Conflict Resolution at the Monterey Institute of International Studies. Besides that, he's an attorney. His talk will be part of the PDC's July meeting and will start at 8pm at the Vets Hall. Call 420.1133 for more information.

RENEGING ON REIGN. Last week I ranted and raved about Matthew McConaughey's Reign of Fire. I shouldn't have. I saw it almost by accident and knew nothing about the film. I expected nothing. It was great fun, but now too many film fans and friends have seen it expecting something and they've been disappointed. I would have been disappointed too if I went on a recommendation. So don't go see it if you expect anything, but it is like a comic book adventure.

CABRILLO MUSIC FESTIVAL. There's lots of reasons to go to this year's festival: the Kronos Quartet, an evening of Christopher Rouse's works and an evening of watching percussionist Evelyn Glennie do her thing. One of the most interesting attractions will be the opportunity to see and hear Mark Adamo's 1998 opera Little Women. Mark was born in Philadelphia and raised in New Jersey, and has hit it big with Little Women. It's being performed by opera companies in Houston, in New York City, and at Glimmerglass in Cooperstown N.Y.. It's lyrical, the story is familiar, it's in English and this would be a fine time to see it if you like opera. The festival is performing it Aug. 2, 3 and 4 at the Civic--get tickets quickly.

SUPPORT OUR LOCAL INDEPENDENT EVERYTHING. Annette March sent me an article from the July/August UTNE Reader that should be required reading for every local politician. It spells out in detail how many small towns across the United States are fighting Home Depot, Borders, Starbucks, Amazon.com, Blockbusters, Wal-Mart and other megagiants. It even tells how local resident Greg Steltenpohl, co-founder of Odwalla, is working on a smart-card idea that would allow members to exchange value like a frequent flier concept. Doesn't it seem to you like all of our elected officials continue to go belly up to whatever megabiz wants to develop? Any problems with Costco's new gas station? Of course not. Anybody still boycotting Borders? Nope. Well, they are in other cities. Try going to www.utne.com and checking out "Homegrown Economics," or go to www.sprawl-busters.com. Or better yet, go to www.ilsr.org. That's the website for the Institute for Local Self-Reliance, a Washington, D.C.-based nonprofit organization. They work hard to create new ways to develop energy, agriculture, technology, environmental policy and locally owned businesses. In spite of so many seemingly overwhelming losses to franchises, chains, and those out-of-town retail giants, there is still a little bit of independent Santa Cruz left. See and listen to what anybody running for Santa Cruz City Council says about supporting local business and stopping our sell-out mentality.

FUN STUFF. S.K.Tile, a tile installer in Soquel, sent in some puns. Marathon runners with bad footwear suffer the agony of defeat. Acupuncture is a jab well done. When the chips are down, the buffalo is empty. Those who live by the sword get shot by those who don't. How much deeper would the ocean be without sponges? Honk if you love peace and quiet. You can't have everything--where would you put it? Research causes cancer in rats.

P.S. Isn't it about time for Louis Rittenhouse to start building his department store at Pacific and Church?
---
Bruce critiques films every other Thursday on KUSP-FM (88.9). Reach Bruce at [email protected]
---
[ Santa Cruz | Metroactive Central | Archives ]