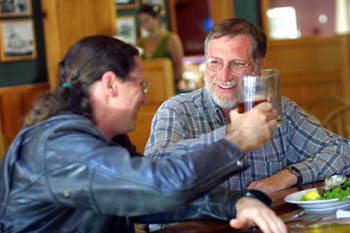 Photograph by George Sakkestad

Hoisters: Patrons salute the ales and pilsners at Santa Cruz Brewing Company.

Singing the Brews

A new attitude, new menu and more live music fill Santa Cruz Brewing Co. with welcoming new energy

By Christina Waters

THE LIGHTHOUSE THEME is still playfully intact at Santa Cruz Brewing Company. Historic photos of Lighthouse Point fan out all along the far wall, opposite the gleaming hardwood bar, with its lineup of handmade brews.

The industrial past of this warehouse-turned-brewery still shines through in the high open-rafter ceilings. A large picture window in the back gives sudsophiles a lavish view of fermenting tanks filled with microbrews.

A band was setting up when we arrived for dinner last week. We wanted to get a firsthand taste of the new menu created when Steve Carniglia and John Rebello of Big Trees Brewing Company joined forces and took ownership of S.C. Brewing Co. a few months ago.

Well now, this was definitely upscale pub grub, we agreed, spotting seared ahi, fresh local salmon and chicken saltimbocca among the more predictable listings of burgers, fries and chicken wings. If it's a hearty lunch you crave, the marinated skirt steak with chipotle butter on francese bread would probably do the trick.

But being a fan of Carniglia's on the wharf, I had my eye on a dish of seafood pasta loaded with rock shrimp and calamari ($13.95). Jack was having one of his annual burger attacks, and after going back and forth between the garden burger and a full-on cheeseburger--consistency is not Jack's strong suit--he opted for the classic beef version. A burger with pepper jack cheese (Jack likes foods named after him) with fries, for $7.95--this is a great country, no matter who's in the White House.

Some mambo tunes were creating a definite positive vibe, even before the sonic attack of the talented Woodsmen, and we started things off with a pint of Big Trees Ponderosa Pilsner ($3.50) and a glass of ever-yummy Ca' del Solo, Big House Red 1999 ($5) from Bonny Doon Vineyards.

The celebrated pilsner is one beautiful piece of work, with its toasty caramel center and a slow, bitter finish. The 1999 Ca' del Solo could be the best vintage yet of this accessible blend of grapes from the maverick mind of winemaker Randall Grahm.

The band got underway, warming up with something hypnotic in the way of post-grunge reggae--perfect somehow for this very Santa Cruz spot. When our spinach salad arrived ($7.50), it turned out to be huge enough for us (and probably another couple) to split.

Tender spinach was laced with sweet, sautéed onions, pancetta and goat cheese and everything dressed with an electrifying mustard-intensive balsamic dressing. We managed to polish off half the salad but turned our full attention to two huge platters brought to us hot from the kitchen.

A luscious mound of rosy pasta, the seafood linguine was perfectly cooked and liberally doused with a tomato and cream sauce. Calamari, sweet and tender, plus dozens of rock shrimp, filled this dish, with chunks of fresh salmon and tomatoes adding to the texture. A delicious creation, it totally satisfied my craving for a serious plate of pasta.

Jack was busy with his cheeseburger, a dish he described as "not getting in the way of the Pilsner." While he admitted it wasn't going to change his life, he agreed with me that it was better than average--especially served on one of those superior buns from Kelly's.

And the fries, eerily free of any trace of oil, were acceptable. The burger and fries combo made a satisfying meal without shouting for any sort of intellectual attention. I wish it had been more memorable.

But dessert of a larger-than-Cleveland slice of German chocolate cake ($5) was definitely in the "more memorable" league. Great beer, terrific pasta and good music.
---
Santa Cruz Brewing Company
Address: 516 Front St., Santa Cruz
Phone: 831.429.8838
Hours: 11:30am-10pm Sun-Wed; 11am-1am Thu-Sat
Service: * 1/2 Friendly, warm, very casual
Ambiance: ** 1/2 Very Santa Cruz, welcoming, laid-back brewpub
Cuisine: ** Classic hearty pub food, augmented by touches of sophistication
Overall: You can fill up nicely, and for not much money, while listening to fine tunes. Everything a brewpub should do. And more.
---
[ Santa Cruz | Metroactive Central | Archives ]