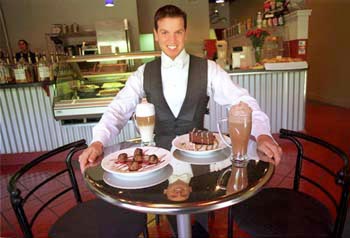 Photograph by George Sakkestad

Service With a Swing: Steve Hughes' new X Cafe doubles as dance spot and late-night cafe.

X Marks the Spot

The new X Cafe on Soquel Drive serves up food, coffee and choreography

By Janet Blaser

I THOUGHT IT WAS just another coffee shop. Boy, was I mistaken. The new X Cafe on Soquel Drive near the Skyview Drive-In is anything but. Part coffee shop, part bistro, part late-night hangout and part--a big part--dance studio, X Cafe seems to be a close cousin to downtown's So Say We, with several major distinctions and a decidedly different neighborhood.

X-owner Steve Hughes (who many will recognize as the owner of the Palomar Ballroom and a pro-dancer himself) needed more studio space for his classes. The former Goodwill store was big enough to accommodate a 1,500-square-foot dance studio and still have a perfect spot for the cafe. Steve's previous New York waiter experience proved invaluable in setting up what for him is a new venture into the food-service industry.

He's filled the menu with his own personal favorites: pastries and bagels; gourmet sandwiches and salads; smoothies and espresso drinks; and a knockout selection of desserts from the county's best bakers. Dance classes run constantly in the new studio behind the red velvet curtains, and Tuesday's Swing Dance and Friday's Salsa Party (both 8:30­11pm weekly) make for festive gatherings that spill onto the spacious greenery-and-fountain-bedecked patio.

These events have something to do with the late hours (until midnight six days a week), but then again, Steve is a night-owl. With its chic, contemporary decor (check out the cracked mirrored ceiling), elegant bistro menu, early and late hours, and the added dimension of the dance studio and events, X Cafe should be a welcome addition to the community. Find it at 2525 Soquel Dr., between the Skyview Drive-In and 41st Avenue. Hours are 5:30am­midnight weekdays; from 6:30am Saturdays; and 6:30am­10pm Sundays. Need to know more? Call 475.9300.

SOARing Mimes

Leave it to the San Francisco Mime Troupe to figure out a way to lampoon the genetic engineering of food. Serving a healthy dose of humor along with a hard-hitting helping of political satire, the award-winning troupe presents a weekend of Eating It--literally and figuratively. Two free performances run at 2:30pm in San Lorenzo Park, Saturday and Sunday, and a special organic pasta feast will be served at 5pm on Saturday at the Louden Nelson Center, 320 Cedar St., Santa Cruz. Cost for the dinner is $10 per person or $18 per family, reservations required; call 423.7774.

Did you know that Theo's Restaurant in Soquel hosts a Brown Bag Wine Group the first Thursday of each month? It's a casual, easygoing way to taste a variety of different wines while meeting others (people and wines) with the same interest. Chef Pete Dressen prepares a special prix-fixe meal ($28) to complement the month's selection, and guests are encouraged to bring their favorite vintage and share. Aug. 3 is the next event, and you'll have to call Greta or Etan to find out what's being poured. The number for info or reservations is 462.3657.

For those of you who can't seem to have enough recipes (Judith, that means you), here's a new website to bookmark. Nicknamed SOAR (Searchable Online Archive of Recipes), this site contains thousands of recipes (as of this writing, 67,784, to be exact) in perhaps the most categories I've yet seen . You won't find bells and whistles, glossy photos or celebrity endorsements, but you will find, for example, a good 30 or so recipes for a simple plum cobbler. And if you've got a special dietary need--vegetarian, vegan, gluten-free, almost any ethnic cuisine you can think of--you'll find recipes galore. Go to SOAR.berkeley.edu/recipes and see what you think. And bring me a piece of that cobbler, eh?
---
Got a food tip? Email Janet at [email protected]
---
[ Santa Cruz | MetroActive Central | Archives ]