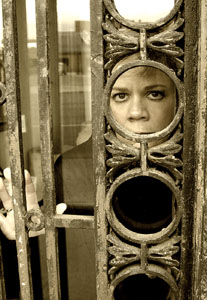 Hide and Seek: Cabrillo Music Festival director Marin Alsop has to count to '10-Mississippi' before she's allowed to go out searching for the most cutting-edge new music on the planet.

A Festival You Can Count On

Cabrillo's Festival of Music features compositions based on 'Dracula' and Radiohead among its typically bold and unusual offerings

By Scott MacClelland

If the third time's the charm, then Richard Danielpour will bless this summer's Cabrillo Festival of Contemporary Music with his appearance as composer-in-residence. After all, the New York-based composer was scheduled for Cabrillo twice before, and twice sent regrets instead of showing up. It's a testament to festival music director Marin Alsop's faith in Danielpour's music that she insisted once more that he come.

For her patience, Alsop gets to perform the 1993 revision of Danielpour's 1987 piano concerto Metamorphosis in a program of West Coast premieres at Mission San Juan Bautista on Aug. 10. That same program contains Augusta Read Thomas' Prayer Bells and Kevin Puts' Symphony no. 2 (Island of Innocence), with these two composers also in-residence at the festival for the first time.

One has to marvel at how successful this festival has become during Alsop's tenure. Turn-away crowds have flocked to hear completely unfamiliar orchestral music, summer after summer. The musicians themselves return each year to learn complex and challenging pieces they will most likely never play again.

Well, maybe not never. The world of new classical music appears to be gaining popularity with music directors and audiences in various parts of the country. New music, some with the ink still wet, is popping up on symphonic programs of otherwise familiar repertoire with greater frequency. Living composers, especially the ones whose music is being heard at the Cabrillo Festival, are certainly among the brightest lights in today's new-music whirl, pushing most of the minimalists of the last quarter century into the shadows and blotting out the memory of the 12-tone composers who preceded them. Indeed, new music is beginning to coalesce and converge into a vortex that suggests a renaissance.

The festival's emeritus music director, Dennis Russell Davies, didn't have it so easy, because he stepped down before the current generation of leading composers--mostly Americans--had established their reputations. By today's fast-moving standards, Davies has become something of an elder statesman as an advocate for new music.

It will be a nostalgic homecoming for longtime festivalgoers to greet Davies this Sunday during concert remembrances of festival founder and paterfamilias Lou Harrison. Following a special homage to the unforgettable Lou, with our own New Music Works ensemble directed by Phil Collins (and featuring outstanding baritone Sanford Sylvan), Davies will play an "encore" program of two Harrison piano sonatas, one from 1938, the other from 2000.

New Music That Sucks

In addition to the composers and music slated for the San Juan Bautista finale, Alsop and company will provide in-residence status to other driving forces in new music, returning Michael Daugherty, Michael Hersch and Emily Wong, and introducing David Del Tredici. On opening night, this Friday, Del Tredici--who won a Pulitzer in 1980 for his Child Alice--will attend the West Coast premiere of his Dracula, based on Alfred Corn's scary (and funny) poem, "My Neighbor, The Distinguished Count." The text will feature soprano Hila Plitmann who, once seduced and bitten, will transform into a vampire before your very ears.

The program is titled "Blood, Sweat and Tears," and opens with Wong's Structures III, a world premiere which focuses on music as architecture of passage: notes are columns, columns form corridors, corridors lead from earth to heaven. (By the way, this is the same Emily Wong who has served as festival resident pianist for many seasons.) Daugherty's violin concerto, Fire and Blood, a West Coast premiere, features festival concertmaster Yumi Hwang-Williams as soloist. Inspired by Diego Rivera's Detroit Industry murals, the piece qualifies as an addition to Daugherty's long string of "American Icons." It is described in festival press material as combining the mechanical with the emotional, brutality and beauty, dissonance and consonance.

In a sense, this entire generation of leading American composers seems in pursuit of sharply drawn contrasts, with an added determination to bridge the historical gap between vernacular and classical styles. Daugherty and Danielpour, among many others, have become highly visible examples of this trend. After all, these guys were teenagers during the rock era. Though it has taken a century, this generation is at last heeding the example of Antonin Dvorák who, in the 1890s, sternly advised American composers of his day to reflect American folk music in their classical compositions (and went on to echo two Negro spirituals in his famous New World Symphony).

Speaking of rock, eclectic concert pianist Christopher O'Riley will give the West Coast premiere (on Friday, Aug. 8) of his transcriptions of the Radiohead "songbook." O'Riley has just released his version of the British rock-phenomenon's music on a new Sony CD, and, after Cabrillo, is set to perform it in other West Coast venues. About his New York performance last year, The New York Sun wrote, "O'Riley has made a statement about what constitutes good serious music [proving that] Radiohead can be as unfailingly moving for true compositional reasons as any working classical composer."

The A Team

Following that one-man show, O'Riley will then appear in three works on the Saturday, Aug. 9, orchestra program, titled "The 'A' Team" after its representative composers, John Adams and Thomas Adès. O'Riley will also be in Adams' Eros Piano (a rare festival reprise, having been heard in 1991 when the composer served one season as music director), Adès' Concerto Conciso and the solo Darknesse Visible. The program opens with Adès' "... but all shall be well" and closes with Adams' Guide to Strange Places, a West Coast premiere, and, to quote Trouw in Amsterdam following its world premiere, a "twenty-five-minute roller coaster ride [that] can perhaps best be described as Adams' Sacre--such overwhelming drive is usually only encountered in Stravinsky's music."

The young Adès made a notorious name for himself in 1995--at the age of 24--with the opera Powder Her Face, recounting the scandal of the Duchess of Argyll (Margaret Whigham after her second marriage) that led to her divorce by the Duke. The duchess' downfall is represented in the opera by a scene of fellatio--in the dark, but plainly in the music. Adès' Concerto Conciso dates from 1997 and is a sparkling and bracing event. Like the opera, the concerto uses a small ensemble.

O'Riley continues to haunt the festival in its San Juan Bautista finale as soloist in Danielpour's concerto. Of the other premieres on that program, composer Read Thomas says the title Prayer Bells "can mean anything from miniature, intimate prayer bells to a massive carillon of bells in a cathedral, to metaphorically representing an inner tolling to pray in the human soul." She adds, "The music is passionate throughout, as if something big is at stake." The award- and fellowship-winning Kevin Puts translated his reaction to the attacks of 9/11 into his Island of Innocence.

In speaking of the leading lights in new music, American and elsewhere, other threads that have risen and remained are those of deep emotion and conscious spirituality. These feelings and this faith are expressed by instruments and orchestras not less than by words. While Alsop demonstrates a keen ear for first-quality new music at her festival, she unhesitatingly brings in the emotion and the spirit if they are part of the package.
---
The Cabrillo Festival of Contemporary Music runs through Aug. 10, with major concerts Aug. 1-3 and 8-9 at 8pm at the Santa Cruz Civic Auditorium and Sunday (Aug. 10) at 4 and 8pm at Mission San Juan Bautista; on Aug. 2, 11am-8pm, the festival hosts a Music, Art & Wine Festival, outside the Civic Auditorium. Call 831.420.5260 or check www.cabrillomusic.org for details.
---
[ Santa Cruz | Metroactive Central | Archives ]