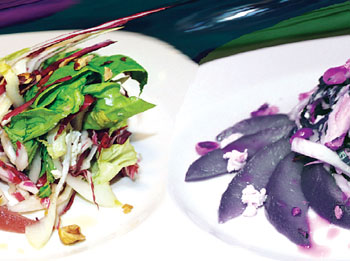 Do Not Dis Pear: This salad is one of the exquisite rarities served at the Sand Rock Farm Inn's special wine dinners.

Tour of Beauty

Fine wines, fine food and gorgeous grounds are part of the weekend-getaway appeal of the special dinners at Aptos' Sand Rock Farm Inn

By Christina Waters

The Roseville vases lining the redwood burl fireplace make the perfect statement about Sand Rock Farm Inn. Part of the former 1,000-acre Liliencrantz estate, the rambling Arts and Crafts B&B retains all of its late-19th-century appeal, and then some.

That extra would be the deft touch of chef Lynn Sheehan (a California Culinary Academy grad trained in Europe and in the kitchens of Stars, Masa's and Postrio), who, along with her business partner--and mom--Kris Sheehan, runs the woodsy retreat. I was lucky enough to take a quick tour of the grounds before the main event last week, a special wine dinner featuring the wines of Ahlgren Vineyard.

Heartwood redwood lines the rambling 1880s ranch house interior, refreshed with authentic Tiffany-style lighting and hand-printed wallpaper. Some of the original vineyards and orchards peek through the terraced gardens of the restored estate, which offers five handsomely decorated suites to its guests. Out on a side deck, four round tables were already set for the guests arriving to share conversation with winemakers Val and Dexter Ahlgren.

A glass of the winery's fabled Semillon, the 2000 vintage richer and fruitier than in years past, went well with tiny passed appetizers of house-made crackers and smoked salmon on mascarpone, and a knockout involving a microdice of beets and smoked tofu on infant lettuce leaves.

Under the twisting branches of a superb old oak we finally sat to enjoy a few wine words with the first course. A lot of the fun of these events--in addition to the chance to sample dishes created especially to join the selected wines--is to meet new foodies who are passionate and knowledgeable about wine. My loquacious group, from all over the Bay Area, included alumni of five UC campuses.

Val was confessing the difficulties of finding enough sustained heat in the Santa Cruz Mountains to ripen the Italian nebbiolo grape to perfection, as we sipped Ahlgren's vintage 2000 example filled with flint, cherries and enough tannin to suggest cloves. "This grape has to be handled carefully," Val noted.

As does quail, which arrived as a first course in front of us each, roasted and lightly stuffed with dried cherries on a bed of fresh corn and sweet, sautéed leeks. The delicate game meat was an exact fit with the light spice of the nebbiolo. Next came wide bowls of crimson gazpacho, spicy and laced with the usual diced onions, cucumbers and tomatoes, plus a tiny skewer of shrimp and cherry tomatoes in the center. A branch of rosemary added heady fragrance. This full-bodied summer recipe was matched by a 1999 syrah, a restrained version of one of my favorite Ahlgren wines, offering a bit of black pepper to match the gazpacho.

Darkness was falling, more large glasses were brought (wine dinners use hundreds of wine glasses), and the most serious course arrived--Idaho-raised Kobe beef, along with the spectacular 1999 Ahlgren Cabernet Sauvignon Bates Ranch. Earthy, supple and graced by a long finish, the cab kept up with the incredible depths of the rare beef--marinated, grilled tri-tip--arranged on a bed of Yukon gold potatoes infused with black olives and smoked bacon. There was something close to primal about the power of the flavors.

The conversation at our table actually came to a stop for a few minutes as we each considered this dish, and this particular wine. Setting aside the fact that this is simply food and wine, not an answer to world peace, it was a moment worth savoring on one summer night in a coastal forest of California.

Neither the chef nor the winemakers, however, were quite finished with us. Dessert involved shortbread tartlettes frosted with a honey-Calvados whipped cream and slender Gravenstein apple slices. Studded with hazelnuts the tart was sumptuous, especially chased by an amazing 1989 Ahlgren fortified apple elixir that was simply unlike anything we'd ever tasted. Not quite a brandy, and at 18 percent alcohol, far from an eau de vie, it was a splendid, labor-intensive and unusual experiment, never--according to the Ahlgrens--to be repeated. You would be smart to reserve your place at one of the many year-round wine dinners at this historic estate.
---
Sand Rock Farm Inn
Address: 6901 Freedom Blvd, Aptos
Phone: 831.688.8005
Historic bed and breakfast; weddings
Winemaker dinners--$85 per person, noninclusive.
www.sandrockfarm.com
---
[ Santa Cruz | Metroactive Central | Archives ]