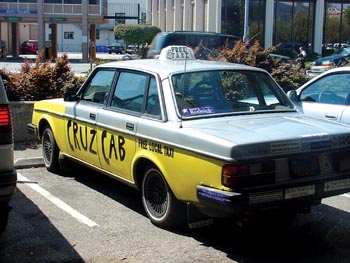 Photograph by Sarah Phelan

The World's Greatest Pickup Line: Truly, who can resist a free taxi? With all that guaranteed business, Brandon Constans is sure to earn a whole lot of nothing!

Nüz

Milk Is for Babies

Through the power of the simple word--and a snake-eyed glance--Arnold was able to totally psyche out any confidence Ferrigno had."

"He squashed him mentally before physically defeating him."

"He had the edge. The mind's edge."

So sayeth bodybuilding brothers Simon and Norman Hun in Natural Born Killers, as they compare Arnie Schwarzenegger's "hypnotizing" crushing of idiot man-child Lou Ferrigno in Pumping Iron to that of NBK's Mickey and Mallory Knox, who passed on "the edge" to them--by chain-sawing off their legs.

With Arnie's chances in the Oct. 7 recall election being far from legless, Nüz has been revisiting Pumping Iron, the 1977 documentary in which Arnie reveals himself to be a crafty, cunning and steroid-laden child of the '70s, who, if he hasn't changed any, could doubtless reduce "idiot man-child" Gray Davis to tears--and possibly replace milk in public schools with a nice healthy, leg-boosting beer.

Rio Theatre events coordinator Jesse Rose says the theater was gonna show Pumping Iron at its last soiree, but none of the video stores had it.

"But if we had a copy, we'd look into getting the rights to screen it," says Rose, adding that she is not related to Baltimore singer/songwriter Julia Rose, who recently got banned from a Borders in Virginia for telling the audience, "George Bush has chicken legs. He needs to pump some iron."

Free Basing

It's midnight, you've missed the last bus and the only thing in your pocket is a sand-coated peanut. Suddenly, a yellow Volvo decorated with a shitload of Dennis Kucinich stickers and Cruz Cab: Free Local Taxi lettering pulls up and offers you a ride. Do you:

A.) Remember that Santa Cruz was once the murder capital of the world and scream till you wake up the seniors on Pacific Avenue;

B.) give the cabby the finger, while shouting, "I'd never ride with a cab that wants to put a vegan in the White House!";

C.) hop in and say, "Howard Dean not good enough for ya, punk?"

Despite his car's political-message-board aspect, Brendon Constans, who started Cruz Cab six months ago, says he hasn't had too many weird reactions .

"Unless you count the guy who flagged me down and wanted a ride to the Food Bin, which was right there anyway, so he asked me to take him to Zanotto's," says Constans, who started the service "to meet different people" and to provide transportation to people who've missed the bus or were hitchhiking anyway.

"Most people only make small talk when I give them a ride. They ask what the taxi's about and whether I get paid. I never ask for money. I don't want to get in trouble with the Yellow Cab guys."

Smell the Coffee

Constans, however, is apparently not afraid of getting in trouble with Peet's Coffee and Tea management in downtown Santa Cruz.

Constans, who has worked at said store for the past year, contacted the United Food and Commercial Workers when Peet's management took what he describes as "backward steps" for its employees after the company went public in 2001, including "taking away holiday and sick pay for all those hired since January" and "raising the price of our health insurance."

Peet's reported profits of $1.2 million in 2001, $4.7 million in 2002.

If employees vote to organize through the UFCW--a vote scheduled to take place Aug. 20-21--the Peet's at 221 Pacific Ave. will become the first of the chain's stores to unionize, and Peet's will be forced to bargain with UFCW local 830.

Constans accuses the company of sending upper management into the downtown store and giving employees anti-union pep talks.

"We were told, 'With Peet's you get a 5 percent pay raise each year, while with the union it's only every couple of years,' but that's not true, since any pay raise is negotiated through the union and depends on what the employees want."

But Peet's spokesperson Julie Kim says she doesn't think management has been talking it up one way or another.

"Peet's has always been very inclusive. Employees at all levels have always been able to voice input. We're just trying to find the solution that works best for that particular store," she says.

Nurse Betty Redux

Speaking of union power, 35,000 California Nurses Association RNs have won dramatic pension and pay gains for RNs at nine Catholic hospitals, including Dominican.

"Everybody is really happy, especially since this workforce is 95 percent female and has an average age of 48 years. Catholic Healthcare West seems to have finally seen the light," said RN and CNA representative Gerard Brogan.

The pact includes improved health benefits and a ban on mandatory overtime, conditions that should help attract and retain that most important of hospital workers: the registered nurse.

First Bite on First Night

After a one-year hiatus, First Night, the city's booze-free New Year's Eve bash, is back--and it needs artists. Now.

So says First Night's new executive director, Blake Smith, who used to lead bike tours in Italy while negotiating contracts in Italian--exactly the skills needed to pull off an event that involves 150 artists at 35 venues giving more than 200 performances, all in one night.

"People don't want to wait in lines, they want to celebrate," says Smith, who wants to introduce suggested itineraries "to help people plan the night" and passes that "people can be pick up for a specific showing of the larger acts when they buy their buttons."

Two years ago, sales of First Night buttons, which peaked five years ago at $18,000, dropped to half that, triggering the cancellation last year of everything but the parade--a situation that apparently repeated itself across the nation, with 25 percent of First Nights going dark last year, according to First Night International.

"Few jobs in Santa Cruz can so impact the happiness quotient of this town," says Smith. "Just because First Night is the biggest one-night stand in town doesn't mean the effect doesn't last. All those people, who are usually too afraid to come downtown for fear of getting parking tickets, see all these really great stores and come back."

Smith hopes "a huge amount of talent will come forward for this year's event," which marks the 10th anniversary of First Night and has as its theme "Movie Magic," celebrating "our love of the movies and all things Hollywood." The proposal deadline is Aug. 22; artists can call 831.425.7277 or visit www.firstnightsc.com.
---
Nüz just loves juicy tips: Drop a line to 115 Cooper St, Santa Cruz, 95060, email us at , or call our hotline at 457.9000, ext 214.
---
[ Santa Cruz | Metroactive Central | Archives ]