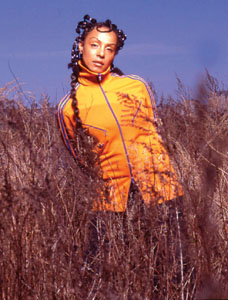 Knotty by Nature: Zap Mama performs Saturday at the Rio, if Marie Daulne can find her way out of this field.

Zap Happy

Zap Mama founder Marie Daulne has turned an incredible life story touched by war and racial unrest into a musical campaign of positivism, soulful African harmonies and boomin' hip-hop

By Mike Connor

Musical fusion is all the rage these days, but rarely does it sound as cohesive as it does in the hands of the urban-meets-world-music group Zap Mama. Nor has the backstory of such a group been so dramatic. If frontwoman Marie Daulne's life story were a movie--and, in fact, it was the subject of a BBC documentary called Rhythms of the World--the super condensed elevator pitch might look something like this: Four children are born in the former Zaire to a Belgian father and a Zairian mother. War breaks out; the white father is murdered by Simba rebels who oppose multicultural marriages. The mother þees into the forest with her four children to take shelter with the Pygmies, whom the rebels fear possess otherworldly powers. The mother and children eventually escape to Belgium to live with the father's family. The youngest girl comes of age, reconnects with her African roots and becomes an international world music/human beatbox star, blending urban hip-hop and dance music with so-called "world music" and especially the Pygmy yodeling sounds passed down from her mother.

Along the way, Daulne hooked up with Talking Heads frontman David Byrne, who signed Zap Mama (at the time an all-female a cappella group) to his Luaka Bop label. Adventures in Afropea was released in over 20 countries and quickly became the label's bestselling album, hitting No. 1 on Billboard's world music chart.

Zap Mama's latest release, A Ma Zone, showcases Daulne's long love affair with hip-hop, featuring guest appearances from the Black Thought and ?uestlove of the Philly-based Roots crew. You can see where the album is going the moment the beat drops on the first track, "Rafiki." Opening with a mysterious minor-key keyboard riff and Daulne's polyrhythmic Pygmy yodeling (alternating seamlessly with what sounds like a pan flute), the suspense of what's to come ends suddenly when a sharp snare and a hip-hop heavy bass line drop in with an African high-life guitar lick, snapping the whole joint into a head-nodding, hand-clapping groove.

Metro Santa Cruz caught up with Daulne in between a European tour with Erykah Badu and her upcoming U.S. tour with Les Nubians. Though I'd love to claim that this interview was conducted in French, Swahili and Lingala, I just plain can't. She obliged my linguistic inadequacies and spoke entirely in English from her home in Belgium.

Metro Santa Cruz: Your life story is incredibly dramatic, reading like an epic film about the collision of different races and cultures. How did your early life experiences shape you as an artist?

Marie Daulne: I think the experience of the political situation is more my mother, who had to survive. I was a baby, and I just was protected by my mother. What I know that I learned from my mother is to be strong and to stay positive in any kind of situation; that's the best weapon to survive. That's what I learned, and this is the main message I pass into my music.

What did you learn about yourself when you traveled back to Africa as an educated young woman?

I went back, yes. I went back with my Western education. It remind me of my earlier childhood that I have inside me a lot of power and feeling from the nature, and I'm bringing [it] back into me. At 18 years old, you ask yourself, "Where [will] you go, what is the purpose in your life," and all these things, and I found all my answers over there. And then I started my career as a humanist, as a positive healer and a survivor. Because I realized I have something more than others when I am with my Western friends. They are more weak, they are more afraid, their fear is always to start things, to make things, and I was always free to do things. And I said, "Where that come from?" And I looking at my education and I realize that maybe it come from there. [But] the power of freedom I have inside me, that come from my life, what I lived in my early childhood. I guess now, that gift that I have, I share. That brings so much satisfaction for people in the Western world, and I think, if I'm born in this situation, then it's for something. I keep going. Bring joy and share my power and all the things that a woman can have.

Are you still concerned with bridging cultural and racial divides?

Yes, I still focus on that, and what I would like to do is bring sounds from [Africa] and bring it to the Western world, because I know that through sound and through beats, that people discover a new culture, a new people, a new world. And that's what I have to do, to bring all the vision in life, not only what the TV, Western world or what the politicians give to us.

I understand that universities often invite you to speak about your experiences.

Yes, people ask me to go to universities to explain my experience of life, and especially the history that I mix with the musicality. Because we lived with the Pygmies for a while, people who live in the middle of the forest, not at all like Westerners. And being a survivor in this type of environment, your instincts are very open. Because we as humans know how to survive, but the Western and the modern world killed our instinct, our natural feeling. I grew up in this kind of world [where] the main thing is the natural feeling to direct your life, then I think it was very open on me, the development of this [natural feeling], because I grew up in the forest, I [was] born in the nature, and that part of natural healing is really open on me.

I've heard that you spend a lot of time just researching different genres of music.

Yes, absolutely, yes. I love that. I'm an explorer. Yes, I like to discover, and looking for new sounds, I like to touch all different kinds and experiment in music. I like to create music for theater, for dance company. And I know that sounds "talk" a lot. Sounds have a lot of power. It's like in a movie. Without the sounds, you have half of the emotion. Yes, and if you come to see my show, I like to create atmosphere. I bring a DJ this time. I have a DJ and we do beatbox, and we play together, voices from the hip-hop world, including human beatbox, and I do my African sounds. It's instruments, it's a cappella, it's everything.

Have you always been a fan of hip-hop?

Yes, I was very, very excited the first time I heard hip-hop. I heard that and said, this is for me ... I remember seeing Rahzel, and that was amazing. Yes, because I do only voices and when I see this guy, [he] was the king! And then I said damn, that's a lot a kind of shit! And then I started to want to go more and more in this beatbox world. But the first collaboration was with Spearhead [singer] Michael Franti. David Byrne asked Michael Franti and me to collaborate together to make something happen between our world, because David Byrne knows that I was attracted by hip-hop, and Spearhead knows the sound of Zap Mama and wanted to collaborate, then it happened this way.

What was it like working with David Byrne?

He has his own label, Luaka Bop, and he was interested to sign me, and he signed me in the United States. And because of him, I am in the United States now. He left me free with my music. He's the kind of really open person and trusts you, and that's good.

What do you have planned after your tour?

I would like to invite Erykah [Badu] to discover Africa. She loves to do that, and then I tell her once we're gonna go together. An adventure ...
---
Zap Mama performs with Les Nubians at 8pm on Saturday, Aug. 2, at the Rio Theatre, 1205 Soquel Ave., Santa Cruz. Tickets are $30, available in advance at Streetlight, the Bookloft or online at www.pulseproductions.net.
---
[ Santa Cruz | Metroactive Central | Archives ]